Roy Frank Peone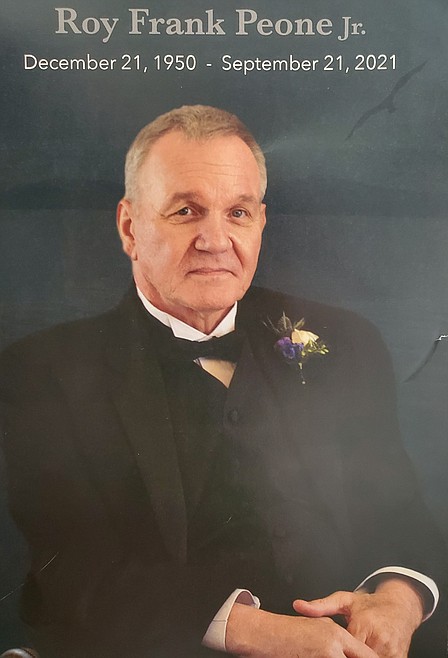 |
October 8, 2021 1:00 AM
Roy Frank Peone Jr.
Loving and beloved father, brother, uncle, and grandfather passed away suddenly of natural causes on Tuesday, Sept. 21, as his son Jacob drove him to the hospital.
Roy was born Dec. 21, 1950, in Chelsea, Mass., to Roy Frank Peone Senior, a Coeur d'Alene Indian, and Greta Sibley Peone Of Bedford, Mass., who passed before him. Roy leaves behind his son and daughter Jacob and Rebekkah Peone, daughter Jessie Collins-McCarthy, granddaughter Hailey, Sister Jody Peone, brother Lee Peone, nieces Kacy Barreira and Amanda Eveland, nephew Cody Eveland, aunt Ginny Sibley, and cousins Ally and Phil.
In his early adult years, Roy worked as a carpenter with his grandfather Bert Sibley in Massachusetts. He later moved to Idaho with his wife Janet and had two children Jacob and Jessie Peone. In 1979 at the age of 28 Roy was struck by a dead tree that was knocked loose when the tree he felled hit the ground, paralyzing him from the sternum down.
Life became harder after this but there was still much joy to be found. Roy loved the outdoors, and spending time with his family; camping, hunting, fishing, shooting. Especially with his son Jacob, who was his bright and shining star. He is his son's constant encourager and promoter. He helped his son through carpentry school and later to start the family business, Peone Industries, a general contracting company. Roy's son Jacob was his pride and joy, and there was a great mutual respect and adoration between them. Roy had imparted his soft-spoken way, his loving and generous spirit and his tender heart to his son.
Jacob and Roy became especially close over the last ten years as Roy's health declined. Jacob became his overseer and caregiver (along with his sister Jody), his constant advocate with the medical field, taking him to appointments and surgeries, cleaning and bandaging his wounds, always at his side. During this time Jacob had ample opportunity to minister to his father, and Roy professed a saving faith in Jesus Christ and his sacrificial work on the cross.
Roy always talked to his son about how as a young man he loved to run. He found great joy in it. Hearing his heart beating in his ears feeling the blood rush through his veins, the sun on his face and the wind caressing his skin.
When you think of him, picture him like that. Up in heaven running with the Lord through a perfect sunlit meadow dotted with cedar, the sun in his face, the wind in his hair and knee-high wheatgrass brushing up against his brand new legs. Joyfully singing praises to the lord waiting on us to join him.
Until we meet again Papa, I will always love you dearly and cherish the time we had.
Funeral services will be held at 10 a.m. on Saturday, Oct. 9, at the Worley longhouse with food and reception thereafter.
Recent Headlines
---