Persistence prevails on the trail
by
D.F. "DAVE" OLIVERIA
|
October 8, 2021 1:00 AM
Doug Eastwood and other boosters had planned to celebrate the 30th anniversary of the North Idaho Centennial Trail last year.
But the COVID pandemic put a stop to that.
Undeterred, trail fans combined the postponed anniversary party with the annual Ales for the Trail fundraiser last month, on Sept. 11. They rejoiced. They reminisced. And they were introduced to the second edition of Doug's book: "North Idaho Centennial Trail: The Trail That Almost Wasn't."
The expanded version adds 23 stories — one for each mile — written by people changed by the iconic trail, as well as info not found in the first edition, published in January 2020. (The updated book can be purchased at the Coeur d'Alene Chamber of Commerce and The Well-Read Moose.)
Thirty-one years ago (on Oct. 10, 1990), another group of people met, at Surveyor's Rock, to mark completion of the first section of the trail, 4.8 miles from the state line to Spokane Street in Post Falls. The large crowd cheered as two bicycle cops from the Post Falls Police Department rode through ribbons crossing the 11-foot-wide, asphalt pathway.
Bob Nelson, then chairman of the Kootenai County Centennial Commission, summed things up by telling the gathering, "It's been a long, hard three years with a lot of stumbling blocks."
No one that day could have imagined the struggles still to come as trail supporters bought property, fund raised, charted routes, and secured easements.
Promoters would encounter such fierce opposition to the section recommended from Post Falls to Coeur d'Alene that county commissioner Frank Henderson urged that it be abandoned. Instead, he suggested, the Spokane River be designated as a symbolic link between the two cities.
Ultimately, the trail proposed for Seltice Way was rerouted along Interstate 90.
Completed in 1995, the North Idaho Centennial Trail skirts the Spokane River from the state line to Coeur d'Alene and then glides along the Coeur d'Alene waterfront and city streets before finishing at Higgens Point. Combined, the North Idaho trail and its counterpart in Spokane County run 62 miles.
Fortunately, Doug Eastwood told Huckleberries, "Our vision was so much greater than the opposition. I hope people will stand their ground in the future when the next great idea comes along."
Treed
Tim Christie of Coeur d'Alene doesn't hold anything against the grizzly who chased him up a red fir in Glacier Park 35 years ago. She was protecting her cub.
On Oct. 4, 1986, the outdoor photographer (timchristiephoto.com) had shot through five rolls filming a whitetail courting a doe. He was about 200 yards from a park road when he saw a brown blur and heard a grizzly cub bawl.
In the few seconds he had before Mama Grizzly came running, he climbed 15 feet into a red fir. The sow hit the tree, Tim recalls, "like a Ford 250 had hit it head on." Then, she started climbing, jaws snapping, eyes intent on harm. She got close enough to grab Tim's tennis shoe and pull it off.
Tim would have been a goner had he been wearing his hiking boots that fit high on the ankle. The bear let go and fell at that point, possibly thinking she had gotten her prey.
On the same day, in Yellowstone Park, a grizzly killed and partly ate a person.
Tim wasn't thinking about death as the sow descended. He was looking into her glistening eyes. It's hard for outdoor photographers, like Tim, to capture the light in a bear's small eyes. As danger receded, Tim actually said aloud, "Babe, you've got beautiful eyes."
Tim is now 72. The encounter occurred about a half lifetime ago. He tells Huckleberries, "It is never lost on me how truly blessed I am that it happened the way it did."
Huckleberries
• Poet's Corner: At breakfast only seven;/at lunch hour but eleven;/and by the time they sat to dine — /nine hundred thousand ninety-nine — The Bard of Sherman Avenue ("The Leaves on His Lawn.")
• I still chuckle at the response given by Benewah County sheriff's candidate Joe Blackburn decades ago when I asked why he was running for office. He replied, "I'm probably crazy."
• Sighted in Oregon: A chalk drawing of a spaceship beaming up a cow at an intersection in downtown McMinnville, Ore., asks: "Do You Think Aliens Believe in Us?"
• Twenty-five years ago (Oct. 7, 1996), former CHS Vik QB John Friesz threw for 301 yards and three touchdowns to lead visiting Seattle to a 22-15 win over Miami in his first Seahawks start of the season. A clever headline in the Kitsap Sun captured the moment: "Big Friesz hits Miami."
Parting Shot
Jimmy McAndrew might have butterfingers but daughter Grace, 10, doesn't. The McAndrews were among the 44,414 fans who saw Seattle's 90th win on Saturday. Before the bottom of the first, they were watching the Los Angeles Angels outfielders toss a ball when right fielder Jose Rojas flipped the sphere into the crowd. The ball bounced off Jimmy's hands, causing a scramble. Grace ended up with the trophy. And got M's Saturday starter Chris Flexen to sign it at Sunday's game. Jimmy tells Huckleberries, "That night was the best baseball game I've ever attended, and the energy inside and outside of T-Mobile Park was incredible." The Mariners are on the rise. And it's a great time to be on their bandwagon.
• • •
D.F. "Dave" Oliveria can be contacted at dfo@cdapress.com.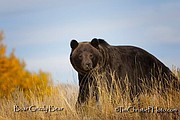 Recent Headlines
---