Bikini Bottom comes to CDA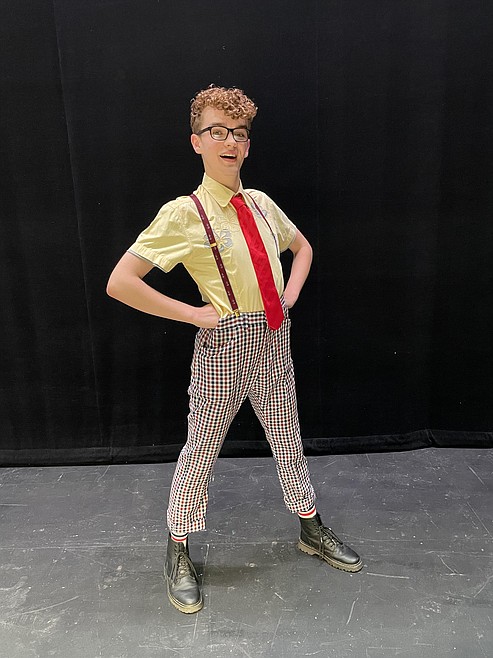 Tyler McCabe, a Post Falls High School senior, plays SpongeBob SquarePants at Aspire Community Theatre's regional premier running Oct. 15-17, and 20-24 at the Salvation Army Kroc Center theater. Photo courtesy of Aspire Community Theatre
by
HANNAH NEFF/Press
|
October 8, 2021 1:00 AM
Well, tartar sauce! There's a new show in town.
Aspire Community Theatre will perform 'The SpongeBob Musical' regional premiere in October, the first time the show will be performed in the area since it closed on Broadway in 2019.
"It's a fun, upbeat, feel-good musical and it will take you out of this crazy world we live in for a few hours and for some of us it revisits our childhood," said Daniel Renz, 17, of Spokane. "This musical is not just for kids."
Renz will be playing the character Plankton during the opener for Aspire Community Theatre's fifth season performed at The Salvation Army Kroc Center theater.
"My favorite part about playing Plankton is just portraying this kind of spunky villain and being able to do so much as the character," Renz said. "I get to sing, rap, do a hip-hop dance and get to wear this incredible costume."
The show will be directed by Aspire's artistic director Trigger Weddle, with music directed by Presley DuPuis and choreographed by Brenda Blakenship and Justie Latu.
"I am super excited," said Gatieh Nacario from Spokane, who will be playing the role of Patrick Star. "This will be my first principal role. I have been dreaming to have solo singing in a musical. Now I got it."
The show is rated G and will be performed Oct. 15-17 and 20-24.
Show times are 2 p.m. on Oct. 16, 17, 23 and 24.
A 7:30 p.m. showing will be on Oct. 15, 21, 22 and 23.
On Oct. 20 there is a special school night showing with discounted tickets at 7 p.m.
Tickets are $15-25 with group discounts and season tickets available.
Recent Headlines
---