Back in the USS IDAHO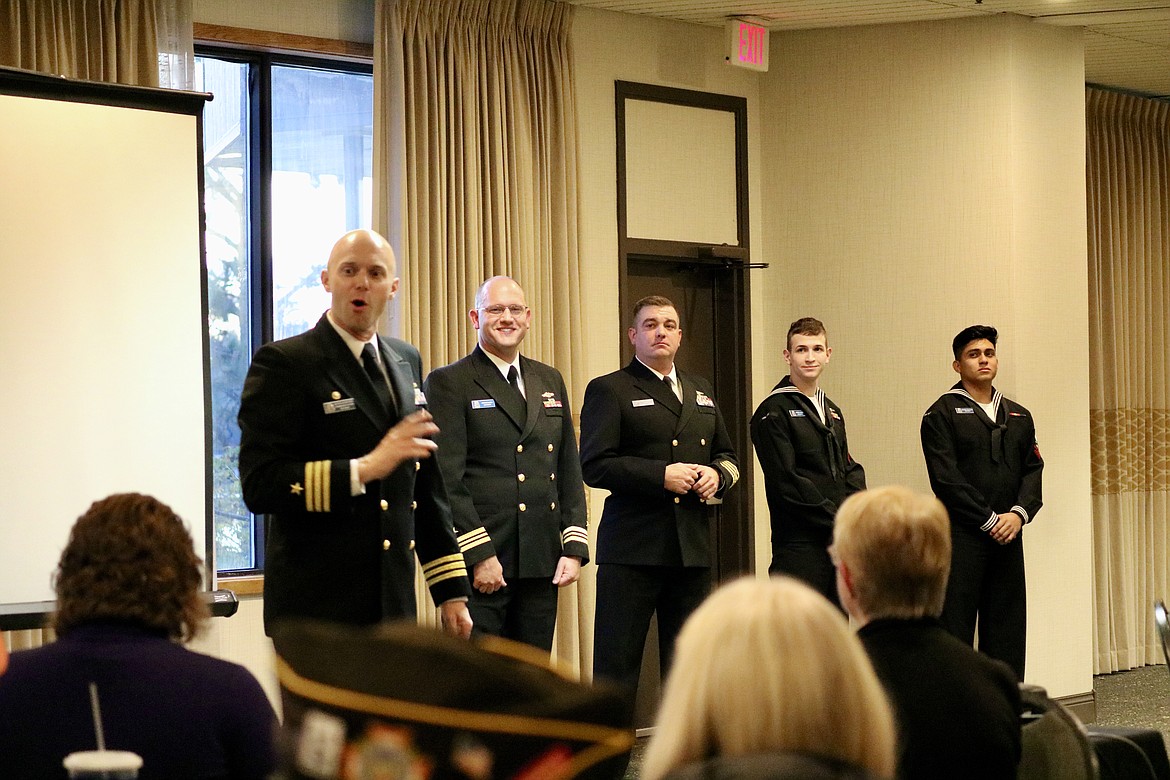 From left, Commander Nicholas Meyers, Lieutenant Commander Trevor Elison, Chief Mark Phelps, Nuclear 2nd Class Petty Officer Joshua Jordan and Petty Officer Enrique Caballero speak at the meet and greet on Wednesday evening at the Red Lion Inn and Suites in Post Falls. HANNAH NEFF/Press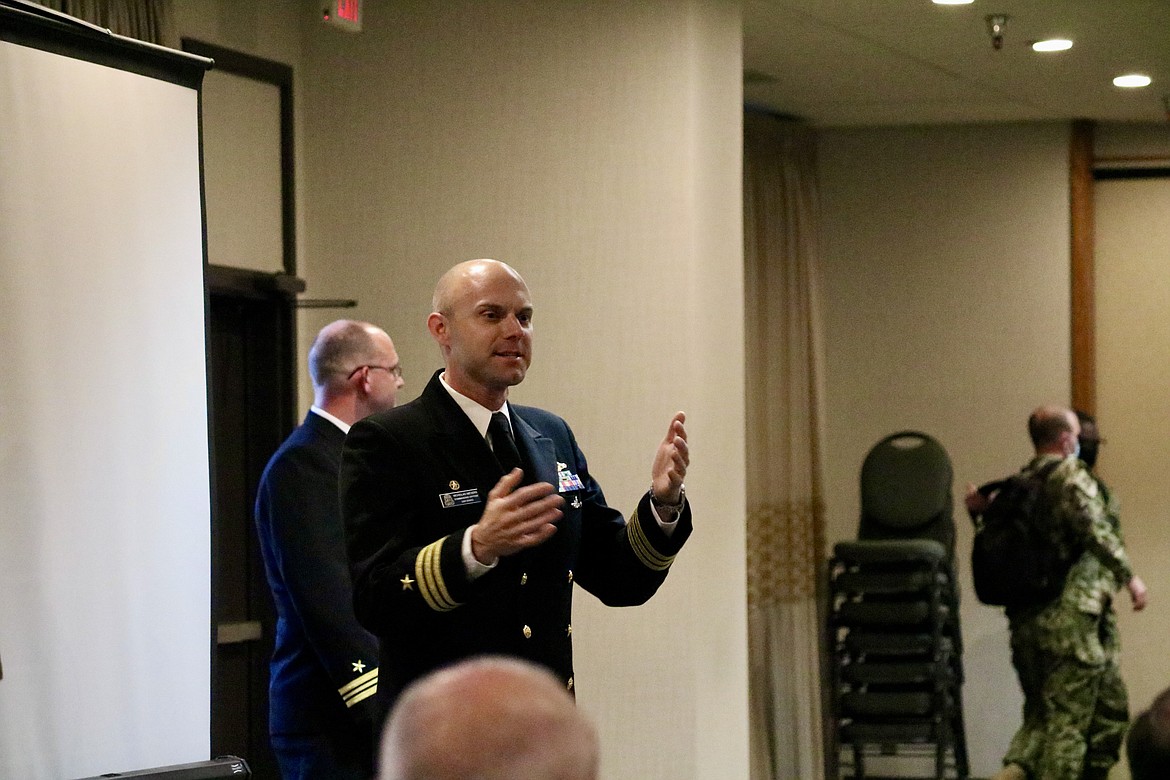 Cmdr. Nicholas Meyers, the commanding officer for USS IDAHO, speaks to a crowd of mostly retired Navy sailors at Red Lion Hotel Templin's on the River in Post Falls with four other crewmen for a meet and greet reception Wednesday night. HANNAH NEFF/Press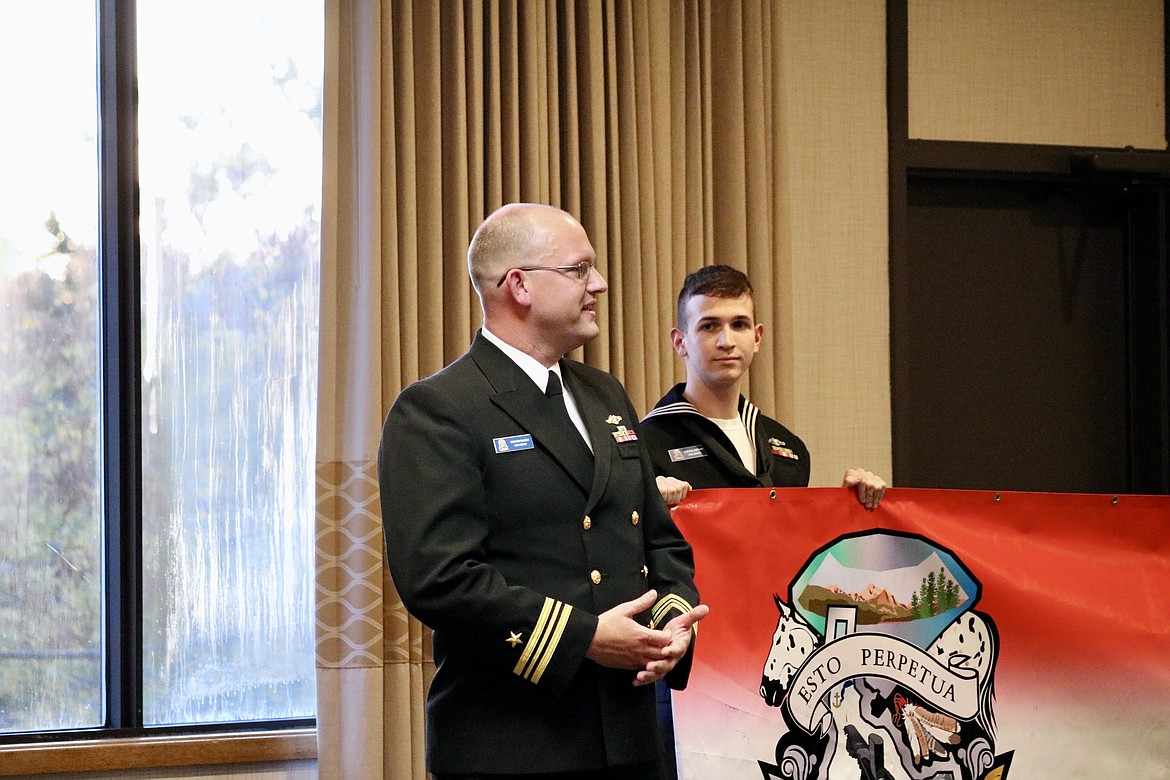 Idaho native Lt. Cmdr. Trevor Elison speaks at the meet and greet reception Wednesday evening at Red Lion Hotel Templin's on the River in Post Falls. Behind him on the right is Machinist's Mate Nuclear 2nd Class Petty Officer Joshua Jordan. HANNAH NEFF/Press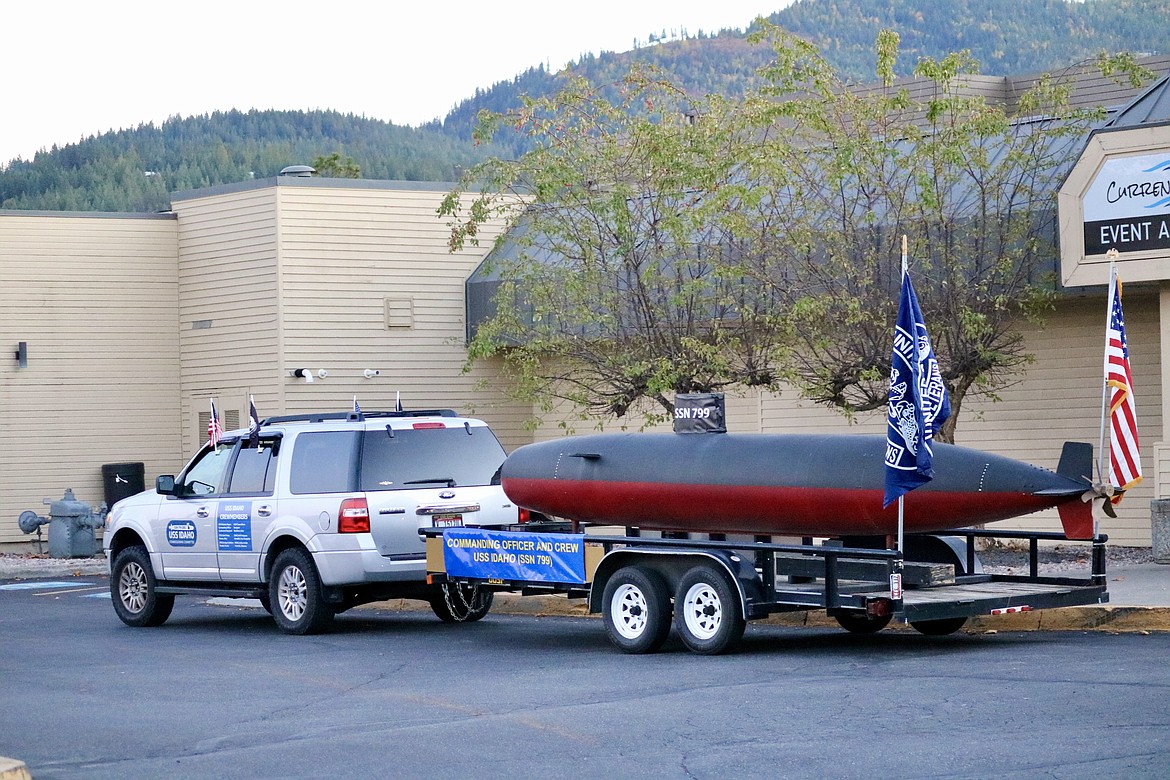 A model of the USS IDAHO SNN 799 was parked outside Red Lion Hotel Templin's on the River in Post Falls for the reception and meet and greet with crew members of the future Idaho-namesake submarine. HANNAH NEFF/Press
Previous
Next
by
HANNAH NEFF/Staff Writer
|
October 8, 2021 1:08 AM
There's a lot of Idaho in the newest nuclear-powered submarine.
Even those guarding the USS IDAHO carry something of the state's namesake.
"We have three watch teams standing watch right now on board the submarine 24/7," Cmdr. Nicholas Meyers told a cheering crowd Wednesday night. "They are named Vandals, Bengals and Broncos."
Meyers beamed.
"We have incorporated deliberately and with enthusiasm as much Idaho pride and culture into our ship's crest, into our crew, into our day to day routines," he said.
The commander of the future USS IDAHO SNN 799, a leading-edge Virginia Class nuclear-powered fast attack submarine, visited Red Lion Hotel Templin's on the River in Post Falls with four other crewmen for a meet and greet reception.
"When a new child is born to a crew member, and we had one born just last week, we call them tater tots," Meyers said. "So we got some healthy potato buds."
The USS IDAHO, an estimated $2.6 billion project with a 30+ year service life, is the first Naval ship in over 100 years to be named after the Gem State.
It's under construction by General Dynamics Electric Boat in Connecticut and is planned to be christened next summer by the ship's sponsor, Terry Stackley, wife of former naval officer and Assistant Secretary of the Navy for Research, Development and Acquisition, Sean Stackley.
Typically during a christening ceremony, the sponsor bestows the ship's name while smashing a bottle of champagne against the bow. However, the USS IDAHO will be christened with waters retrieved from Lake Pend Oreille.
"When we're underway aboard IDAHO, the vision is to have that Idaho spirit and pride and culture visible," Meyers said. "The meal, right? Spuds, on the menu. And maybe some Vandals, Bengals, Broncos gear, or we're up north here so maybe just some Vandal stuff."
The crowd laughed.
"But to have that instead of just staring at the steel in the bulkheads, that means a lot when we're out on operations for weeks at a time," Meyers said.
The submarine is set to be commissioned into the Navy fleet in the summer of 2023.
Much of the advanced acoustic stealth technology came out of Bayview from the Acoustic Research Laboratory located on Lake Pend Oreille. It's an ideal environment for acoustic testing because of the size, depth and quiet of the water.
"I'm just really honored to be a part of the crew of IDAHO and that it is my namesake state," said Lt. Cmdr. Trevor Elison, head of the navigation department.
Elison was born and raised in Blackfoot and currently makes his home in Moreland, Idaho.
There are 93 people assigned to the crew, eventually set to include 120 enlisted personnel and 14 officers.
For other crew members, this week's visit was their first trip to Idaho.
Enrique Caballero, a Florida native and Electronics Technician Nuclear Petty Officer Second Class for the USS IDAHO, said the crew enjoyed zip-lining with Timberline Adventures earlier that day and found the view to be breathtaking.
"When I think of the American Northwest and the typical trees and ponds and lakes, I came here and it was exactly as I imagined," Caballero said. "It is absolutely beautiful."
Senior chief Carol Griffith from Rathdrum, retired from the U.S. Navy after 28 years of service, said it was rewarding and encouraging to get back together with other shipmates as they learned about the new submarine.
"People don't realize how once you are in the Navy, you're always in the Navy, and that we are a very tight-knit group even in northern Idaho," Griffith said. "You have an immediate rapport with anybody that you walk in with, and stories to exchange and experiences to talk about is what fills my heart and gets me excited about putting on my uniform."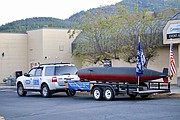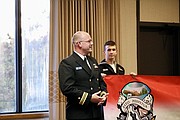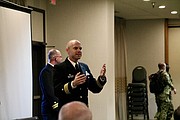 Recent Headlines
---