Travis Raihl, 34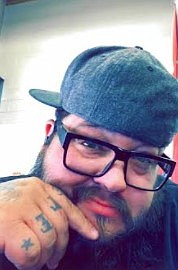 |
October 7, 2021 1:00 AM
Travis J. "T.J." Raihl, 34, passed away of COVID-19 on Sept. 13, 2021, at Kootenai Medical Center in Coeur d'Alene, Idaho. He left his earthy body surrounded by his loving wife, Kayora; his mother, his dad and his Grandma Pat.
Travis was born on Nov. 19, 1986, in Renton, Wash.; the son of Susan M. Galipeau (Schwartzenberg) and James D. Raihl.
Travis mainly grew up in Priest River, Idaho. He later met the great love of his life, Kayora Bailey. They were united in marriage on June 15, 2019, in Leavenworth, Wash. As a couple, they called Post Falls, Idaho their home.
Travis was a fun spirited man. He enjoyed import cars and had a deep appreciation for lowriders. He also enjoyed gaming, with 40K and Destiny, being some of his favorite past times.
Travis was a tough guy and an even harder worker. He worked at JMAC in Post Falls, which he loved. Travis had looked forward to a great future with them. "Cat-Man" will forever be missed.
Travis was preceded in death by his son, Anthony M. Raihl; grandfathers, Donald Raihl and David Mauro; grandpa, Robert Bazzer and grandma Sharon Bazzar.
He is survived by his wife, Kayora Bailey; parents, Randy and Susan Galipeau, Jim and Stephanie Raihl; grandma Mauro, grandma Raihl; brother, Bryce (Nichole) Brennan; and three stepbrothers and numerous aunts, uncles, and cousins.
Travis was, and will always be, a radiant soul that loved his family deeply. In his 34 years, he touched so many lives and made so many friends. Those who knew him, loved him. He will continue to live on in our memories and our hearts.
"So let the light guide your way,
Hold every memory as you go
And every road you take
Will always lead you home"
A Celebration of Life will be held at 11:00 am on Saturday, Oct. 9, 2021, at Bell Tower Funeral Home. All are welcome to attend.
Recent Headlines
---