NIE: Make it an original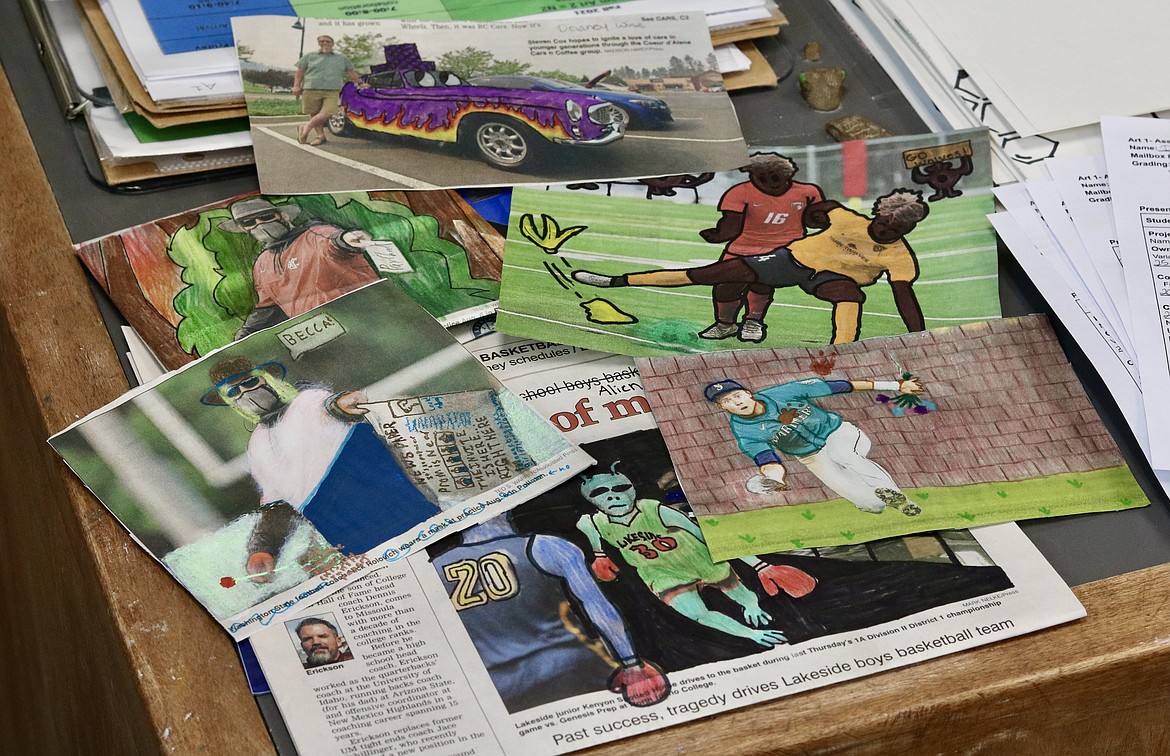 Students in Dawn Myers art class at Lake City High School used copies of The Coeur d'Alene Press for a project on ethics where they altered the photos at least 50% to make the artwork their own. HANNAH NEFF/Press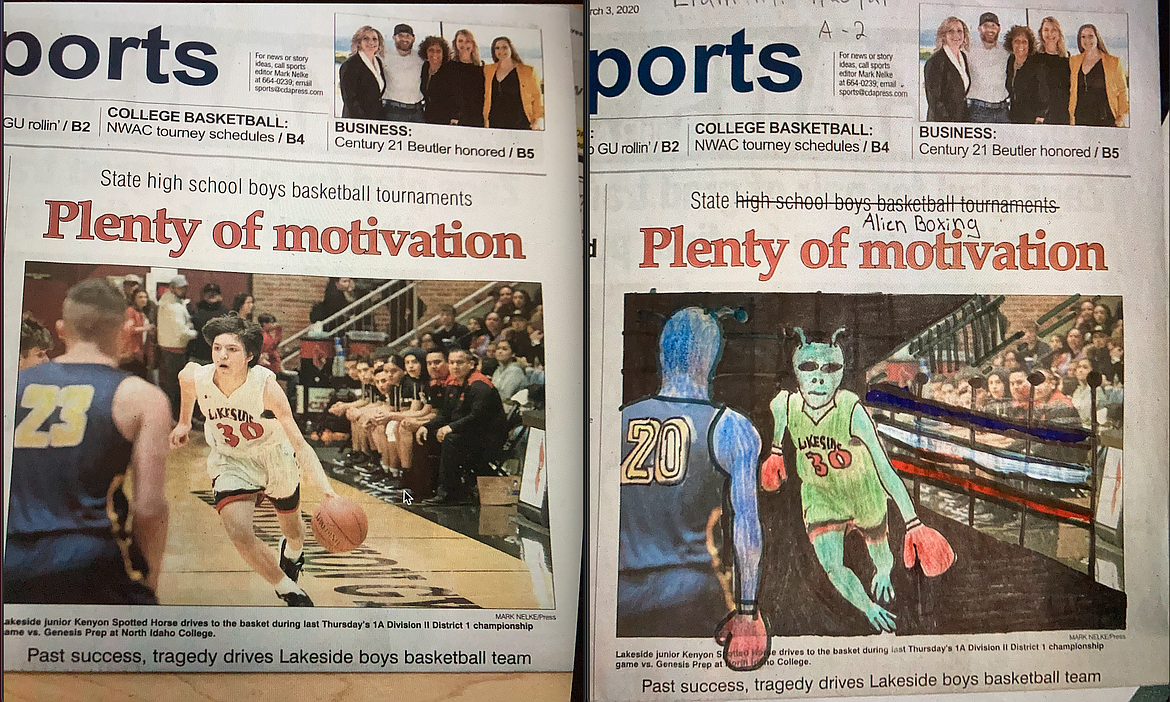 This side-by-side shows the before and after of 10th grader Liam McNamara's project. Students at Lake City High School used copies of The Coeur d'Alene Press for an ethics assignment in which they had to change at least 50% of a photo to make the artwork their own. HANNAH NEFF/Press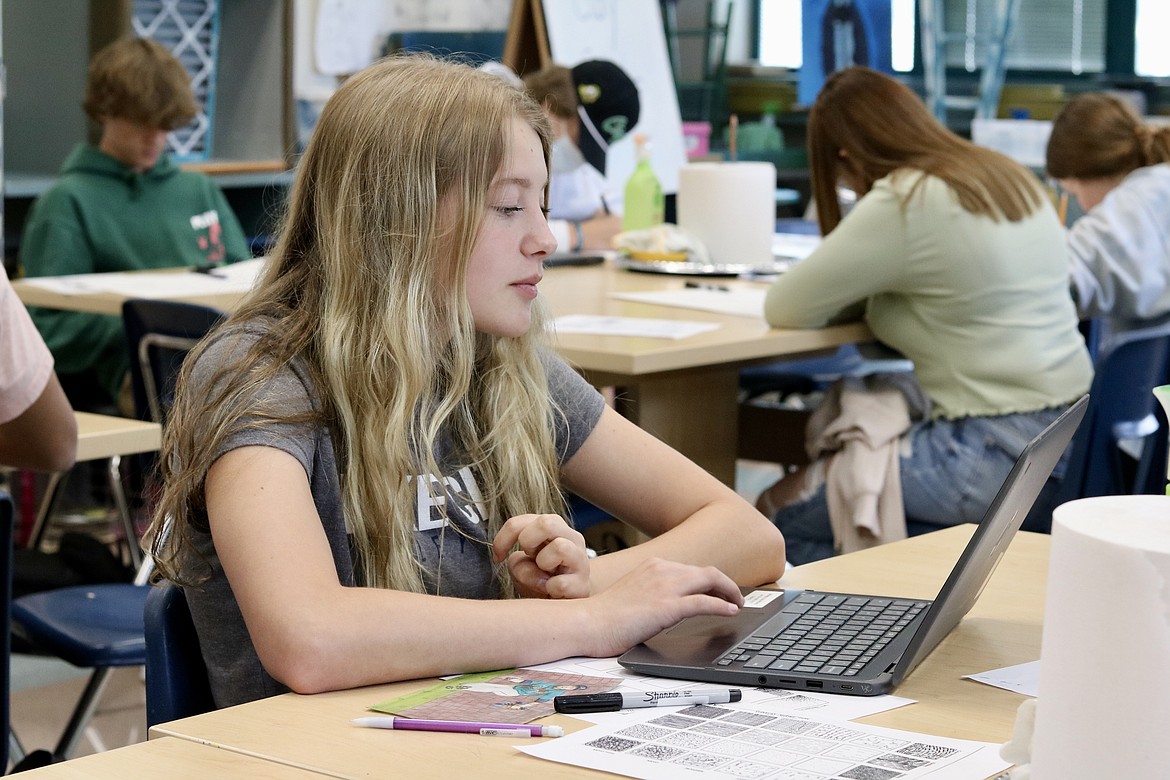 Taylor Winey works on an art project at Lake City High School. The newspaper clipping beside her is a project she worked on for an ethics lesson where students had to change the photo at least 50% to make it their own. HANNAH NEFF/Press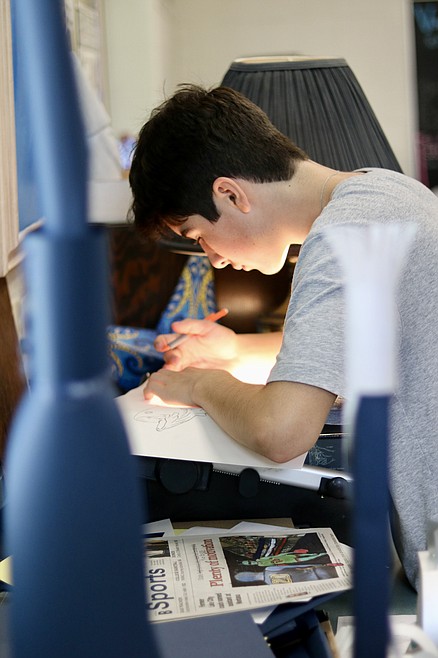 Liam McNamara, a tenth grader at Lake City High School, works on an art project for class. The week prior they used newspapers for a lesson on ethics in art, changing the photos at least 50% to make it their own. HANNAH NEFF/Press
Previous
Next
by
HANNAH NEFF/Staff Writer
|
October 7, 2021 1:00 AM
From finding inspiration to papier mache, art students at Lake City High School have found a variety of newspaper purposes.
"I really enjoy using The Press in class as a hands-on material," said Dawn Myers, an art teacher at Lake City High School. "I try to teach my students to find inspiration in life from primary sources, and not rely on technology as more than a tool."
To kick off the year, Myers said she always starts the class off with an ethics project to teach students not to borrow ideas without making it at least 50% their own.
To own a piece in writing or art, Myers said the person must change the original piece by at least 50%.
Myers gave her students copies of the Coeur d'Alene Press to alter. The papers were donated through the Press's Newspapers in Education program.
"Whether it's art, or whether it's just inspiration for art, it's a good source to stay kind of connected with your community," Myers said. "We just use them constantly."
Students chose photos and headlines to make their own using markers.
They used erasers to remove parts of the images and then added to the photo from their own imagination.
Liam McNamara, a sophomore, chose a photo of a basketball game that he turned into an alien boxing match.
"I just kind of decided to switch the whole scheme and I didn't want to do anything that's too original," McNamara said. "I just kind of went with whatever happened."
Taylor Winey, a freshman, selected a photo of a baseball player and swapped the mitt and ball for a bouquet and ice cream cone, as well as changed the background.
"Basically I just wanted to make a story," Winey said. "I learned it's kind of hard to think of something to turn something else into, but it's really fun and I really enjoyed doing it."
•••
To help expand The Press NIE program, please donate today.
Credit card: Call The Press, 208-664-8176
Check: Mail it to The Press, 215 N. Second St., Coeur d'Alene, 83814. Indicate that it's for Newspapers in Education or NIE.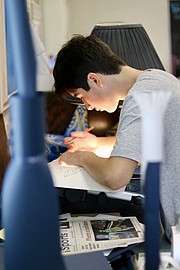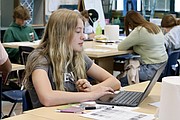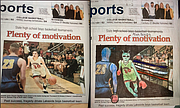 Recent Headlines
---