Hospital paints dire picture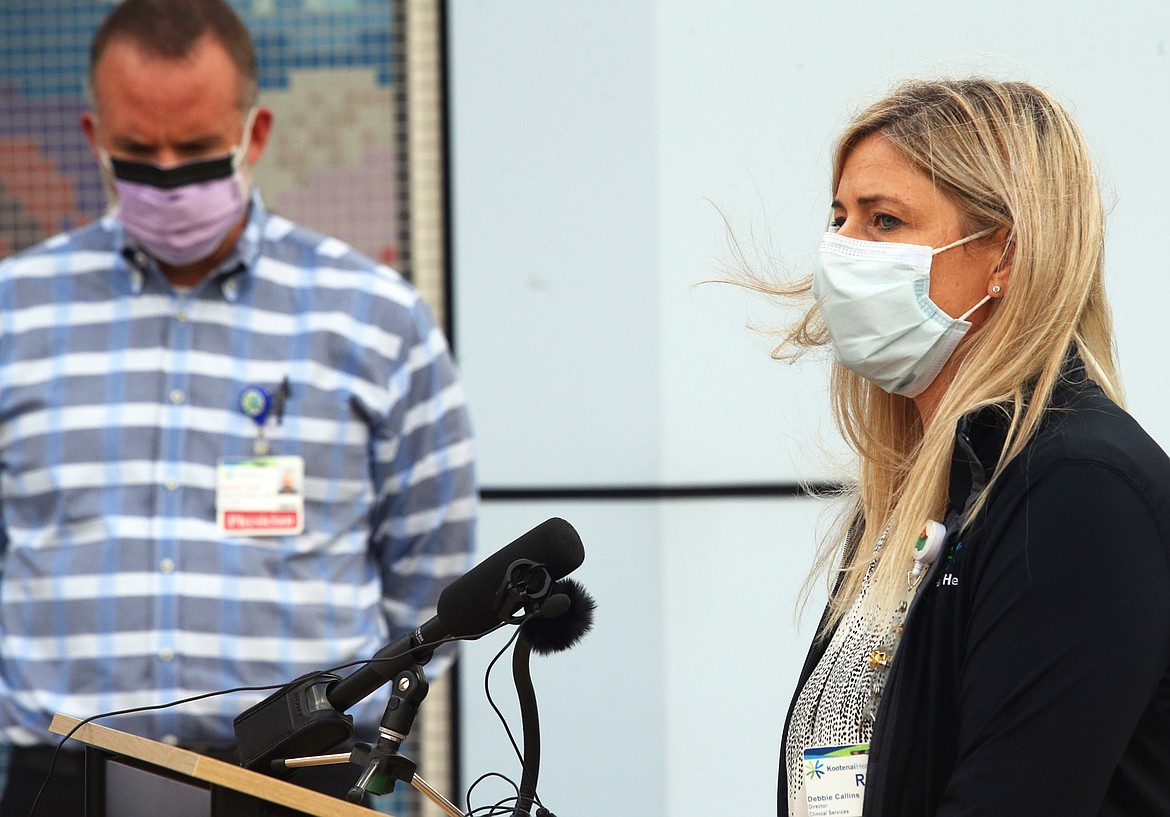 Debbie Callins, director of clinical services at Kootenai Health, speaks during a press conference about the COVID-19 situation at the hospital on Wednesday, while Dr. Robert Scoggins listens.
BILL BULEY/Press
by
BILL BULEY
Staff Writer
|
October 7, 2021 1:07 AM
COEUR d'ALENE — After Debbie Callins has had a day off as clinical services director at Kootenai Health, she returns with hopes that things will be better.
So far, they're not.
"As you heard, the numbers are going up and the staff are tired," she said during a press conference outside the hospital on Wednesday.
As for light at the end of the tunnel, Callins said, "We don't know when that's going to be."
Kootenai Health reported a record 150 coronavirus inpatients on Wednesday, with 43 requiring critical care, 17 on ventilators, and two patients under the age of 18.
Panhandle Health District reported 202 new COVID-19 cases and the death toll attributed to the virus is 499.
Callins said the rising patient numbers have strained resources and affected the staff's ability to care for patients.
"It's really important to know that the fight is real, and the struggle is real," she said. "But our teams are very strong. They continue to come in and fight every single day to take care of our community."
"Our big hashtag that we'd like to share with everybody is #strongertogether, because that's the only way we can get through this, is together," she added.
Jeremy Evans, chief regional operations officer, said they have seen a "significant surge in our COVID volumes." They have 35 more coronavirus patients this week than last.
He said they have had to care for patients in additional overflow areas and in the conference center that was converted into a COVID care unit.
The COVID positivity rate has increased to about 27%, he said.
The military medical response team deployed to Kootenai Health through early November has been a tremendous help, Evans said.
"The federal staffing resources that we have received have literally been a lifesaver for us," Evans said. "In addition, we continue to maximize our own nursing staff by using team nursing models to further expand our resources and capacity."
Dr. Robert Scoggins said it's been trying times.
"We've seen a lot of deaths," he said.
They have been averaging about one death each day in the COVID population in ICU.
He said it's difficult to describe what it's like to care for so many patients and see what's happening on a daily basis.
"It's a very hard place to work right now. The patients are very sick. And it's constant," he said. "It's just a constant struggle to take care of these patients on a daily basis. The nursing staff is tired. I think that without our federal resources that we got, I'm not sure how we would have taken care of all these patients."
Scoggins is looking forward to patient numbers going down and the situation improving, but he doesn't know when that might happen.
"I think it's just a difficult struggle, the struggle for the patients, for the families, for the staff," he said. "I really wish we were out of this."
Scoggins spoke of a middle-aged patient who had COVID, spent a few days in the ICU and was discharged. He returned with a serious complication of COVID and could face chronic lung disease, as could other even younger patients in similar situations.
"I think we're gonna see a whole population of young people with chronic lung disease and many of them will need lung transplants," Scoggins said.
That older patient later asked when he could get the vaccine.
"I think that's the real thing that's frustrating for many of us is that a lot of these people don't need to be in the hospital if they were vaccinated," Scoggins said.
Recent Headlines
---