A pain in the ash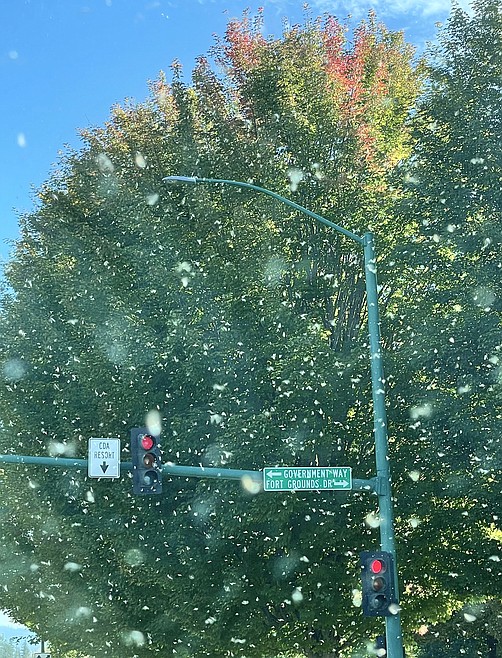 Photo by Judith Yancy A swarm of ash aphids fill the air in Coeur d'Alene.
by
By PRESS STAFF
|
October 6, 2021 1:07 AM
The annual return of ash aphids is turning a walk in the park to a pain in the park.
Walkers, runners and cyclists are running into swarms of the tiny flying insects, which are especially prevalent in morning and early afternoon sunshine.
The insects are benefitting from sunny early fall conditions. They were everywhere over the weekend and again Monday and will likely be around this week, with warmer than usual weather in the forecast.
They don't bite, but they do get into eyes, hair, clothes and mouths, so watch out.
The small, sap-sucking insects are called smokey-winged ash aphids and they don't harm healthy trees. The aphids follow a seasonal pattern as they move between fir and ash trees.
During spring and summer, the bugs live as wingless insects in the ground, feeding on the roots of firs. They emerge in autumn and swarm to ash trees to lay eggs on the bark. When new bug eggs emerge in spring, they fly to fir hosts — mostly grand fir in town — and the cycle starts again.
People notice the bugs in the fall when the smoky clouds of swarming aphids cover ash-lined streets like a purple haze.
Autumn infestations are frequently reported from eastern Washington across Idaho's Panhandle to western Montana.
They shouldn't be with us too much longer. A cold snap generally kills them off, and cooler temperatures are in the forecast for this weekend and next week.
Recent Headlines
---