'The Guilty' and a Gyllenhaal appreciation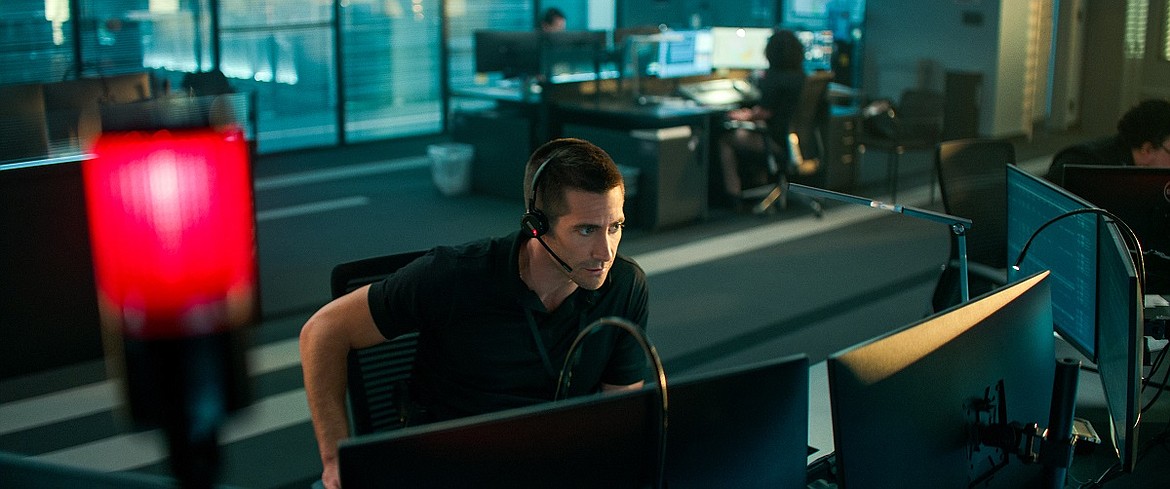 Photo courtesy of NETFLIX
by
TYLER WILSON/Coeur Voice contributor
|
October 6, 2021 1:00 AM
Playing flawed and compelling protagonists in movies as varied as "Donnie Darko" and "Nightcrawler," Jake Gyllenhaal remains one of the more unappreciated actors of his generation.
His newest film, "The Guilty," a remake of a 2018 Danish film, is another stellar showcase of his magnetic screen presence. Gyllenhaal plays Joe, a disgraced street cop-turned-Los Angeles 911 dispatcher, who tries to help a desperate caller as she's being abducted.
The remake, directed by Antoine Fuqua ("Training Day," "The Equalizer" films), almost never leaves Joe's face as he works the case and deals with calls with fellow cops, former partners, an ex-wife and whatever random emergency that comes across his board. The unseen people on the other end of the line include notable voices like Ethan Hawke, Riley Keough and Paul Dano.
Working a dispatch night shift on the eve of a court case that will determine his reinstatement to field duty, Joe's frustration and bottled rage fuels the intensity as he tries to unravel the details of the kidnapping. He stays on the line with the abducted woman, who pretends she's talking to her young daughter. They're on the freeway somewhere, with wildfires raging nearby, but Joe can't pinpoint her exact location.
At a brisk 90 minutes, Gyllenhaal commands "The Guilty" as the angry-but-remorseful Joe. He refers to himself and other cops as "protectors," though he obviously feels conflicted and defensive about something. How the kidnapping case unfolds ultimately triggers Joe into wrestling with his own guilt. Gyllenhaal's performance isn't subtle, but the actor has a handle on making physical and vocal outbursts appear convincing and believable given the situation.
For a movie focusing on mostly one actor, "The Guilty" retains its tension without too many visual distractions. The last 30 minutes, which offers something of a redemptive arc for Joe, lacks some nuance, but Gyllenhaal, Fuqua and screenwriter Nic Pizzolatto (HBO's "True Detective" series) hold back just enough to keep the film away from preachy territory.
Gyllenhaal's focus on broken heroes and anti-heroes has helped to make his career refreshingly unpredictable, even when he sprinkled in a few underwhelming blockbusters in the 2000s ("The Day After Tomorrow," "Prince of Persia"). After his stellar, Oscar-nominated work in Ang Lee's "Brokeback Mountain," Gyllenhaal has been largely snubbed in awards circles for some truly deserving work. He's the glue to David Fincher's masterful "Zodiac," and he's thrown himself into physically demanding roles like "Southpaw," "Jarhead," "End of Watch" and "Stronger" with convincing aplomb.
Two incredible performances came courtesy of "Dune" director Denis Villenueve in 2013 — the brain-bending "Enemy" and the ensemble drama "Prisoners." He'll go big and broad with bad guys too… most notably as Mysterio in "Spider-man: Far From Home," but also in weirdo parts like "Okja" and "Velvet Buzzsaw."
While "Velvet Buzzsaw" didn't really work on the whole, that film's writer/director Dan Gilroy led Gyllenhaal in his best performance as a morally compromised freelance photojournalist working the salacious L.A. crime beat in "Nightcrawler" in 2014. It should've been a no-brainer Oscar nomination for Gyllenhaal (the film did manage an original screenplay nomination).
"The Guilty" is another Oscar-caliber Gyllenhaal performance, though given its relatively limited profile and early fall release date, it shouldn't be expected. Hopefully, Gyllenhaal will get his due one day.
"The Guilty" is now streaming on Netflix.
• • •
Tyler Wilson has been writing about movies for Inland Northwest publications since 2000, including a regular column in The Press since 2006. He can be reached at twilson@cdapress.com.
Recent Headlines
---