70s swan song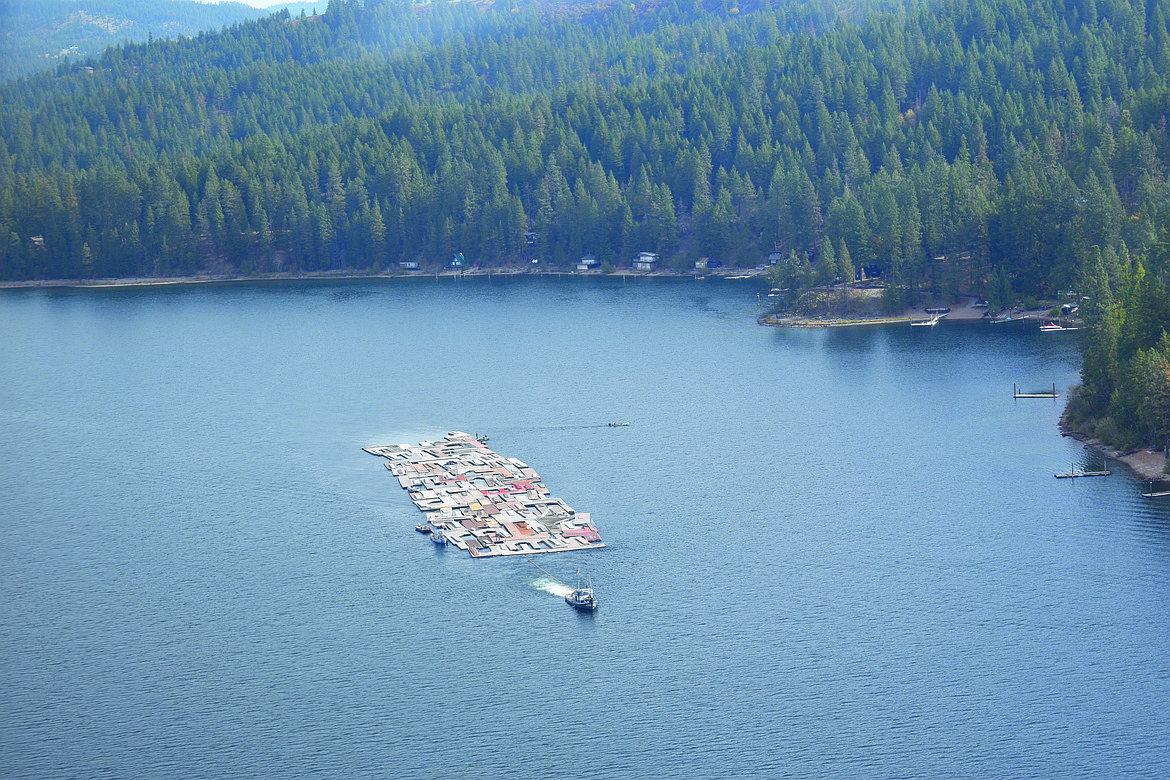 An annual glut of docks on Lake Coeur d'Alene as a tugboat takes a flock to sheltered waters Tuesday.(Photo by Mike Kincaid)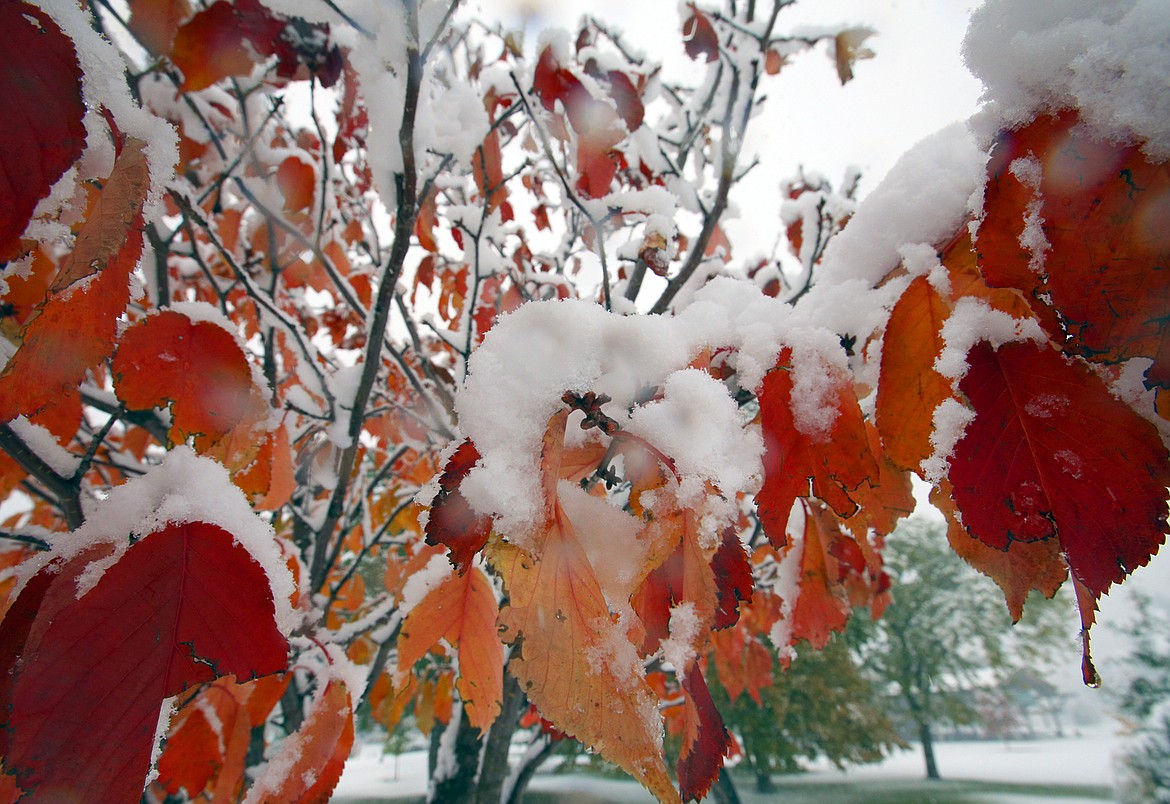 Snow covers leaves at McEuen Park after last year's late October snowfall in Coeur d'Alene. A record 7.7 inches of snow fell Oct. 23.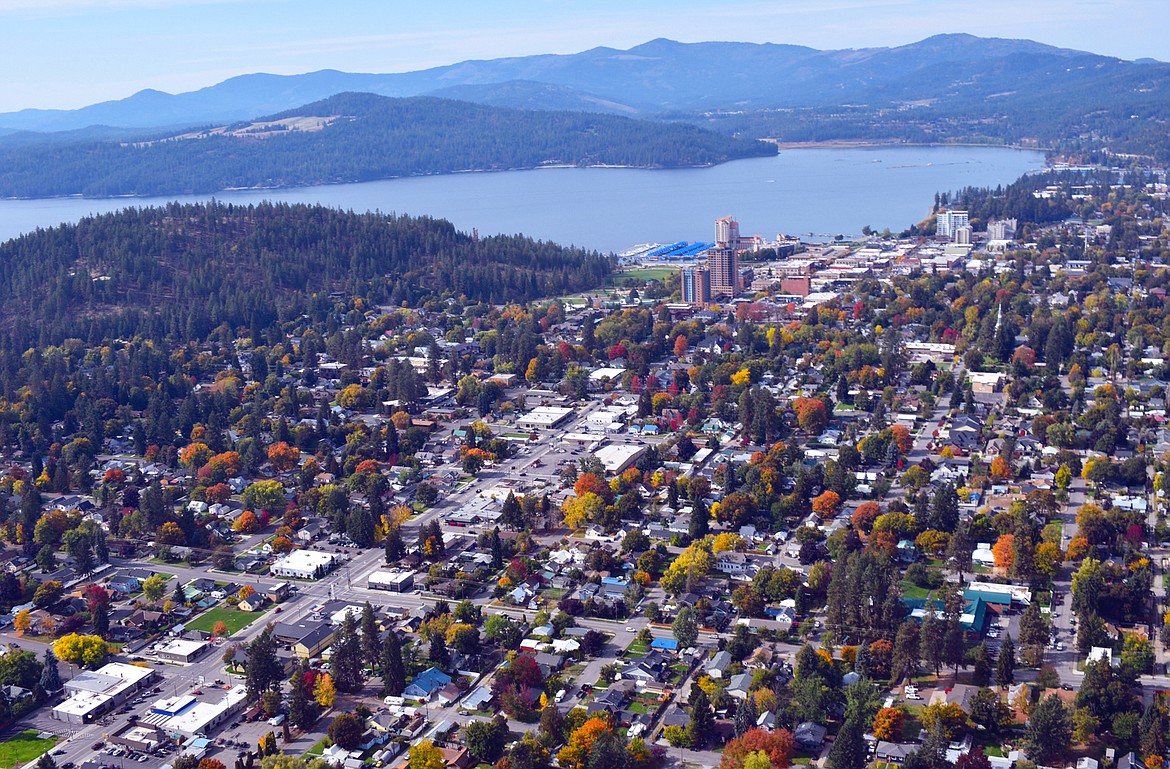 MIKE KINCAID/photo Fall colors were evident from above our fair city this week.
Previous
Next
by
BILL BULEY
Staff Writer
|
October 6, 2021 1:09 AM
COEUR d'ALENE — The 70s are a thing of the past.
Climatologist Cliff Harris said the area saw a high of 73 degrees on a sunny Tuesday. He hopes people enjoyed it, because it's going to be a long time before it's that warm again — try next spring.
"We've got some pretty cold air coming in," Harris said.
And perhaps, God forbid, snow.
This week, while we'll still have sunshine, with temperatures expected to drop into the 50s during the day and 30s at night.
Early next week there's a chance of rain and snow showers, with the snow level dipping to 2,700 feet, according to the National Weather Service. Highs may be in the 40s and lows in the upper 20s.
"There's definitely a chance of snow above 3,000 feet and possibly we'll see some down here," Harris said.
It could be the third straight October with measurable snowfall in Coeur d'Alene.
"That's never happened before, global warming or no global warming," Harris said.
Last year, in late October, it dumped a record 7.7 inches of snow here.
He said the area got an early summer with a hotter-than-normal June and an early fall as conditions cooled quickly in late August. So he's expecting an early winter.
"Everything is ahead of schedule," Harris said.
Harris said the cold weather pattern is on the way from the Gulf of Alaska. October should see above average moisture, just like September did, with 1.66 inches of rain, topping the normal of 1.48 inches.
It's going to continue to get cooler and wetter.
"I just feel we're going to be seeing some unusual cold weather here in the next week to 10 days," Harris said.
And with La Nina developing, Harris is expecting a snowy first half of winter, so yes, that could mean a white Christmas, which is what everyone wants to know.
"It's going to be a long winter," he said.
Until then, it might be time to start putting the hoses away and saying goodbye to flowers.
Still, winter is officially more than two months away.
"I'm not recommending people put on their snow tires yet, but that's coming," Harris said.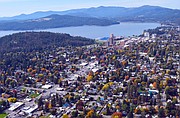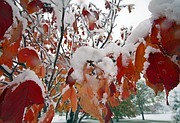 Recent Headlines
---