NIE: Lights, camera, action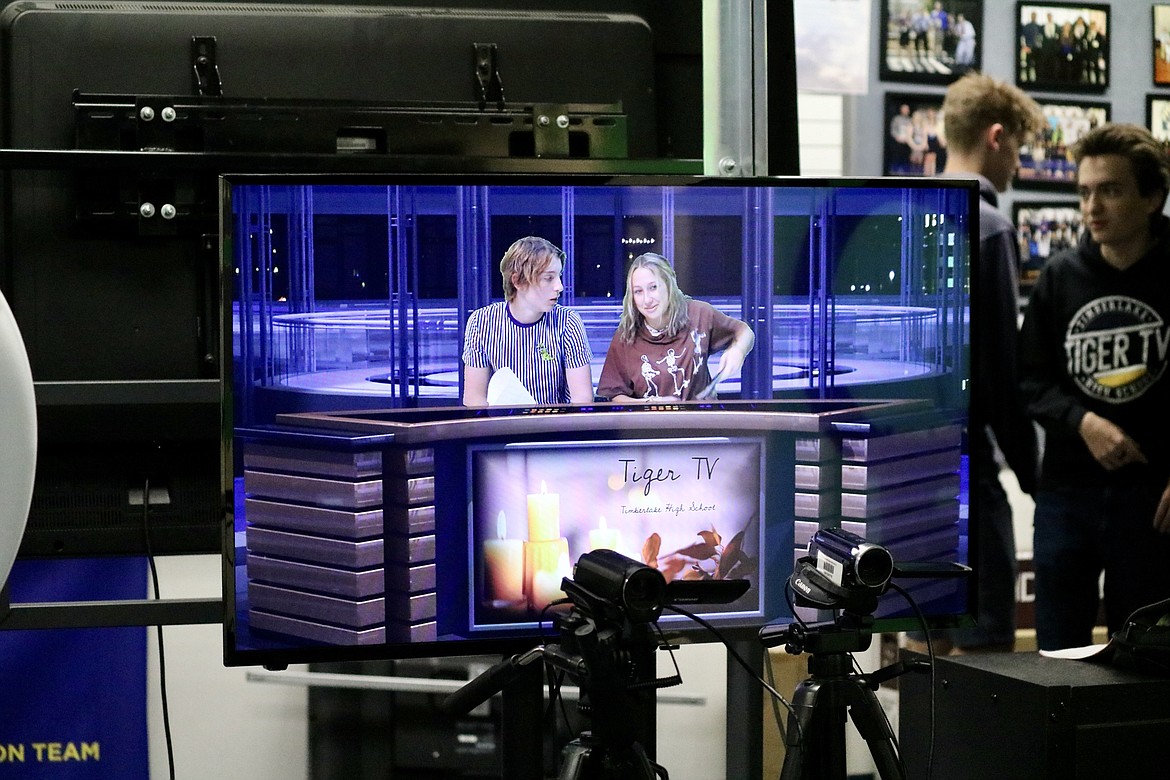 Timberlake High School seniors Tanner Menti and Sami Wilfong sit in front of a green screen as they prepare to launch the daily broadcast, Tiger TV. HANNAH NEFF/Press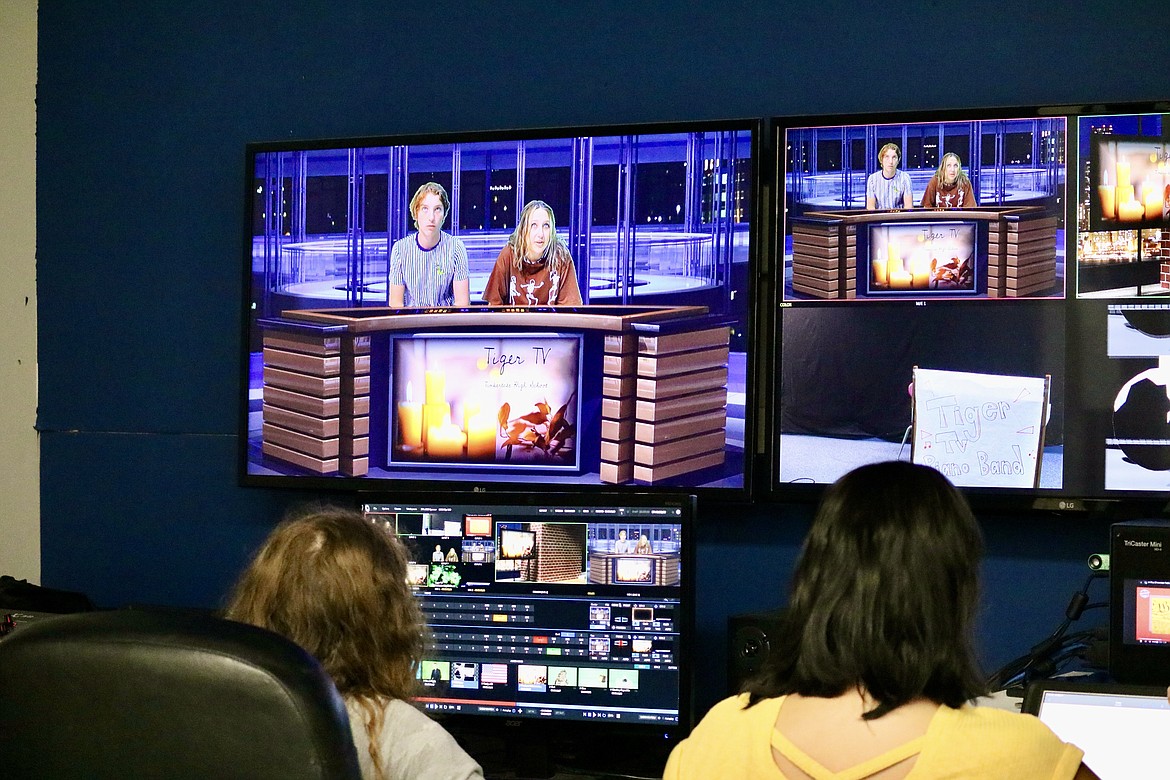 Timberlake High School students in Chris Jarstad's video production class learn how to use professional equipment to put out a live broadcast for the school every morning. HANNAH NEFF/Press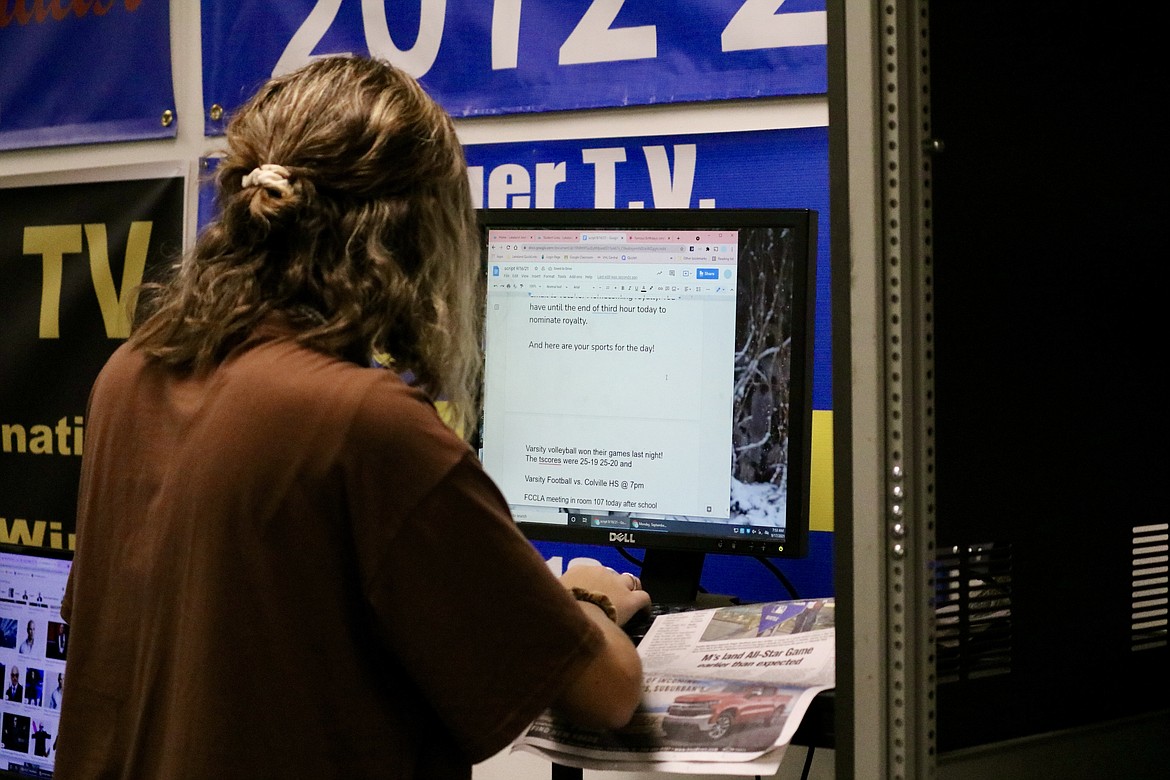 Sami Wilfong, a senior at Timberlake High school who is finishing up her third year in the video production class, uses The Coeur d'Alene Press to put the school's sports scores into the class broadcast script. HANNAH NEFF/Press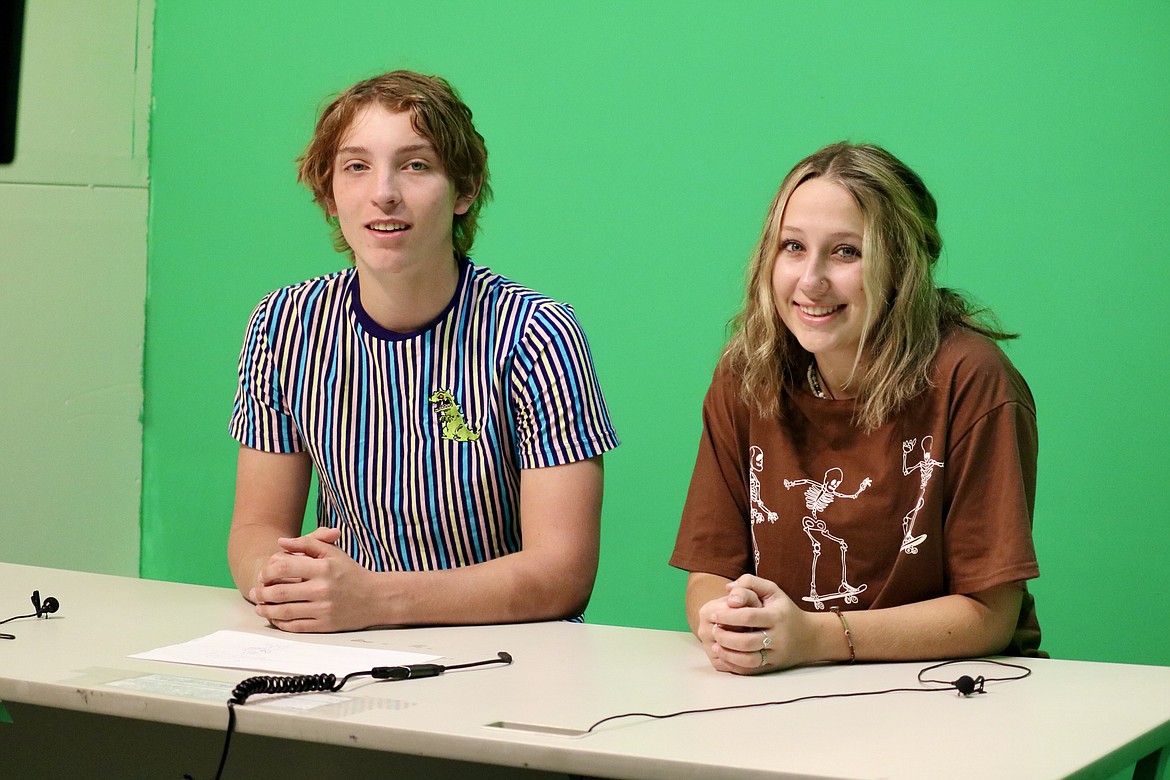 Timberlake High School seniors Tanner Menti and Sami Wilfong sit in front of the green screen as they prepare to start the daily live broadcast for the school, a short segment around five to seven minutes that lists birthdays, a smile of the day photo, special school events, lunch menu choices and more, and ends with leading the school in the Pledge of Allegiance. HANNAH NEFF/Press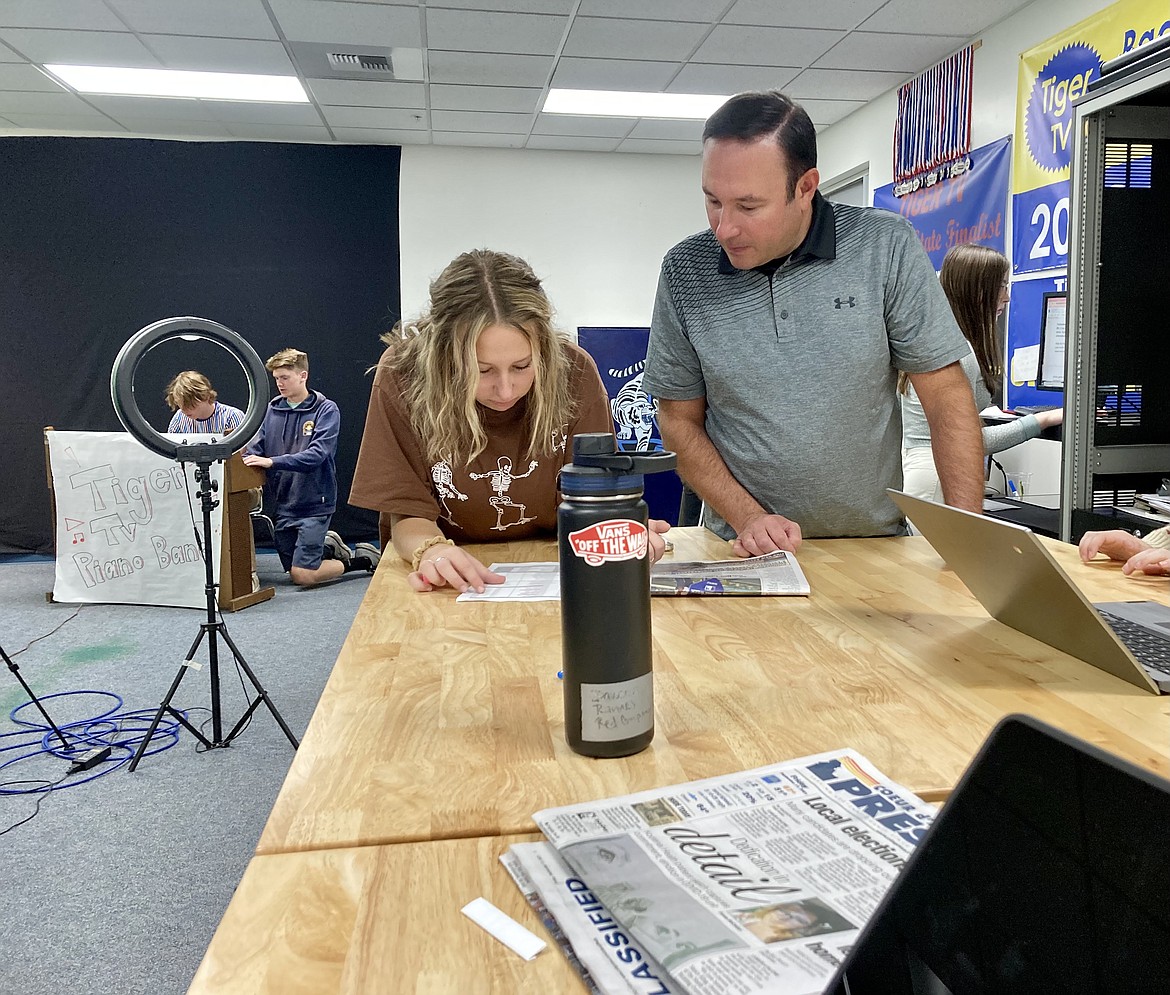 Timberlake High School senior Sami Wilfong gathers sports scores from The Coeur d'Alene Press for the daily broadcast, Tiger TV, while video production teacher Chris Jarstad watches. HANNAH NEFF/Press
Previous
Next
by
HANNAH NEFF/Staff Writer
|
October 5, 2021 1:06 AM
Mic checks, last-minute typing, camera check, shouts to be quiet.
It's a bit of chaos and there's only an hour before they go live.
These Timberlake High School kids start out every school morning prepping for the daily broadcast to inform the school of the day's events.
"Kids aren't really used to that, just having that deadline pressure," said Chris Jarstad, the video production teacher. "It makes it more exciting."
Jarstad said he opens class with a morning meeting, then the students take over with the older students teaching the newer students how to run the equipment and talk in front of the camera.
The broadcast covers topics such as birthdays, a smile of the day photo, special school events, lunch menu choices, national events and more, ending with leading the school in the Pledge of Allegiance.
The class uses the Coeur d'Alene Press to get the sports scores and highlight any of Timberlake's athletes of the month.
Tanner Menti, a senior, said students rotate through playing roles such as news anchor and, the role he currently is helping teach, technical director.
"I'm actually planning on going into film and cinematography," Menti said. "Whether that's like writing or editing, or even filming."
Menti is in his third year in the class. As a returning student, he's been helping a lot with teaching the different roles and equipment management.
Jarstad's class has also had success competing with other schools in the state through the Idaho Business Professionals of America conference in Boise, an organization for business students.
In 2020 they placed first in the Broadcast News Team and Video Production Team events, and in 2021 they won Northwest Student Emmy Awards in the categories of Newscast and Serious News.
Tiger TV, the class morning broadcast, also placed second in the Broadcast News Team event that was held virtually.
"I think my favorite part is probably BPA, Business Professionals of America," said Sami Wilfong, a senior who is also finishing her third year in the video production class.
Anyone can watch the award-winning broadcast on YouTube, put out live at 8:30 a.m. on school days.
•••
To help expand The Press NIE program, please donate today.
Credit card: Call The Press, 208-664-8176
Check: Mail it to The Press, 215 N. Second St., Coeur d'Alene, 83814. Indicate that it's for Newspapers in Education or NIE.
YouTube: Tiger TV, https://www.youtube.com/user/cjarstad.
Recent Headlines
---