10 schools, 1,300 legs and loads of fun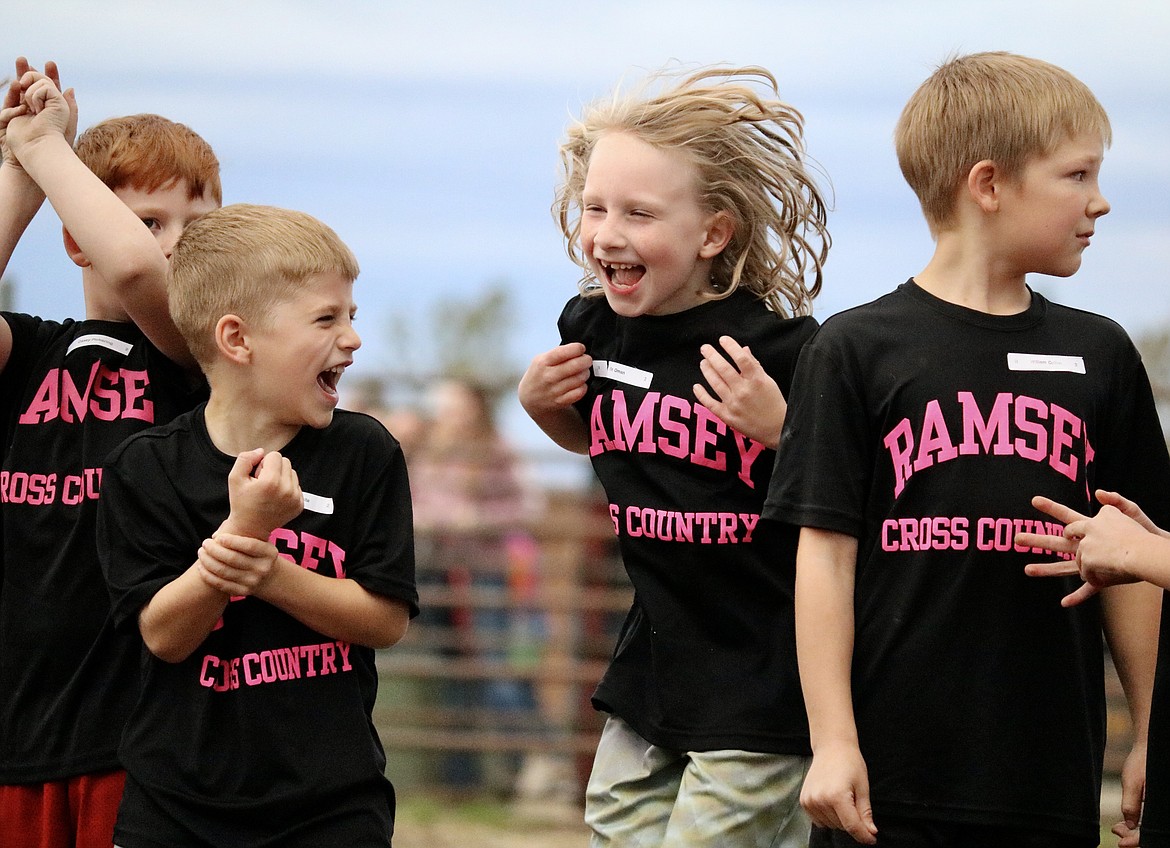 From left, second graders Casey Pickering, Alex White, Fin Oman and William Cullen from Ramsey Magnet School of Science try to contain their excitement as they prepare for the start signal at the Coeur d'Alene School District cross-country race on Thursday evening at the Kootenai County Fairgrounds. HANNAH NEFF/Press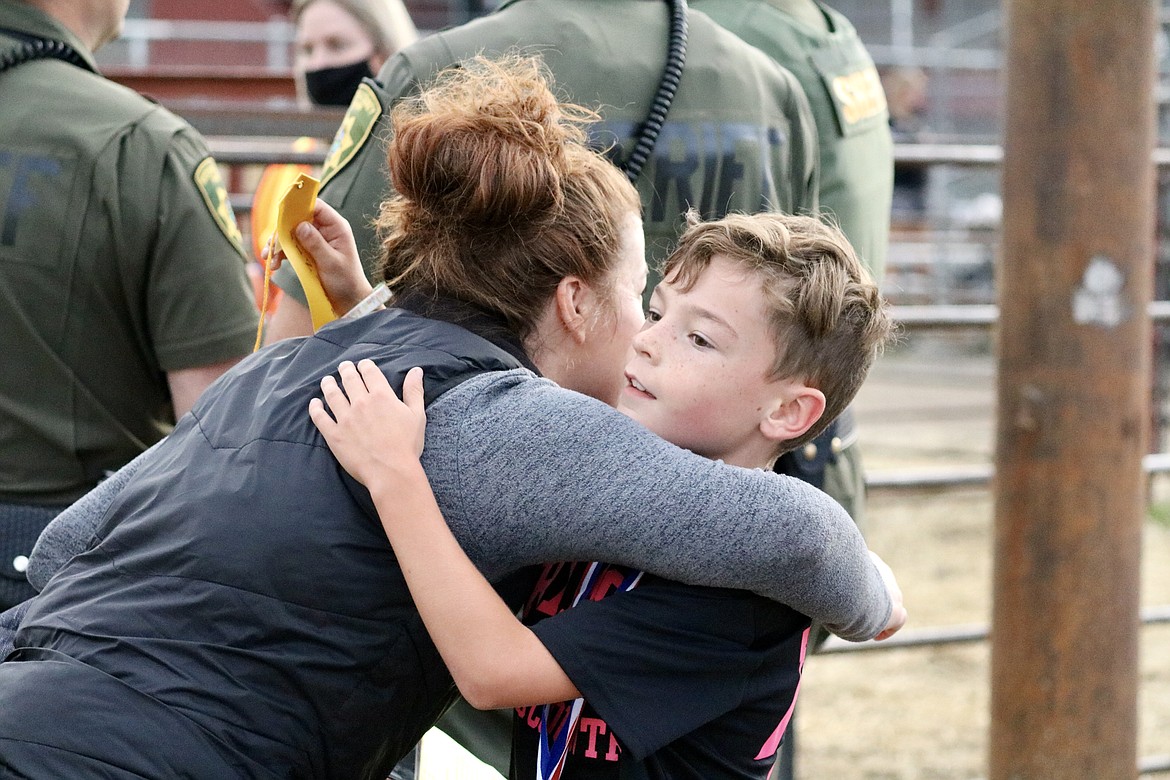 Second grade boys winner Easton Moore hugs his mom Kristin Moore at the Coeur d'Alene School District cross-country race on Thursday evening at the Kootenai County Fairgrounds. HANNAH NEFF/Press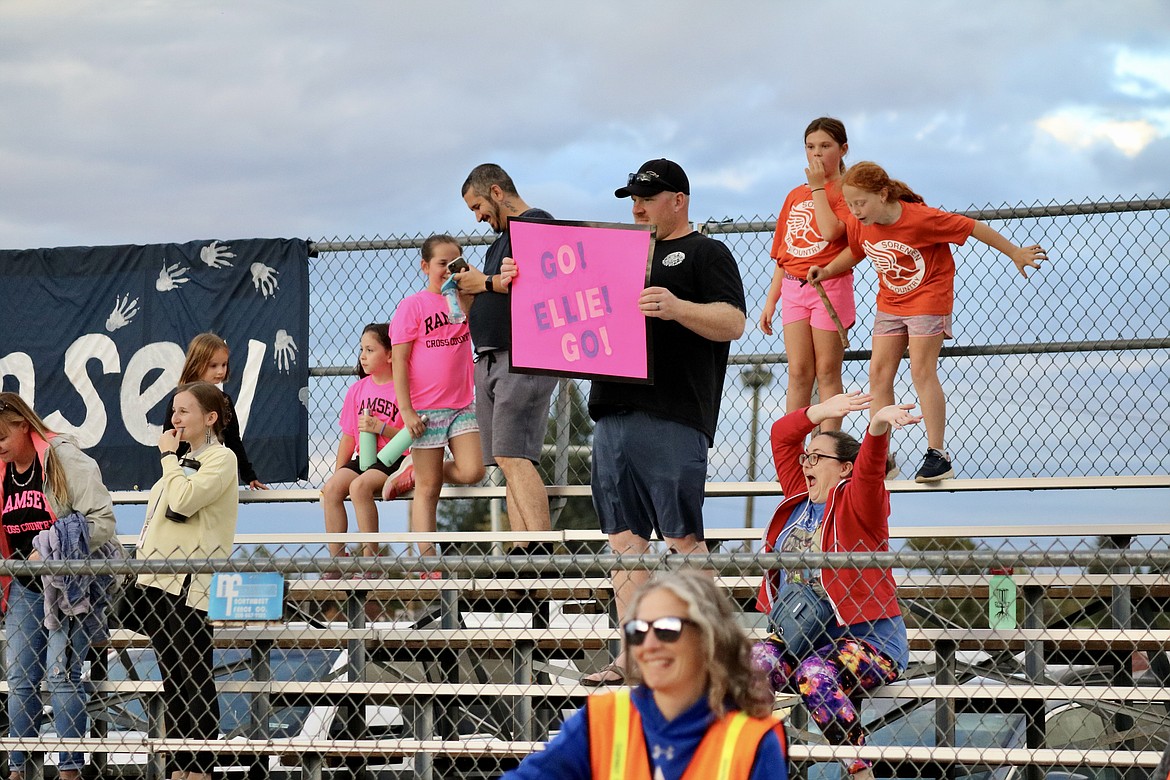 The crowd cheers as runners take off Thursday evening at the Coeur d'Alene School District cross-country run at the Kootenai County Fairgrounds. HANNAH NEFF/Press
Second grade girls from the Coeur d'Alene School District take off at the cross-country run Thursday evening at the Kootenai County Fairgrounds. HANNAH NEFF/Press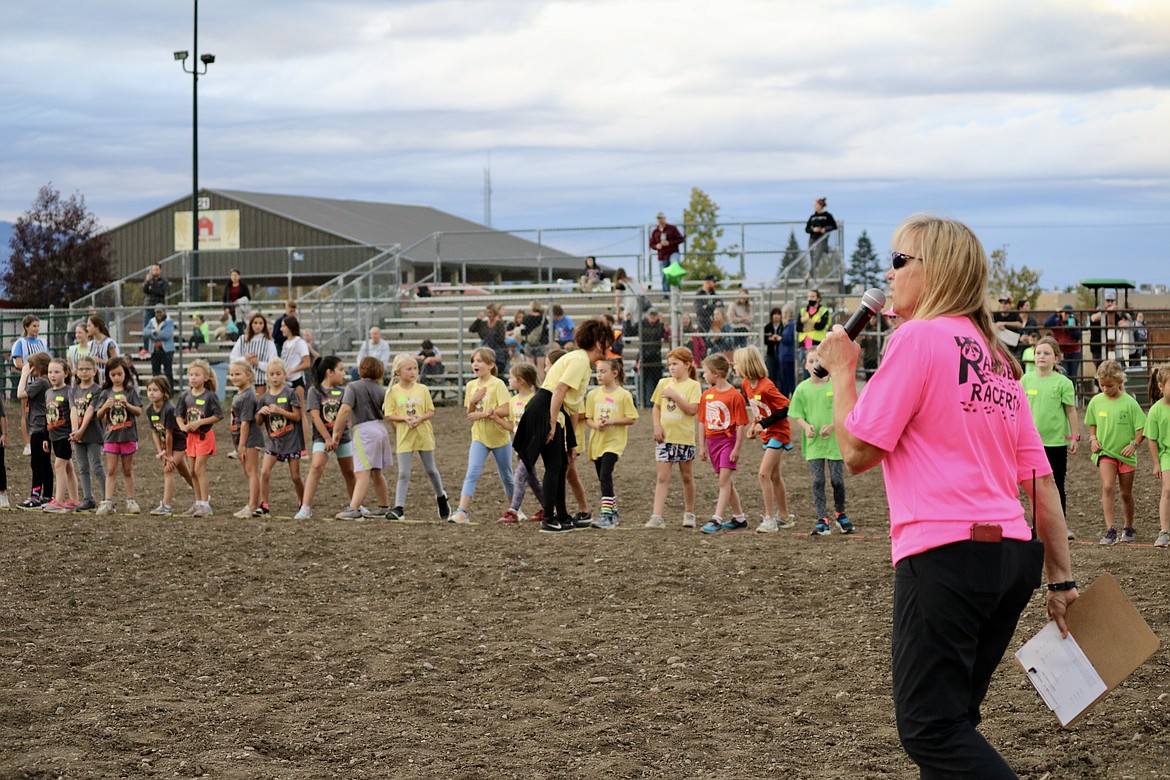 Trena Burt, a teacher at Ramsey Magnet School of Science, has been directing the Coeur d'Alene School District cross-country race for 23 years, resigning from the role after the race Thursday night at the Kootenai County Fairgrounds. HANNAH NEFF/Press
Wyatt Beasley, a third grader at Hayden Meadows Elementary School, smiles as he shows his dad his first place medal at the Coeur d'Alene School District cross-country race at the Kootenai County Fairgrounds on Thursday. HANNAH NEFF/Press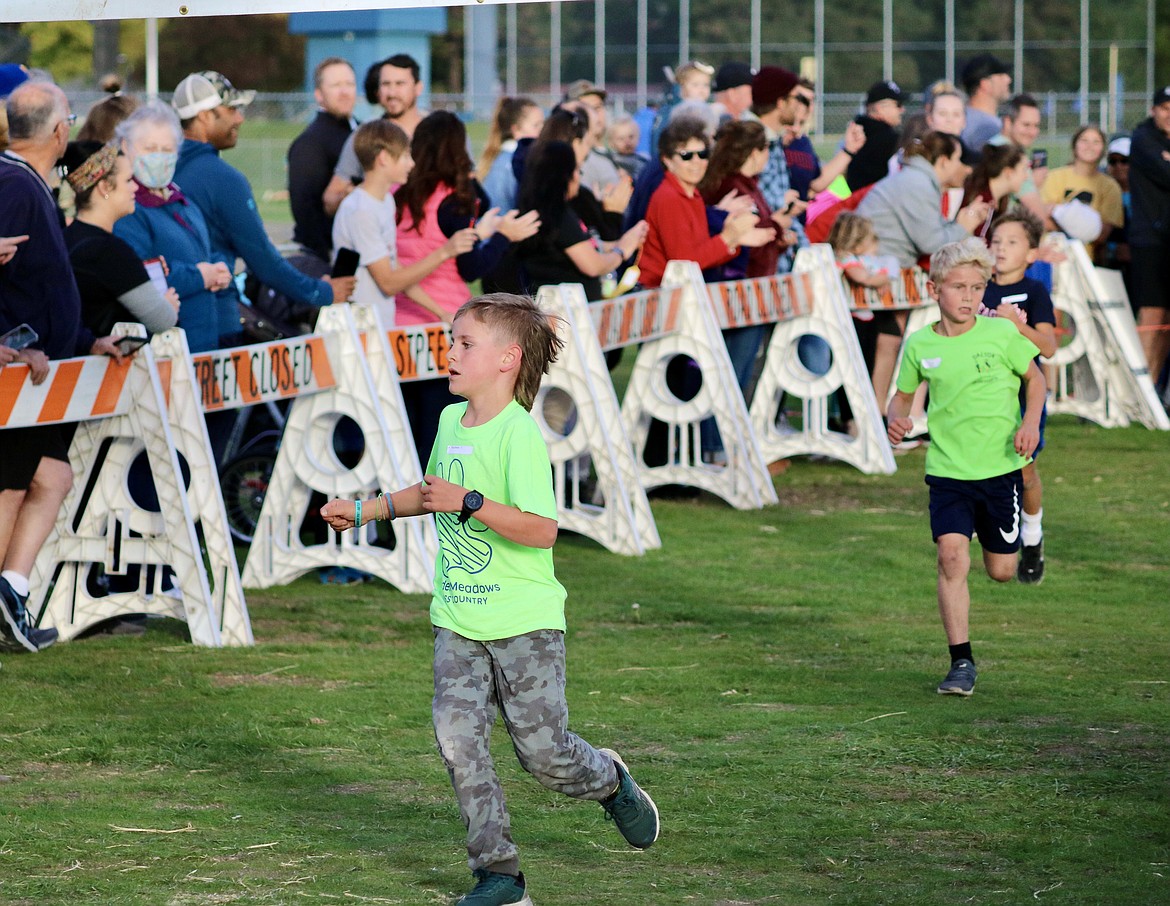 In front, Wyatt Beasley, a third grader from Hayden Meadows Elementary School, crosses the finish line to get first place for the third grade boys division at the Coeur d'Alene School District cross-country race at the Kootenai County Fairgrounds. HANNAH NEFF/Press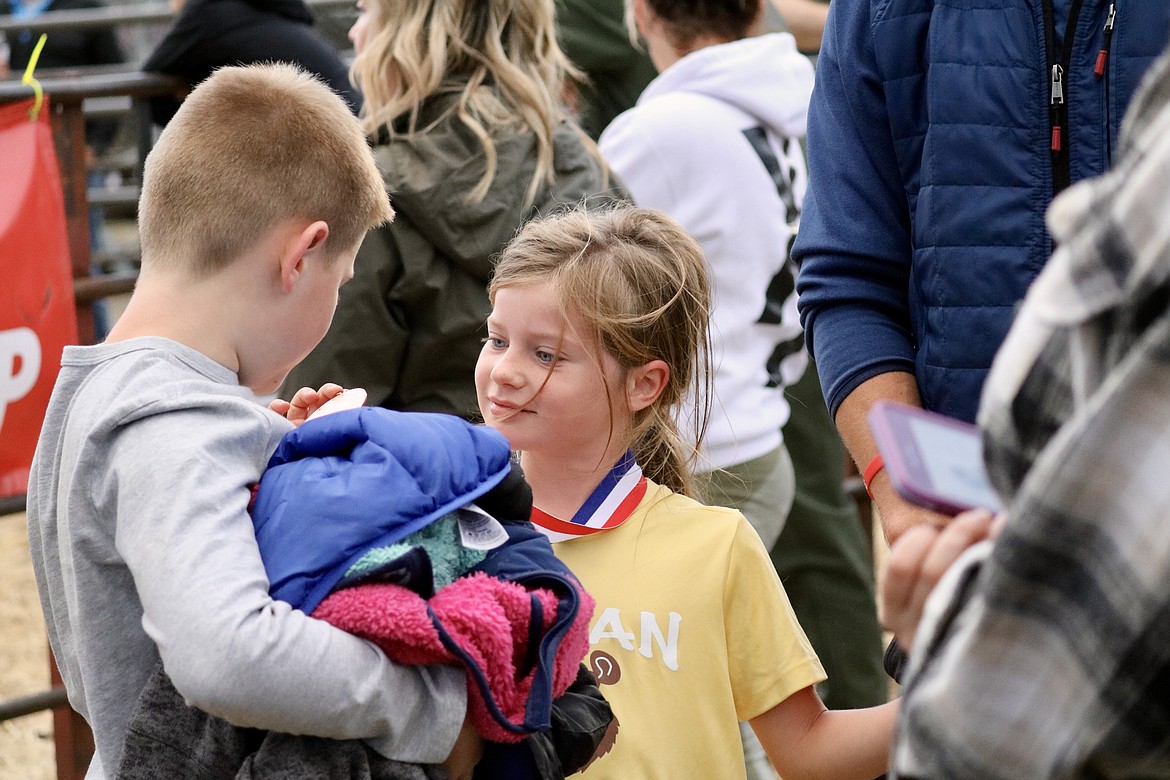 Harper Andersen, a second grader at Bryan Elementary School, beams as she shows brother Rhen her third place medal at the Coeur d'Alene School District cross-country race on Thursday evening at the Kootenai County Fairgrounds. HANNAH NEFF/Press
Previous
Next
by
HANNAH NEFF/Staff Writer
|
October 5, 2021 1:00 AM
Energy was exploding at the Kootenai County Fairgrounds on Thursday evening.
Around 650 second- through fifth-graders from 10 schools took their turns at the starting line.
Ready, set, go!
Parents cheered as kids put their muscles and determination into the Coeur d'Alene School District cross-country race.
"They're stoked," said Trena Burt, race director. "The kids are always super excited."
Burt said they always tell the kids to pace themselves although it's hard to get them to contain their energy. Still, she thinks it was a pretty clean run with only a few kids tripping or losing shoes.
Jenna Miller, mom of second-grader Asher Miller from Fernan Elementary School, said her son was up for the race.
"He was just very excited to be involved in something this big for kids and having people here," Miller said.
Oakleigh Wagner, a first-time runner and third-grader at Ramsey Magnet School of Science, said she had a really bad side ache after finishing, but she'd probably do it again next year.
Wyatt Beasley, a third-grader from Hayden Meadows Elementary School, received first place in the boys race.
"He's had a really good time doing cross country this year," dad Jarod Beasley said. "I was glad that this event is available for kids."
Beasley said Wyatt competed in cross country last year and did pretty well but didn't get first, so it was a thrill for him to win this year.
Kristin Moore, mom of second-grade boys winner Easton Moore, said she didn't think her son was going to run at first — but now he's loving it.
After 23 years as race director, Burt, a teacher at Ramsey Magnet School of Science, said Thursday was her last run as top dog.
"It's been great," Burt said. "We've really taken it a long way so I'm really proud of how it's grown and how it's been perfected each year."
However, nothing can keep her away. Burt said she still plans to volunteer.
For complete race results, visit the individual school webpages.
Recent Headlines
---