Wiped off the map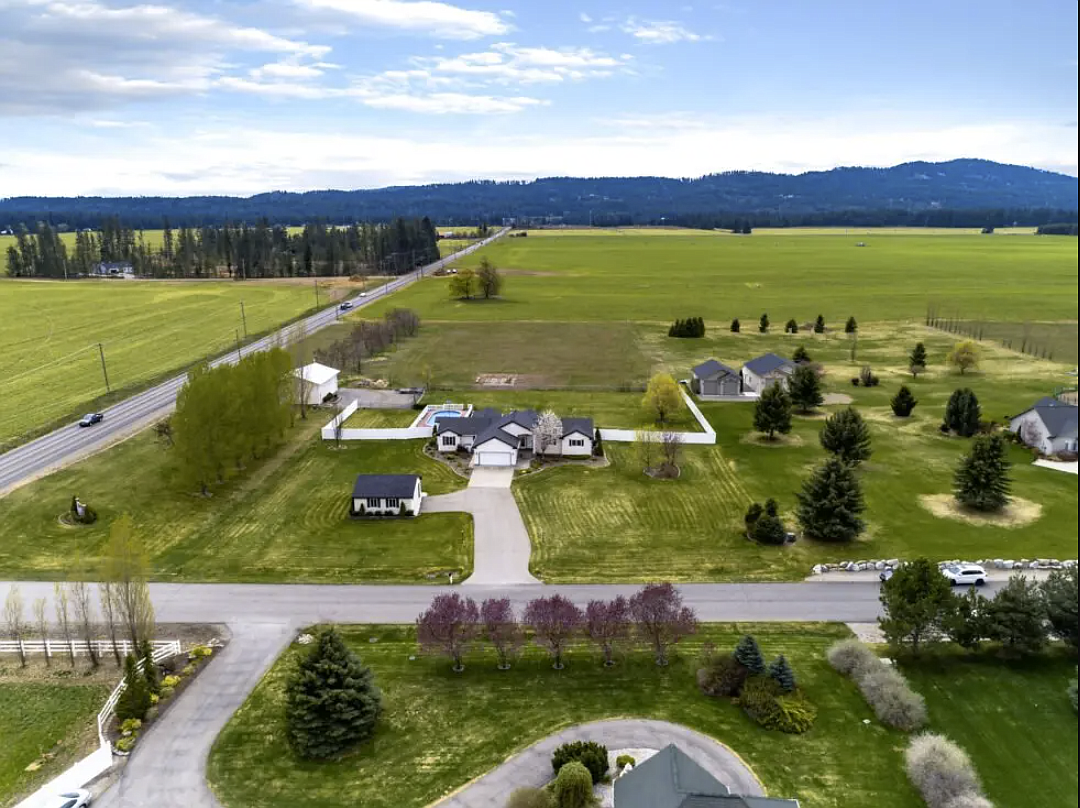 Brian Rogers' Big Sky home is shown in the center of the frame. Myron Farrar's driveway can be seen in the foreground. Both homes and the surrounding trees will be demolished when construction begins on the Huetter Corridor project, along with sixteen other homes along Huetter.
Photo courtesy of Brian Rogers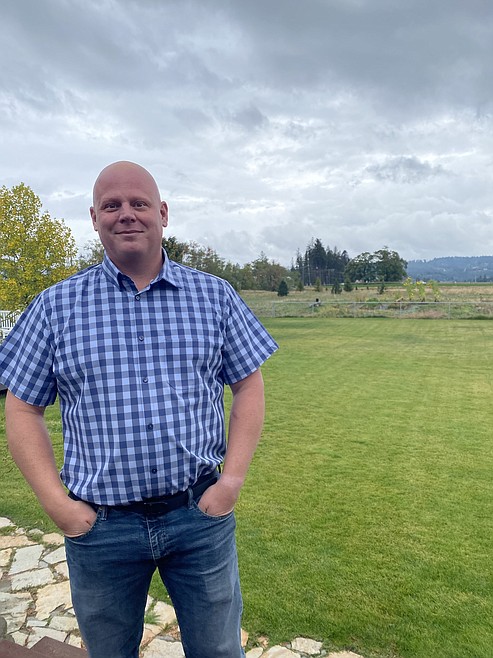 Brickert Estates resident Brian Rogers stands in front of his backyard. All of his property will be taken for the Huetter Corridor project once construction begins. A four lane highway and an expansion of Huetter to three lanes are part of the plan.
Previous
Next
by
ELLI GOLDMAN HILBERT
Staff Writer
|
October 3, 2021 1:09 AM
POST FALLS—The Huetter Corridor project is moving forward. Some residents in the Brickert Estates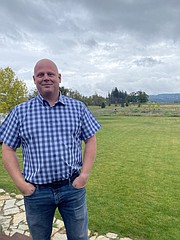 neighborhood feel like they're going to be left behind.
Though construction on the project won't likely begin for years, some properties will be completely wiped off the map.
Myron Farrar owns a parcel on Greta Avenue. The original owner of the home built in 2000, Farrar wants to relocate. He's been trying to sell his house in the hot real estate market.
The 3,000 square-foot home sits on 5 acres, has numerous upgrades and includes an insulated shop, new barn, paddocks, a round pen and pasture for horses.
"I had it sold for $1.2 million and it was supposed to close in two weeks," Farrar told The Press.
Having already purchased a new home in Athol, Farrar is now strapped with two mortgages.
This is the second time the sale has fallen through at the last minute, he said. He said he was informed that real estate agents representing prospective buyers had accessed information about an upcoming environmental study, causing the client to withdraw the offer.
Farrar said he never officially received notice from the Kootenai Metropolitan Planning Organization about how the Huetter Corridor will affect his property - an allegation officials dispute. Having heard some rumors, he began looking into it himself, he said.
He discovered that the corridor will go right through his property.
Frustrated by a lack of communication, Farrar said KMPO won't address his questions.
"At KMPO nobody is willing to take any responsibility," Farrar said. "I feel they are leaving us in limbo."
Glenn Miles, KMPO'S executive director, refuted Farrar's version of the story.
"I left messages on Myron's phone and spoke to his Realtor," Miles said. "That's just not a true statement."
Development of the Huetter Corridor plan began in 2006 and was formally adopted in 2009.
The next step is an environmental study to be conducted by the Idaho Transportation Department, said Miles. Beginning this fall, the study will take 18 to 24 months to complete.
Following the study, more funding must be secured and then the land acquisition process will begin.
Homes were identified in 2009 that are inside the plan's footprint, Miles said. Though it may be years down the road, he added, homeowners will be fairly compensated for their loss of property.
Property owners will get an appraisal to be compared with a KMPO appraisal and a third party appraisal. Then compensation would be paid that is equal to fair market value of the property and relocation costs.
Farrar doesn't think that's fair, as the project currently has no projected start date and market prices could go down by the time appraisals are done and checks are cut.
"I feel like the KMPO, if they are going to wipe out the house - and it shows that on their map - that they should buy the house now," Farrar said.
Miles said an extensive effort was made back in 2009 to reach residents in the Brickert neighborhood and those in Big Sky, which will also be affected.
Brian Rogers, another Greta Avenue resident, acquired his 4,200 square-foot home on 4.5 acres last year. He isn't looking to sell but is facing the fact that the corridor project will affect him and 16 other homeowners.
Rogers acknowledged that he was informed of the corridor project when he bought his home but said it was presented as something that "might" happen, not a definite plan.
He has gathered signatures in opposition and spoken to more than 100 residents who are not in favor of the Huetter Corridor. Creating a website, nohuetterbypass.com, Rogers would like community members to be informed. Alternate plans for the corridor have been created and presented to KMPO, he said.
Because of Idaho eminent domain statutes, Rogers said he will lose his entire property, which includes a garage, shop and swimming pool.
"The only way I can get out of this is at a loss," he said.
Rogers doesn't understand the need for the corridor. "I'm still flabbergasted," he said. "You've got 95, 41 and 53 all within 10 miles of each other. Why do we need another one?"
Rogers is trying to complete construction on a noise buffering wall along the border of his property and said the city is telling him he can't build it because of easement rights.
"There's a lot of emotion involved," Rogers said.
Having studied the plat map, he feels the city is overreaching and snatching land they aren't entitled to.
Miles said the project is necessary. With population growth likely to continue, KMPO has "to address growth and development." With multiple interchanges planned along the route, the corridor will allow people to get from the Rathdrum Prairie to I-90 or U.S. 95 without using east-west arterial roads, he said.
Updated information on the project can be found on the KMPO website: kmpo.net.
IDOT District 1 will be managing the environmental study.
Announcements about public forums will come through IDOT, Miles said.
Recent Headlines
---