PREP ROUNDUP: Lake City boys edge Cd'A, capture IEL title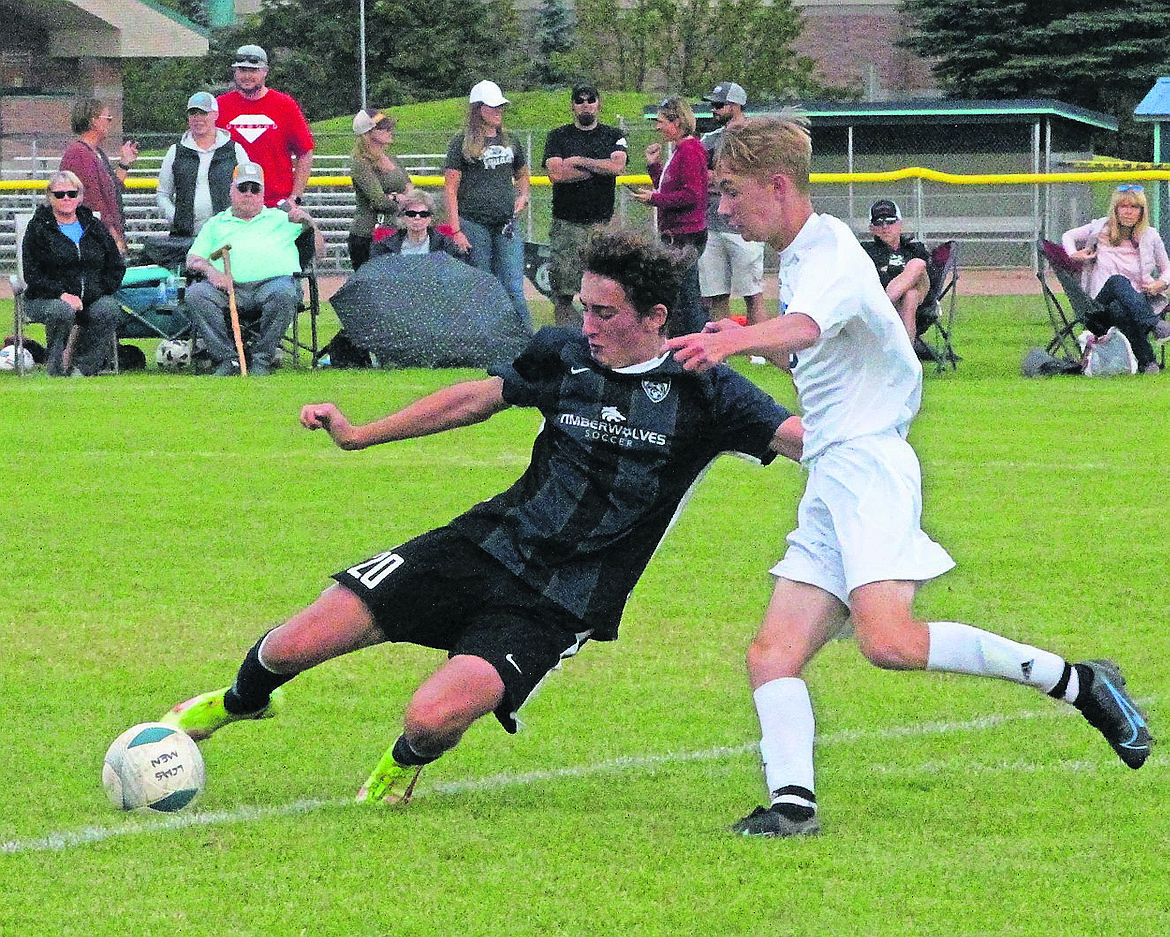 MARK NELKE/Press Kai Delio of Lake City slides as he tries to clear the ball as Isaac Fritts of Coeur d'Alene defends on Saturday at the Irma Anderl Soccer Complex at Lake City High.
|
October 3, 2021 1:25 AM
• BOYS SOCCER
COEUR d'ALENE — Noah Janzen and Kohrt Weber had a goal and assist each for the Lake City Timberwolves in a 3-2 win over the Coeur d'Alene Vikings, clinching the Inland Empire League title and top seed to the 5A Region 1 tournament starting next Saturday.
It is Lake City's first outright league title since 2018. The Timberwolves were the top seed to regionals in 2020 after finishing in a three-way tie with Coeur d'Alene and Post Falls in the 5A IEL.
Lake City (14-0-1, 9-0-0 IEL) hosts St. George's on Tuesday to close out the regular season.
Isaac Fritts scored in the 72nd minute for Coeur d'Alene (11-2-0, 7-2-0 IEL), which is off until regionals.
"Our game against Coeur d'Alene is always competitive," Lake City coach Alan Rich said. "In our first meeting (a 4-2 Lake City win), we were pretty banged up with injuries to several key starting players. Today, we were closer to full strength, but Coeur d'Alene was more competitive than the previous meeting and they kept coming. We were a little flat after taking the lead within the first 20 minutes, but we defended well and held off Coeur d'Alene's late surge. We made some positional changes in the second half that proved effective against a Coeur d'Alene team that always competes well."
First half — 1, LC, Noah Janzen (Kohrt Weber), 3:00. 2, Cd'A, Cooper Prohaska (Kason Pintler), 7:00. 3, LC, Connor Jump (unassisted), 9:00. 4, LC, Weber (N. Janzen), 17:00. Second half — 5, Cd'A, Isaac Fritts (Markus Noble), 72:00.
Shots on goal — Cd'A 9, LC 10.
Saves — Cd'A, Dallin Dance 4; LC, Tyler Allred 5.
Post Falls 1
Cd'A Charter 0
POST FALLS — Up until this year, Post Falls senior Alex Butler has spent his time playing hockey, just learning the game of soccer this fall.
His final regular season shot was one to remember.
Butler scored in the 79th minute on an assist from Evan Brinkmeier to send the visiting Trojans past the Panthers at The Fields at Real Life.
"We'd been creating a lot of chances and they were trying to beat us on the counter and long ball," Post Falls coach Gabe Lawson said. "They tried to send a long ball, but Evan played a nice ball into Alex and he got just enough on it, and it was the strike of his life. He's been a hockey kid his entire life, but was on cloud nine. Charter has some good, fast guys on their back line and they were difficult to break down."
Post Falls (5-9-0) opens the 5A Region 1 tournament next Saturday. Post Falls and Lewiston tied for the third seed with 3-6-0 league records, and a tiebreaker will determine the third and fourth seeds. The No. 4 seed will play at Lake City in the first round, and the No. 3 seed will play at No. 2 Coeur d'Alene.
Coeur d'Alene Charter (8-2-2) faces Orofino on Monday at The Fields at Real Life.
First half — none. Second half — 1, PF, Alex Butler (Evan Brinkmeier), 79:00.
Shots on goal — Charter 3, PF 13.
Saves — Charter, Miles Taylor 4; PF, Kael McGowan 0.
• GIRLS SOCCER
Lake City 3
Coeur d'Alene 1
COEUR d'ALENE — Junior Elliotte Kortus had two goals and an assist for the Timberwolves in an Inland Empire League win over the Vikings at Coeur d'Alene High.
Taytum Curtis scored in the 77th minute for Lake City (11-2-0, 7-1-0 IEL), which scored the final three goals of the game.
"It was a much, much better game than the last time we played them," said Coeur d'Alene coach Andy Vredenburg, whose team lost to the Timberwolves 6-0 on Sept. 21 at Lake City High. "It was a battle and back and forth the entire game. We just got an unlucky bounce on their second goal, and it let the sails out and they scored another on a deflection. I'm really proud of the girls and how they competed."
Elise Frazier scored in the 15th minute for Coeur d'Alene (6-8-0, 5-4-0), which hosts Sandpoint in a nonleague match on Tuesday at Viking Stadium.
Lake City hosts Lewiston on Monday to conclude the regular season.
First half — 1, Cd'A, Elise Frazier (free kick), 15:00. 2, LC, Elliotte Kortus (penalty kick), 20:00. Second half — 3, LC, Kortus (unassisted), 75:00. 4, LC, Taytum Curtis (Kortus), 77:00.
Shots on goal — LC 9, Cd'A 8.
Saves — LC, Hailey Jo Parks 7; Cd'A, Jay Ziegler 5.
x
• CROSS COUNTRY
Wood, Trojan girls
second at Battle for 509
CHENEY — Post Falls senior Sammie Wood was the top local finisher, finishing second in the girls race in 17 minutes, 32.97 seconds in the fourth annual Battle for the 509 race at Fairways Golf Course.
Post Falls junior Annastasia Peters was third (17:41.29) and freshman Kaylynn Miser 16th (19:33.85) and senior Alahna Lien 18th (19:35.14) for the Trojans, who finished second with 99 points. Lewis and Clark won the girls team title with 57 points.
Lake City senior Clara Stephens was ninth in 19:02.27 and Sandpoint junior Ara Clark was 14th (19:32.22). Macy Marquardt of Kennewick won the girls race in 17:06.85.
Coeur d'Alene freshman Max Cervi-Skinner was the top local finisher in the boys race, finishing eighth in 16:11.40. Sophomore Jacob King was 10th (16:18.16) and freshman Zach Cervi-Skinner 12th (16:31.47) for the Vikings, who finished third with 131 points. Sandpoint sophomore Nathan Roche was 16th (16:41.25) and senior Trey Clark 20th (16:45.02).
BOYS
TEAM SCORES — 1, Mead 74. 2, Lewis and Clark 120. 3, Coeur d'Alene 131. 4, Moscow 211. 5, Cheney 218. 6, Gonzaga Prep 221. 7, Sandpoint 244. 8, Central Valley 246. 9, Richland 266. 10, Lewiston 312. 11, West Valley-Spokane 368. 12, Ephrata 379. 13, University 398. 14, Post Falls 415. 15, Pullman 422. 16, St. George's 456. 17, Lakeside 462. 18, Ferris 476. 19, Chewelah 501. 20, Walla Walla 513. 21, Rogers 518. 22, Shadle Park 518. 23, Davenport 541. 24, Lake City 568. 25, Asotin 588. 26, Northwest Christian 666. 27, Riverside 758. 28, Valley Christian 773. 29, Kennewick 773. 30, Colville 804. 31, Freeman 827. 32, Newport 881. 33, Deer Park 896. 34, East Valley-Spokane 991. 35, Chesterton Academy of Notre Dame 1,023.
WINNER, LOCALS IN TOP 20 — 1, Brody Hartley, Walla Walla, 15:35.42. 8, Max Cervi-Skinner, Coeur d'Alene, 16:11.40. 10, Jacob King, Coeur d'Alene, 16:18.16. 12, Zach Cervi-Skinner, Coeur d'Alene, 16:31.47. 16, Nathan Roche, Sandpoint, 16:41.25. 20, Trey Clark, Sandpoint, 16:45.02.
GIRLS
TEAM SCORES — 1, Lewis and Clark 57. 2, Post Falls 99. 3, Sandpoint 147. 4, Kennewick 154. 5, Central Valley 166. 6, Coeur d'Alene 216. 7, Walla Walla 220. 8, West Valley-Spokane 259. 9, Moscow 278. 10, Ferris 319. 11, East Valley-Spokane 320. 12, Pullman 347. 13, University 365. 14, Lakeside 365. 15, Gonzaga Prep 370. 16, Mead 396. 17, Deer Park 434. 18, Garfield-Palouse 434. 19, Lake City 446. 20, Cheney 447. 21, Ephrata 473. 22, Colville 491. 23, Rogers 581.
WINNER, LOCALS IN TOP 20 — 1, Macy Marquardt, Kennewick, 17:06.85. 2, Sammie Wood, Post Falls, 17:32.97. 3, Annastasia Peters, Post Falls, 17:41.29 9, Clara Stephens, Lake City, 19:02.27. 14, Ara Clark, Sandpoint, 19:32.22. 16, Kaylynn Miser, Post Falls, 19:33.85. 18, Alahna Lien, Post Falls, 19:35.14.
• VOLLEYBALL
Sandpoint d.
Bonners Ferry
SANDPOINT — After starting slow and dropping the first set, the Bulldogs picked up their play and won three straight sets to down Bonners Ferry, 20-25, 25-18, 25-22, 25-16 in nonleague play at Les Rogers Court.
The victory ended a six-game losing streak for the Bulldogs (2-9).
"It was nice to see the number 25 again," Sandpoint coach Karen Alsager said, "It had been awhile."
Audrey Sheffler finished with 26 assists, 15 digs and four aces for Sandpoint. Tori Pelkey and Livia Owens each had two blocks, and Haley Hustead-Swaim and Haley McAuliffe both served three aces. Breuner had a team-high nine kills, and Platte added six.
"Hailey Roeder also came in with some spitfire today," Alsager said.
The Bulldogs were without senior libero Emma Brown, which forced Alsager to bring up a pair of junior varsity players — sophomores Aubree Lane and Hustead-Swaim.
"They did fantastic," Alsager said.
Sandpoint plays host to Lewiston on Tuesday.
NICS wins
one, loses one
The Royals hit the road for a pair of Mountain Christian League matches Saturday, losing 25-22, 25-20, 21-25, 25-19 to Country Christian in Pasco, Wash., then beating Christian Heritage School 25-10, 25-10, 25-15 in Edwall, Wash.
Against Country Christian, Olivia White had 16 assists, 14 digs, five kills and four aces for North Idaho Christian (6-6, 2-5 MCL). Giovanna Zettell had nine kills and three aces, Charis Giesbrecht 11 digs, Rylee Overturf four kills and three blocks.
Against Christian Heritage, White had 12 aces and seven assists, Natalia Zettell seven aces, Grace Lay three kills and two aces, Malia Giesbrecht five aces.
North Idaho Christian plays at Christian Center School in Hayden on Tuesday.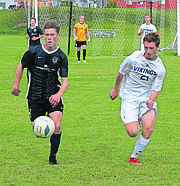 Recent Headlines
---