Fall brings potential 'sweet spot' for homebuyers
by
TYLER WILSON/Special to The Press
|
October 3, 2021 1:00 AM
The furious local real estate market might be on the verge of relaxing by the fire with a smooth pumpkin spice latte.
OK, so that's a lame reference to autumn. Maybe we should have gone with the standard, "changing of the colors" metaphor instead.
Regardless, the makers of Neighborhood of the Week, as well as other Press writers, have been hearing from real estate professionals recently about a "fall leveling." While homes in North Idaho remain hot commodities, the feverish competition for homes and skyrocketing prices could be taking a much needed rest.
A fall cooldown is a fairly common trend in the real estate industry. Many sellers choose to list homes in the spring and fall, and buyers often utilize summertime for major life changes. For example, many families with kids want to move before a school year begins. And nobody likes moving heavy furniture in frigid weather.
On the local front, agents reported to The Press some decrease in bidding wars for individual properties, though most market value-priced homes continue to move quickly. Also, some of those way, way overpriced homes on the market (there are always more than a few) have slashed prices in order to lure buyers.
The national market seems to be experiencing a more noticeable cooldown, to the point where a recent analysis by Realtor.com predicted a more "normal" fall compared to the frenzy of the past several months. That same analysis made a point to note that prices aren't likely to, um, fall this season, but the buying process should be more tolerable.
While local buyers shouldn't expect to see too many killer deals (though keep an eye out for those "haunted discounts"), they might be able to take a more measured approach to a home search.
What does that mean? Here's a nifty checklist of potential benefits of buying in the fall:
• Potential price drops on homes that didn't sell over the summer.
• Less competition from other buyers. You may not need to guess the overbid required to secure a home.
• More time/opportunity to find the house that best fits your individual needs.
• The ability to check a home over for potential issues — get those inspections!
• More attention from your previously overwhelmed real estate agent.
• Opportunities to drive around town and enjoy the fall colors (I knew we could squeeze a cliche "fall colors" reference in here).
In other words, a slightly less insane real estate market means you can find your "sweet spot" property. No need to settle, especially when you're still spending your life savings/borrowing a chestful of money.
• • •
Let us know about standout neighborhoods, developments and topics that we may feature in an upcoming Neighborhood of the Week. Contact Tyler Wilson at twilson@cdapress.com.
Real Estate Agents, take advantage of Neighborhood of the Week by sending in your suggestions for featured areas, including sites outside the normal confines of Coeur d'Alene, Post Falls and Hayden.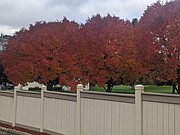 Recent Headlines
---