Marriott in, steakhouse out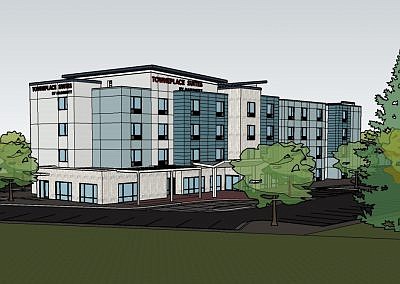 A rendering of the TownePlace Suites by Marriott Hotels where the Outback Steakhouse was in the southeast corner of Interstate 90 and Northwest Boulevard.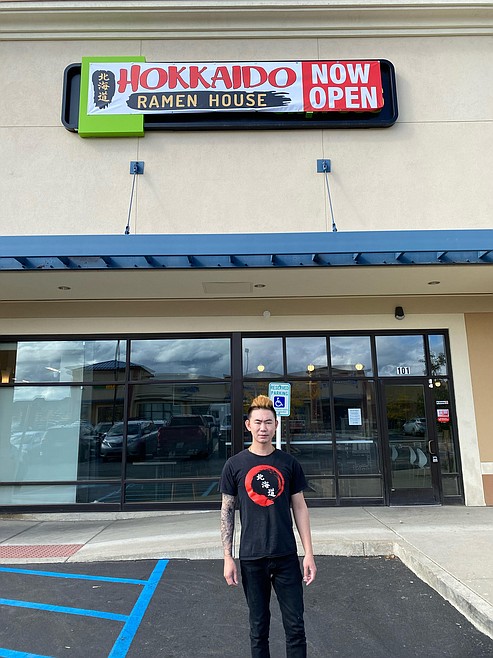 Owner Yuliang Li outside of Hokkaido Ramen House, which has opened next to Mod Pizza in the Crossroads Complex at 2824 N. Ramsey Road.
Previous
Next
by
NILS ROSDAHL
|
October 3, 2021 1:07 AM
Demolition has begun on property where the Outback Steakhouse was in the southeast corner of Interstate 90 and Northwest Boulevard, and a TownePlace Suites by Marriott Hotels will be built there.
The four-story complex will have 89 suites with kitchens. Managed by Western States Lodging and Management of Layton, Utah, it is scheduled to open in 14 months.
Hokkaido Ramen House opens at The Crossroads
Offering Japanese-style appetizers, ramen and boba tea, Hokkaido Ramen House has opened next to Mod Pizza in the Crossroads Complex at 2824 N. Ramsey Road.
With inside seating, take-out and delivery through DoorDash, hours are 11 a.m. to 2:30 p.m. and 4:30 to 9 p.m. Monday through Thursday, 11 a.m. to 9 p.m. Fridays and Saturdays and 11 a.m. to 8 p.m. Sundays.
Owner Yuliang Li's place has a casual decor with a wall TV. Phone 208-771-7235 and check its Facebook page.
North Idaho Physical Therapy moves in Post Falls
Moving from 1551 E. Mullan to 1610 E. Schneidmiller Ave., North Idaho Physical Therapy renovated the previous Hot Rod Cafe-Timber Restaurant building into its comprehensive therapy and performance center.
NIPT offers physical therapy, chiropractic, massage, personal training, group training and recovery services with a motto of "Feel better. Do more." Hours are 7 a.m. to 5 p.m. weekdays.
Phone at the new place is 208-773-8111. NIPT also has locations in Coeur d'Alene, Hayden and Rathdrum. Check www.nipt.us and www.thebioperformanceinstitute.com.
Now the Tidbits
Northwest Specialty Hospital is expanding at 1551 E. Mullan in Post Falls.
Open Arms Real Choice Clinic will be at 1800 Lincoln Way.
Metro Express Car Wash is building a large new place in the northwest corner of Highway 41 and I-90.
Lone Mountain Farms & Brewery will have a new place in the Lancaster Market development at Highway 95 and Lancaster Road.
Consign Furniture has a "coming soon" sign southwest of the Highway 95-Lancaster Road intersection.
Renew Aesthetics & IV Hydration Bar will be at 515 Fourth St.
A Board & Brush place will be in Prairie Shopping Center.
Liveable Me will be at 9437 Government Way in Hayden.
Black Lodge Brewing will open soon on Third Street downtown.
The Rebel Junk Shoppe at 2424 N. Fourth St. will expand to a street-side location.
Bruchi's quick service restaurant is planned for a new building north of the corner of Highway 41 and Mullan Avenue.
The new Dairy Queen at 513 W. Hayden Ave. (just west of Highway 95) will open in November.
The former Ugly Fish restaurant building will be a Berkshire Hathaway Realty in Riverstone.
Watch for construction of Vantage Point Brewery across from Michael D's Eatery off Coeur d'Alene Lake Drive.
The Pointe Market will be in the One Lakeside building downtown.
Pedego Electric Bikes is coming into Riverstone.
Lottie will be a children's shop in Suite 105 (off Boise Ave.) at 849 N. Fourth St.
A Sweet Lou's restaurant and a Grease Monkey auto place will be at the Crossings in Athol.
Watch for Rivers Edge Apartments to be built at 3528 W. Seltice Way.
Gathered Restaurant is new on Spokane Street in Post Falls.
The Lucille building under construction at 2605 N. 4th St. will have five commercial suites.
A Cuppa Columbian Caffe will be at 3270 W. Prairie Ave.
Several steel storage buildings will be built at 3758 W. Hanley Ave. (off Atlas Road) for Hern Ironworks.
New places coming to Silver Lake Mall include Pollen & Petal, Love Local, All Fired Up, Crime Scene Entertainment and American Heritage.
Killer Burger will be where Junior's BBQ previously was in 85 W. Prairie Shopping Center.
A Sarah Hamilton Face place will be at 2120 Northwest Blvd.
Watch for something coming into the ShopKo building ... possibly Sportsman's & Ski Haus.
A new commercial and residential building will be built at Government Way and Davidson Avenue.
Watch for major changes with the Burger Bunker and Bunker Bar off Spokane Street in Post Falls.
A new building for Linden Coffee Co. is under construction at 1502 N. Third.
A new gas station-convenience store will be in the northeast corner of Atlas at Seltice.
Truck manufacturing company Kenworth plans a large building for 4374 W. Expo Parkway west of Post Falls.
A large storage complex and new corporate office for Steel Structures of America is being built off Highway 41.
The Den will be a new tavern at 761 N. Idaho St. in Post Falls.
My Nails & Spa will be off Canfield Avenue.
The CdA Corner Store is adding a kitchen and tables downtown.
Takara restaurant will be downtown.
Schmidty's Burgers will be at 1524 E. Sherman.
Napa Auto & Truck is building a new location in Rathdrum.
Coeur d'Alene Nissan will have a major addition to its building off Highway 95.
Watch for a new apartment building at 128 W. Neider (across from Safeway).
Mountain Goat Lounge is under construction connected to the Moose Lounge downtown.
The Lake Coeur d'Alene Inn is under construction on Coeur d'Alene Lake Drive between Mullan Ave. and Michael D's Eatery.
This morning is the fall cleanup of Tubbs Hill. Litter bags and a trash truck will be provided 9 a.m. to noon at the east entry. Thanks!
Contact Nils Rosdahl at nrosdahl@cdapress.com.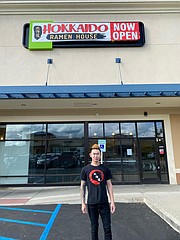 ---