Loren Burke, 83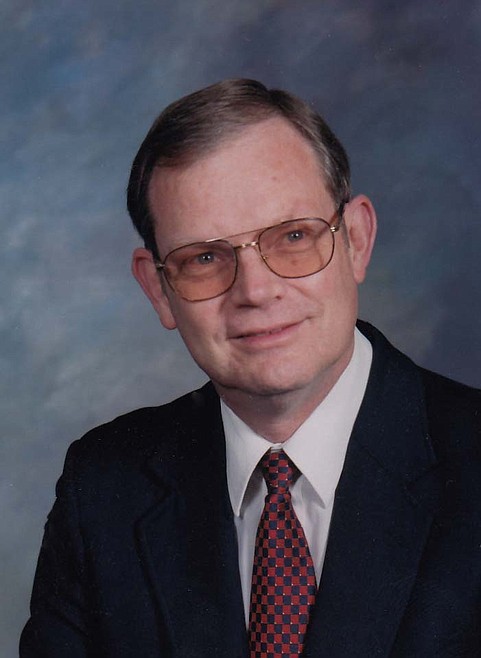 |
October 3, 2021 1:00 AM
Loren Reed "L.R." Burke, Jr., 83, of Coeur d'Alene, Idaho passed away at his home on Sept. 21, 2021. Loren was born in Hayden, Colo., on May 18, 1938, to Loren Reed Burke and Lucile (Wilson) Burke. He was later joined by a sister, Bonita.
Loren started school in Craig, Colo. When he was ten years old, he moved with his family to a farm near Nampa, Idaho. He attended Southside grade school where he graduated from the 8th grade and Central Junior High School. Loren graduated from Nampa High School in 1956. In high school, he enjoyed band and played in dance bands. He went on to Arizona State University where he played the saxophone in the Sun Devil Marching Band and formed lifelong friendships.
Following his graduation from ASU in 1961, Loren entered the Idaho Air National Guard and served from 1961 to 1967. For a brief period of time, he farmed with his father.
In 1962, Loren began a career in banking with Idaho First National Bank, which later became West One and then U.S. Bank. He worked in branches in Buhl, Soda Springs, Idaho Falls, and Pocatello and in the audit department. In 1970, Loren became the manager of the Coeur d'Alene Data Center. He often spoke of the early years at the Data Center as the time when some of his favorite work memories were made. He served in multiple capacities in bank data operations, eventually becoming Vice President and Manager of Remote Data Centers and the Western Operations Center. From 1993 until retirement, Loren worked for Bank of America in Post Falls and Coeur d'Alene.
Loren married Janell Janie Seitz on August 7, 1965 in Nampa, Idaho. They made their first home in Pocatello, where Loren worked at the Pocatello office of the Idaho First National Bank and Janell was the Dean of Women at Idaho State University. After they moved to Coeur d'Alene, they welcomed their first son, Robert Reed Burke, in 1971. Their family grew with the addition of their second son, Donald Lee Burke, in 1973. Over time, they bought three lots in the Coeur d'Alene area and built three homes on them.
Loren was active in his church and community. At Christ the King Lutheran Church, he served as Treasurer, Elder, and member of the board of trustees. He sang in the choir and was an usher. In the community, Loren was President of Kiwanis, a Board Member for the Coeur d'Alene Community Theater, and a member of the Mayor's Committee to Hire the Handicapped and Older Worker. He also served on multiple committees to better his community. He was recognized as KCDA Citizen of the Day on May 18, 1984. For many years, he managed the Information Booth at the annual Art on the Green. In more recent years, he was a Pet Therapy Volunteer for Hospice of North Idaho with Hope, his labradoodle dog.
From the time he was a small child, Loren was interested in trains. He liked reading about them and he often pulled the car over to the side of the road to watch a train go by. Loren was also an animal lover. In his youth, his family had Jersey cattle and many cats on their dairy farm. He loved his dogs and especially enjoyed walking them with friends. During his last years, he delighted in watching the wildlife near his home. Loren was an avid ZAG fan for both the men's and women's Gonzaga basketball teams. He never tired of the glory of nature and the beauty of North Idaho, especially Lake Coeur d'Alene.
Although he enjoyed traveling to Europe, Loren most liked going to see friends and family. He especially loved visiting the White cabin in Donnelly, Idaho, the Reynolds cabin in Divide, Colo., and his family homestead in Steamboat Springs, Colo. He also enjoyed trips to see his sons, their families, other family members, and friends in Virginia, Arizona, Michigan, and Washington.
Loren was a kind, considerate, and gentle man. He was a loyal friend for many, a dedicated and supportive husband for Janell, and a role model for his sons. Loren is lovingly remembered and survived by his devoted wife, Janell; son Robert Reed (Amanda) of Spokane, Wash.; son Donald Lee (Erin) of Grosse Pointe Shores, Mich.; granddaughter Abigail Mary; step-grandsons Christian, Brandon, and Anthony; and numerous special in-laws, nephews, nieces, and cousins. He was preceded in death by his parents, grandparents, and beloved cousin, Victoria.
A memorial service will be held at 2 p.m. on Oct. 8, 2021, at Christ the King Lutheran Church. For those unable to attend in person, it will be live-streamed and will also be available on-demand following the service; please follow the link provided, https://vimeo.com/618333668. In lieu of flowers, contributions may be made in Loren's memory to Hospice of North Idaho, 2290 West Prairie Ave., Coeur d'Alene, Idaho 83815; Lutherhaven Ministries, 3258 West Lutherhaven Road, Coeur d'Alene, Idaho 83814, or a charity of your choice. The family wishes to express their appreciation to all who have loved, supported, and cared for Loren over the years.
Yates Funeral Home has been entrusted with the final arrangements. Please visit Loren's online memorial and sign his guestbook at www.yatesfuneralhomes.com
Recent Headlines
---