Chronic health issues plague young family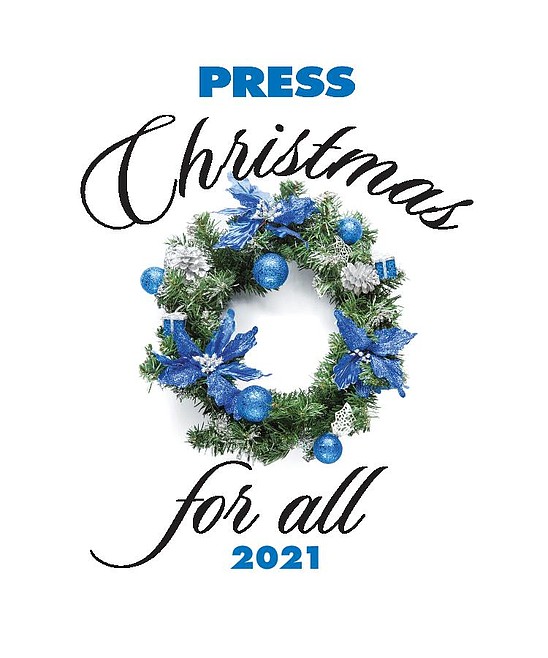 by
ELLI GOLDMAN HILBERT
Staff Writer
|
November 30, 2021 1:07 AM
As part of the annual Press Christmas for All Campaign, we share with readers the stories of those applying for help. This is one of them.
"Randi" and "Robert" and their two young children all have serious chronic health issues that make supporting the family extremely difficult.
"Robert" has lived with severe chronic ear infections since the age of 17 and also has an inflamed prostate and mental health challenges.
"I lost my mom at 6 years old and was almost orphaned until my grandmother took me in," Robert told Press Christmas For All.
The loss at such a young age has impacted him deeply in the years that followed, he said. Another sudden loss of his best friend in October plagues him as well.
"But I still do the best I can, working to support my family," Robert said. The entire family is supported by Robert's wages — about $11,000 annually.
Randi, who stays home to care for her children, ages 2 and 7, has had some debilitating health issues herself. Seven years ago she was struck by a vehicle, which caused a bulge in her spine and resulted in severe anxiety.
The pain of her injuries means she's hospitalized frequently to help with pain management.
"It's unbearably painful," Randi said.
To add to that, Randi was born with 12 fingers and 12 toes. Surgery wasn't done correctly, so another corrective surgery is needed as soon as the family is able to arrange it, she said.
The couple's 7-year-old daughter was diagnosed with high-functioning autism and also deals with OCD, ADHD, anxiety and depression.
Their 2-year-old son was born with Congenital Genu Varum, or bowed legs, and is seen at Shriner's Hospital in Spokane on a regular basis. If his condition doesn't begin to improve, he'll have to have surgery to correct it, Robert said.
As the sole provider for the family, Robert works about 25 hours weekly at a Post Falls store. Because of his health problems, he isn't able to manage more hours.
The family is upbeat regardless. They refuse to give up and are committed to moving forward and making life better.
Working with the Parents as Teachers program through Panhandle Health District, the couple remains devoted to the family and has developed a reading routine both kids enjoy.
"This couple has engaged with the program for over 22 months and have worked very hard to provide for their children and enjoy family time together whenever possible," said a referring partner who knows the family well.
They are requesting some help with car repairs on their only vehicle. Robert maintains the vehicle himself but the latest repair needed is much more than the family can afford.
"It would give our family more stability," Robert said. "It would really help us a lot. My health issues keep me down a lot of the time but I still work my job and am here for the family. As a family we get through a lot together."
Each year, Press readers donate generously to the program. Every penny raised is distributed to Kootenai County residents. All overhead costs are covered by The Hagadone Corp.
Gift recipients are our neighbors who are struggling, including the elderly, disabled, veterans, homeless and mentally ill. Many who seek assistance from Press Christmas for All are working, but living near or below the poverty level.
The beneficiaries of Press Christmas for All are going to keep their dignity intact while the community provides a hand up to help get them back on their feet.
Press Christmas for All is managed by The Hagadone Corp., with assistance from CharityReimagined.Org. It is a legally recognized 501(c)(3) nonprofit, run entirely by volunteers.
Here are four ways to donate:
Mail a check to Press Christmas for All, 215 N. Second St., Coeur d'Alene, 83814.
Call The Press and make a secure credit card donation over the phone: 208-664-8176
Go to cdapress.com. Click on the MENU button, then click on Christmas for All 2021.
Drop off your check at The Press weekdays between 8 a.m. and 5 p.m.: 215 N. Second St. in downtown Coeur d'Alene.
Recent Headlines
---