Socks, sales and shoppers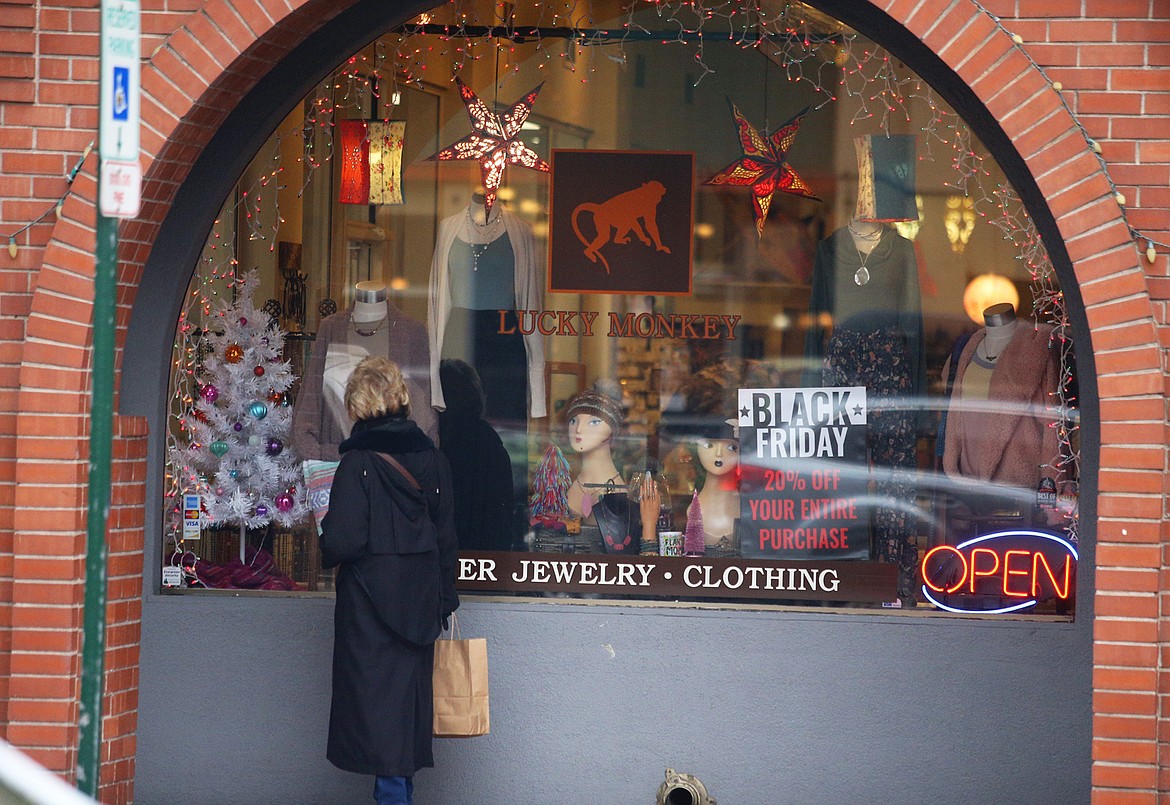 A shopper pauses in front of Lucky Monkey Trading Co. on Sherman Avenue Friday morning.
BILL BULEY/Press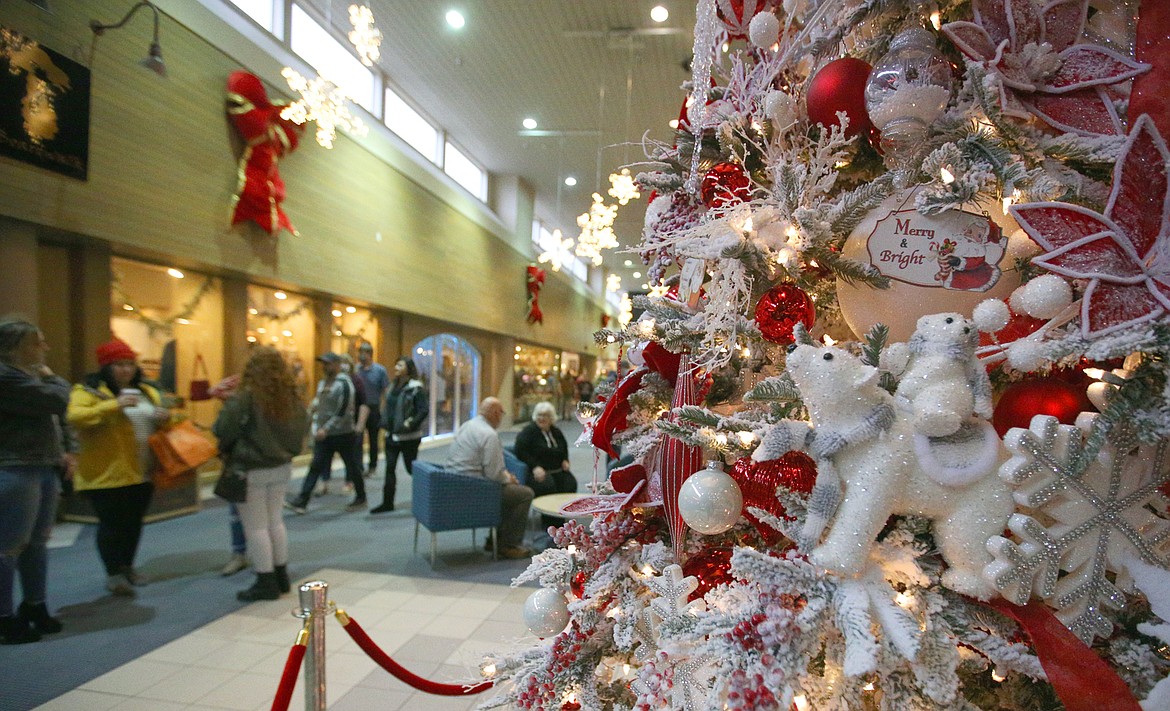 Ornaments hang from a Christmas tree in The Coeur d'Alene Resort Plaza Shops as shoppers mingle on Friday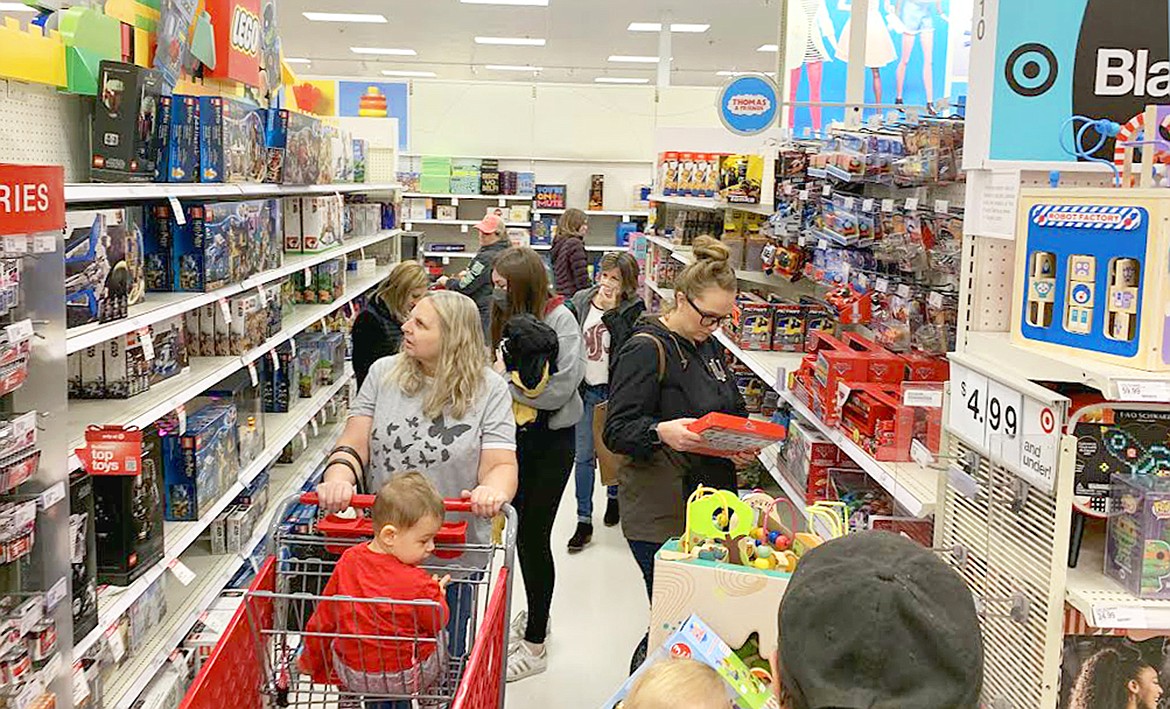 Shoppers crowd a toy aisle at Target on Friday.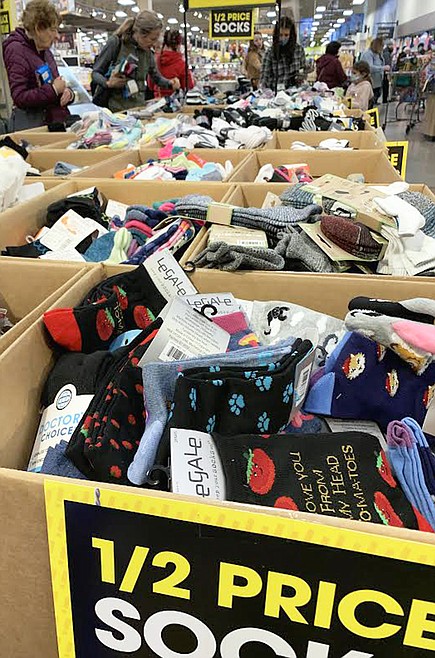 Shoppers peruse the socks on sale for half price at Fred Meyer on Friday.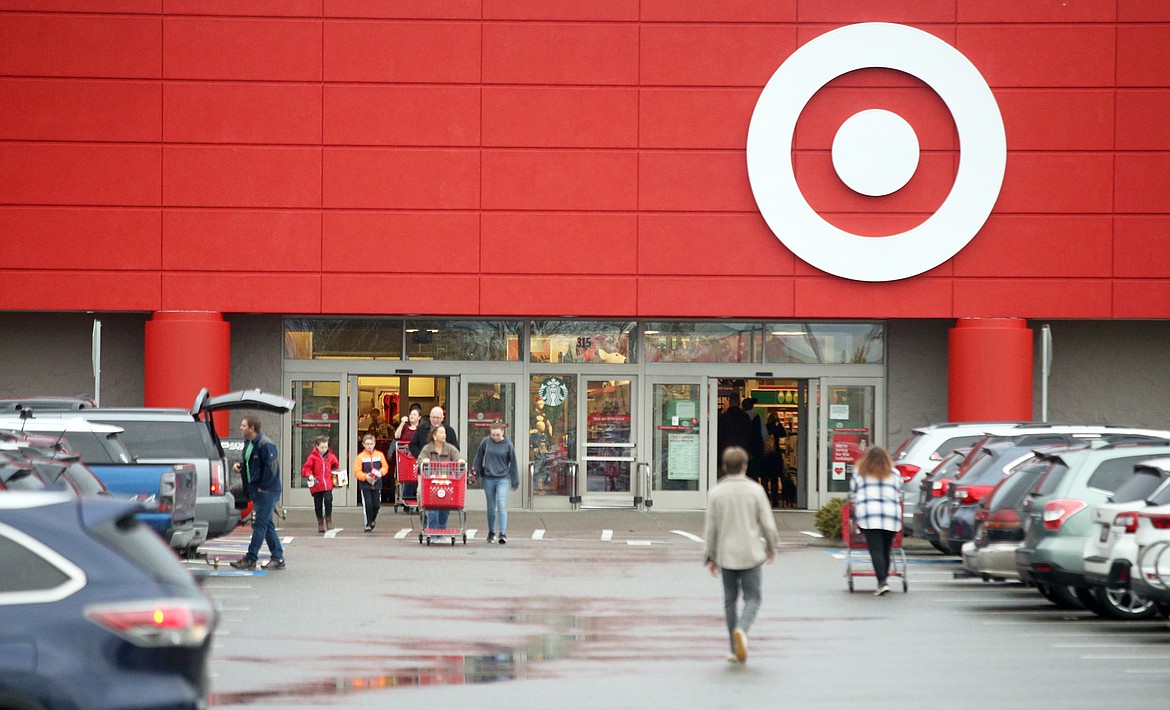 Shoppers come and go at Target off U.S. 95 on Friday morning.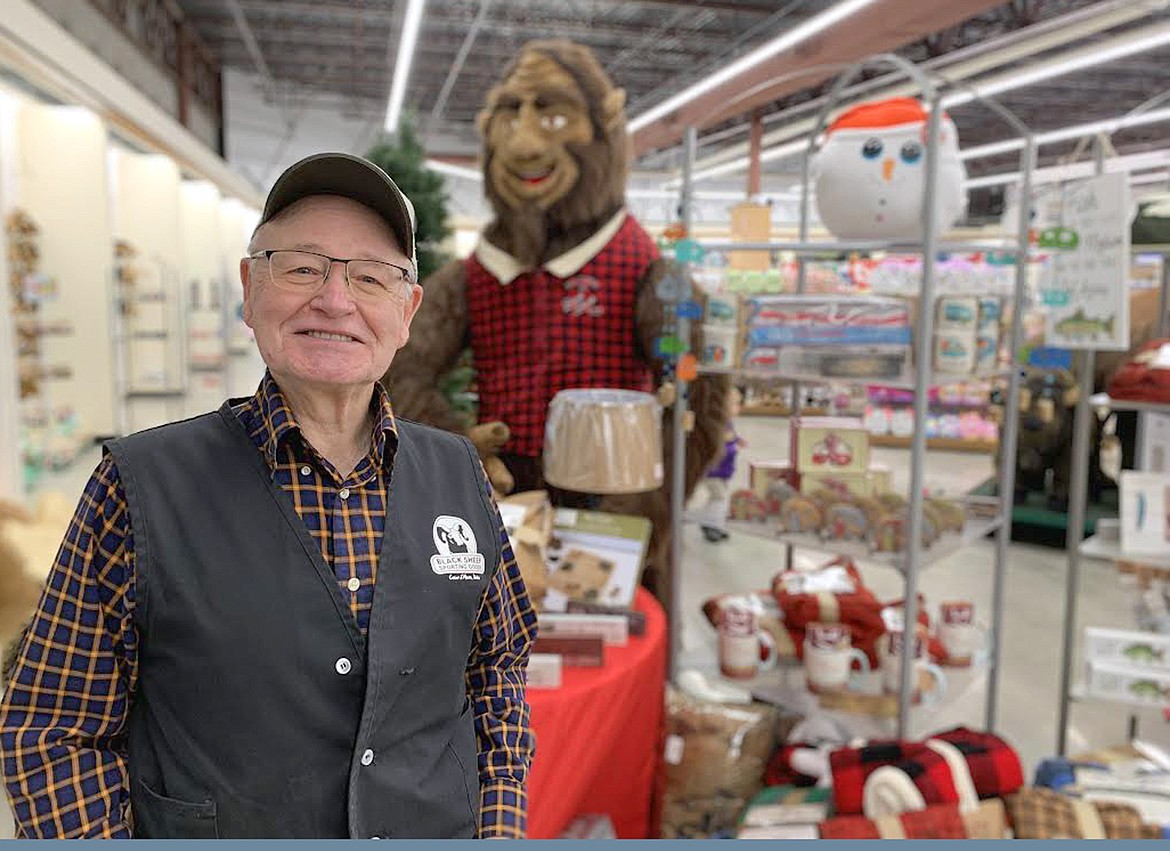 Darris Taylor greets guests at Black Friday Sporting Goods at the Silver Lake Mall on Friday.
Previous
Next
by
BILL BULEY
Staff Writer
|
November 27, 2021 1:07 AM
COEUR d'ALENE — Rarely have socks been in such demand.
Men and women swarmed around the boxes and boxes of half-price socks of all colors and styles at Fred Meyer's Black Friday sale Friday morning.
One woman was on her phone, describing them to someone on the other end of the line.
"These are the no-show kind," she said, holding up a pair of white socks. "Do you like these?"

A man stopped pushing a shopping cart as he and a woman passed by the sock stockpile near the front door.
"Do you have your socks?" he asked.
"Yes," she answered, so they moved on.
It was a brisk Black Friday morning as people ventured downtown, to big box stores, to local shops and to the Silver Lake Mall to take advantage of low prices, friendly service and for the start of the spending season and the countdown to Dec. 25.
Any COVID-19 worries seemed forgotten in the Christmas songs playing on store speakers as adults and children crowded aisles, pushed carts packed with presents bound to end up under the Christmas tree.
The traditional early lineups outside stores, sometimes starting at 3 a.m., didn't materialize. Door busters and "only 10 in stock" deals were less pronounced.
Drivers jockeyed for close parking spaces while others opted for a more relaxed distance.
Some people wore colorful shirts and sweaters depicting reindeer, snowmen, ribbons and lights. Others, with children in tow, already looked weary as they made yet another store stop.
A chipper Darris Taylor greeted guests as they entered Black Sheep Sporting Goods at the Silver Lake Mall, which held a soft opening last week.
Taylor liked what he saw and heard on Black Friday at the mall. The Knoll family purchased the mall earlier this year.
"There's an energy in here that hasn't been for a long time," Taylor said. "People are interacting and smiling. It's been a long time coming."
At Target, people were in close quarters but in the holiday spirit as they checked out electronics, toys and clothes. People flowed in and out the front door under the big white circle and dot against a red wall.
"You go this way, I'll go that way," one woman said to a friend as they split up.
A mini Keurig was going for $49.99. The DVD version of the movie Jungle Cruise was $19.99.
Not everybody was thrilled with the offerings
"The deals are not all that spectacular," said shopper Jim Hall as he stopped to survey the shelves.
Hall was confident, though, that he would find what he was after at the price he wanted to pay.
"There seems to be no shortage of anything," he said.
But some items on the toy shelves were gone, and disappointed shoppers turned away and hurried to the next aisle so they wouldn't miss out.
At Big Five Sporting Goods, Alan Edwards looked over running shoes against the wall and liked what he found.
"The deals are good and I've got coupons, too," he said.
At that point, a clerk hurried his way.
"Are you finding what you need?"
Edwards assured him he was.
Near the front of the store, two women debated whether to buy a massager then decided to compare prices elsewhere.
"That's a good deal," one said. "But let's look at some other places first."
In downtown Coeur d'Alene, The Coeur d'Alene Resort Plaza Shops were busy.
"C'mon in. How are we doing today?" a cheery greeter said as he welcomed shoppers into Figpickels Toy Emporium, which was crowded as customers considered which games and gadgets would be just right for their kids.
Near the Sherman Avenue entrance, two men sat and chatted as they waited for their wives to finish shopping. Outside, a woman stood with a stroller full of gifts as a child stood next to her.
By mid-morning, many shops were enjoying brisk sales and people were in the mood to spend, tossing aside inflation worries.
"I think it's going to be a good holiday season," said one man wearing a festive hat and vest.

Taylor, who worked 30 years in real estate and owns a cattle ranch in Colorado, met mall owner Dave Knoll about a month ago. After they chatted, Knoll said, "I want you to work for me."
Taylor initially told him no.
"Now, I'm in a Black Sheep uni," he said, laughing.
He was glad to be there and share the season's spirit with all who passed by.
"People are actually starting to wear happy stripes on their arms instead of doom and gloom," he said.
Recent Headlines
---