Loretta Votava, 88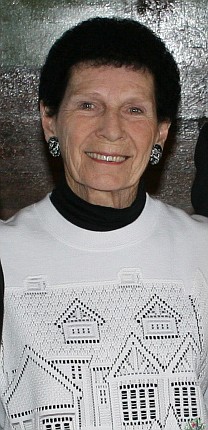 |
November 27, 2021 1:00 AM
Loretta Votava
Aug. 28, 1933 – Nov. 21, 2021
Loretta was born in Fordville, N.D. to Frank and Barbara Votava in 1933. She was the youngest of 6 children and Loretta lived in North Dakota with her family until the '50s when her mother and her moved to Coeur d'Alene, Idaho. Even though North Dakota was always in her heart, she fell in love with the Coeur d Alene area and its people.
She was an avid sports enthusiast from the time she was in high school all the way until she was playing women's flag football and softball well into her 60s. She loved bowling and worked for over 30 years at the Cove Bowl bowling alley. She met so many wonderful people who became lifelong friends while being the waitress who waited on the everyday bowler and all of the bowling alley events. Whenever a team got what was known as a "beer frame" you would hear them yell "Loretta" and she would be there in a flash.
Anyone who ever met her will tell you there was no bigger Dallas Cowboys fan alive then her. When she wasn't watching them it was the Gonzaga basketball or the Red Sox baseball. She loved to fish and camp, especially with her sons Brad and Randy. They spent many summers at Kelso Lake and then at the North Fork of the Coeur d Alene River while she watched her beloved grandchildren; Sarah and Justin, learn to enjoy the great outdoors.
She never met anyone in life she wouldn't talk with and she touched everyone she met. So much so that on her last trip shopping, the lady in front of her in line paid for her things because she enjoyed their conversation so much. It was her way of saying thank you for the nice conversation. That's the kind of person Loretta was. Everyone who met her will miss her, and those who didn't meet her missed out on a great lady.
She never had daughters, but she had daughters-in-law that she loved as though they were her own. Janet Zierer, who was always so special to her, was an awesome mother to her grandchildren and made the holidays so special for the whole family and Pam Richards who became such a huge part of her life. Words can't begin to describe how close they grew, how much they loved each other and how much Pam meant to Loretta over the last 12 years. On Loretta's last day alive, they were cooking in the kitchen, putting up Christmas decorations and just chatting about whatever topic came up. Because of that we know she left this earth happy and feeling loved. Those are the feelings Loretta spread to all she met.
She was preceded in death by her father, mother and five siblings.

She is survived by her sons, Bradley Zierer and Randall Richards; daughters-in-law, Janet Zierer and Pamila Richards; grandchildren, Sarah MacVittie (husband A.J.), Justin Zierer (wife Ashley); and great-grandchildren, Grayson, Avery and Adley. She is also survived by numerous nieces and nephews.
A celebration of life will be held at a later date.
Yates Funeral Home has been entrusted with the care of final arrangements.
Recent Headlines
---