'This meal is a blessing'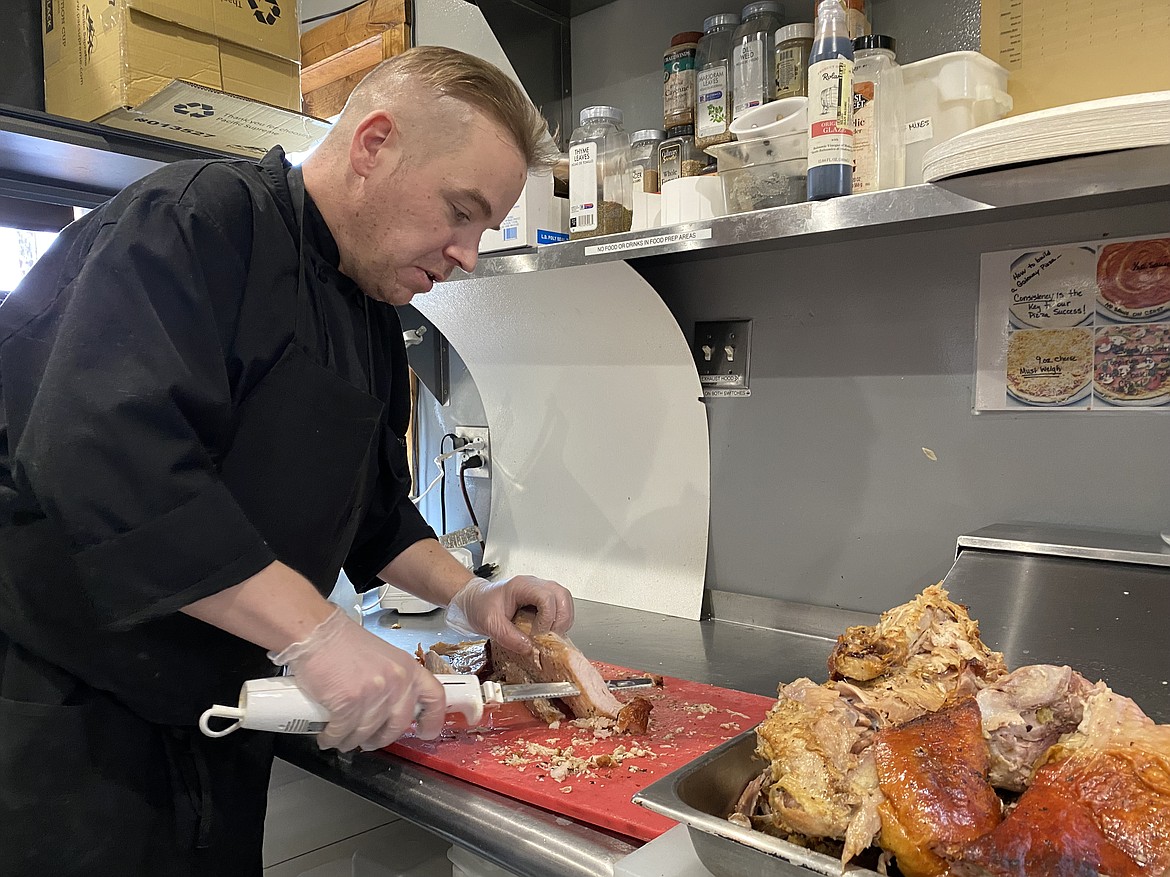 Wayne Morgan, general manager of The Gateway Cafe in Plummer, was overjoyed after hearing the restaurant had quickly away more than 60 Thanksgiving meals on Thursday. Here, Morgan carves up some turkey for the next round of to-go orders. (MADISON HARDY/Press)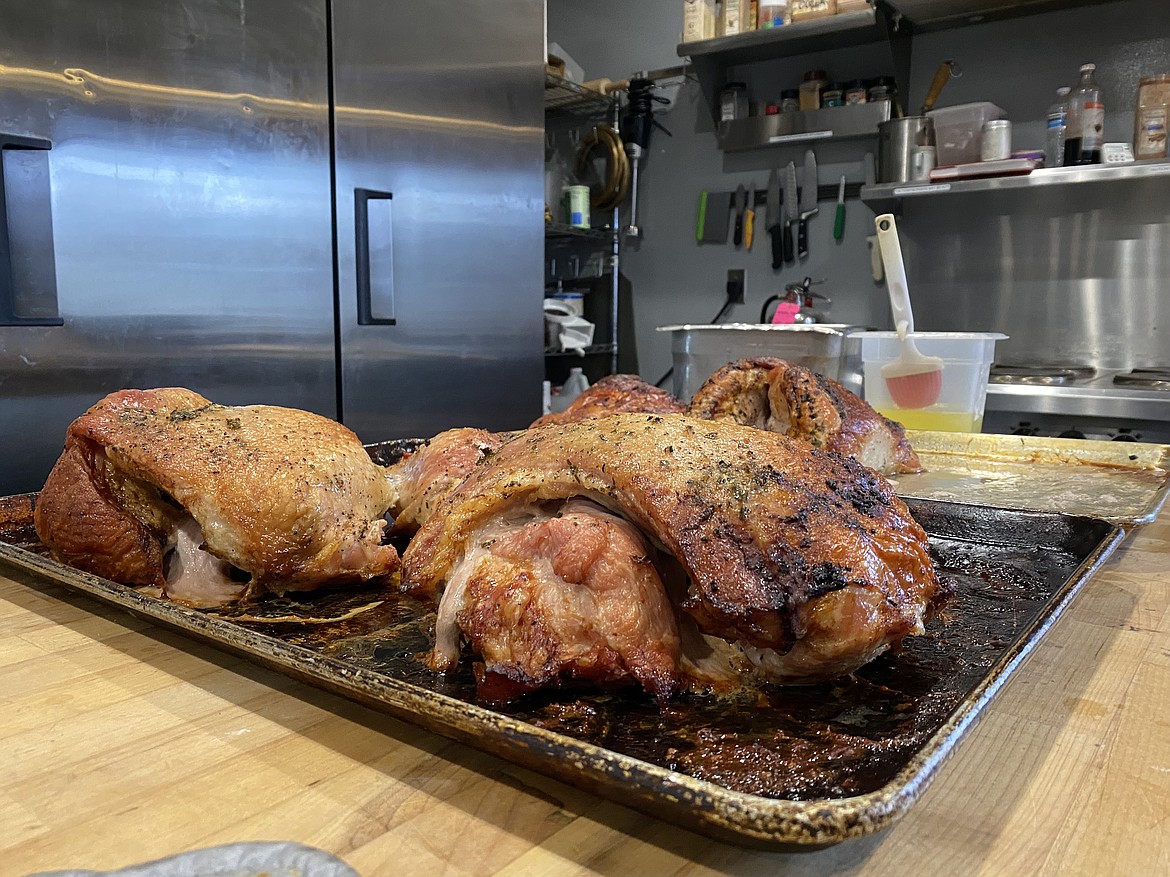 The Gateway Cafe in Plummer not only gave away more than 60 warm Thanksgiving meals on Thursday but also raised over $460 for their local food bank. (MADISON HARDY/Press)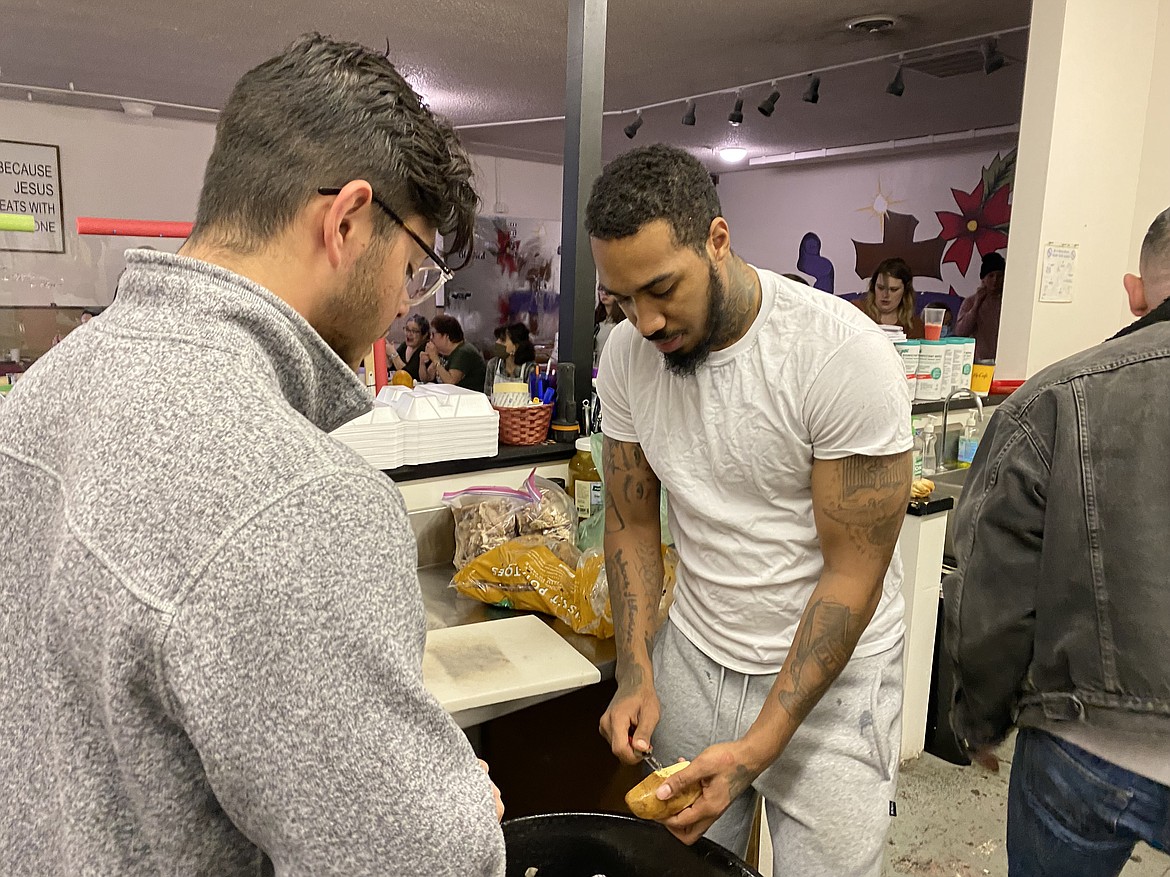 The Altar Church volunteers Erik Gonzalez, left, and Jawaun Anderson help prepare the next batch of mashed potatoes. (MADISON HARDY/Press)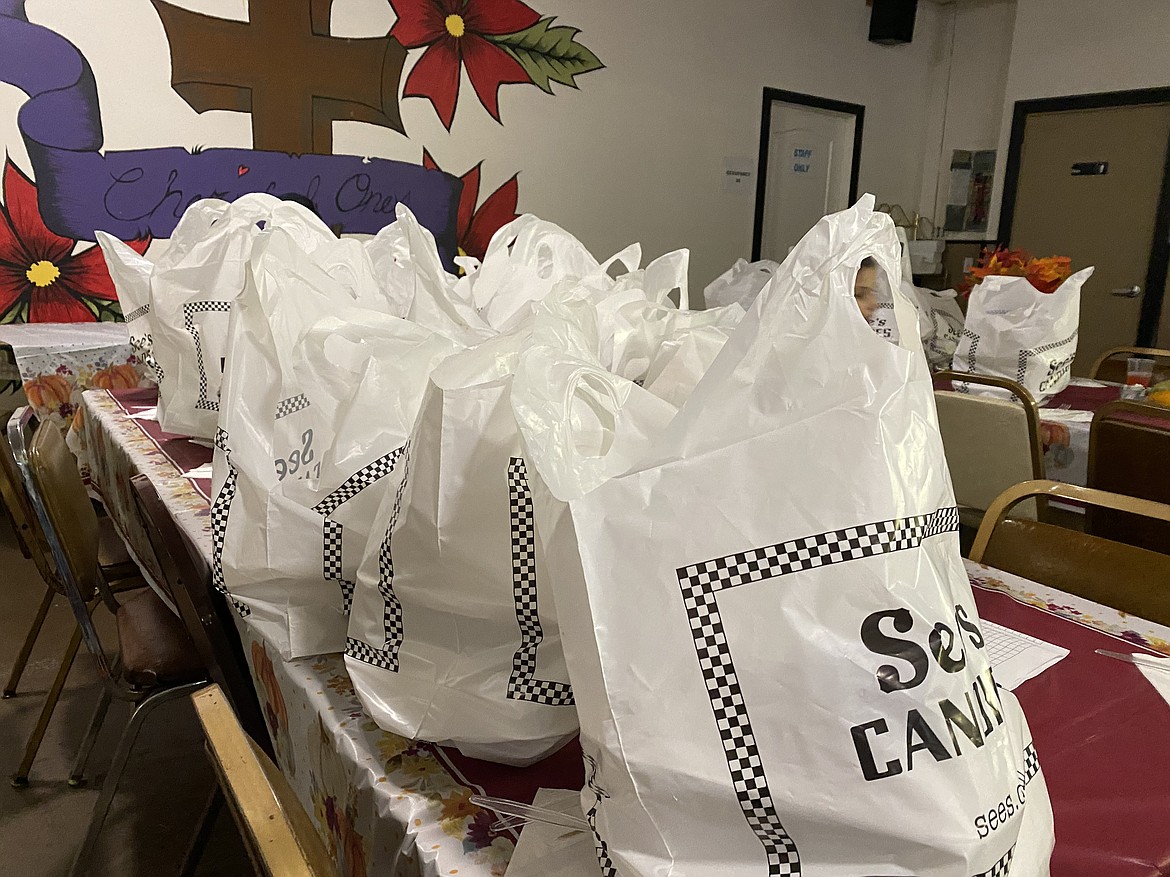 Volunteers at Cherished Ones Ministries Soup Kitchen packaged 150 to-go orders last year, and anticipated the same amount of requests this Thanksgiving. (MADISON HARDY/Press)
Previous
Next
The recipe for a perfect Thanksgiving celebration is: a warm cooked meal, spending time with loved ones, and appreciating life's simple pleasures. 
But sometimes, things don't go as planned. Sometimes we find ourselves alone during the holidays. Money's tight or some other unforeseen circumstance — maybe a global pandemic — makes turkey-day a little less joyous.
Recognizing this, several North Idaho groups opened their doors Thursday afternoon to share their Thanksgiving cheer.
The Gateway Café, a homestyle restaurant in Plummer, has offered free Thanksgiving dinners for several years. 
"This place is always about donating or just creating that atmosphere of community," general manager Wayne Morgan said.
Dozens of patrons swung by the cafe between 11 a.m. and 2 p.m. on Thursday. Whether the customer ate in or took their meal to-go, each received a traditional turkey dinner with all the fixings. By 11:30 a.m., Morgan said the restaurant had already given away 60 meals — beating last year's record. 
"It doesn't matter if you can afford your meal," said Morgan, 39. "If by coming here it makes your life easier, that's worth it."
Post Falls resident Sue Amaral, 62, was in good spirits while taking home one of the cafe's hot-and-ready dinners. Shortly after COVID-19 struck, Amaral lost her job and has been trying to find her footing ever since. 
"This meal is a blessing," she said. "It's been a tough year." 
Tim Bretthauer, a 61-year-old Tensed resident, was thankful for his meal. Without the cafe, he likely wouldn't have had much of a Thanksgiving feast.
"I live in a little trailer, and it's hard to cook in," Bretthauer said. "I wish I'd known about this last year."
While everything was free, the cafe was accepting donations to support the Plummer Food Bank. Within an hour of opening, the restaurant had already collected $460 in donations. 
"We had two people give us $100 donations through the takeout window," Morgan said. "Another came in yesterday and dropped off $50 without even eating." 
Donations aside, Morgan said the restaurant and its owners simply wanted to provide locals with the best Thanksgiving possible. 
"Thanksgiving is my favorite holiday of the year," he said. "It's about family, togetherness, and just being thankful for everything." 
That feeling of "togetherness" was clear to see at Cherished Ones Ministries Soup Kitchen in downtown Coeur d'Alene. The kitchen has a long history of serving anyone and everyone in need. 
On Thursday, families, friends and individuals piled into the building. Last year, over 100 people spent their Thanksgiving at Cherished Ones, event organizer Stephanie Roberts said. Through the help of several volunteers, the kitchen also was able to package 150 meals for pick up or delivery. 
Roberts, 46, anticipated the same number this year. 
"When we get that thank you from someone who comes in, it just confirms that this is what we're supposed to be doing," she said. 
It was Helena Stokey and Gordance Dent's first time at Cherished Ones. Stokey, 83, is a single woman who decided that it was time to get out after spending last Thanksgiving alone. 
"This was an experience," she said. "It was completely different from what I'm used to, but you know what? It was good for me."
It was a "good different," Stokey said, and she will likely be returning next year. 
"It is amazing and nice to be around so many people," she said. "I'm finding out that everybody tries to be normal, but there is no such thing, so we need to like what we have."  
Across the table, Dent was secretly feeding her service pup bites of turkey. Before getting up for a piece of pie, the 63-year-old explained that she, too, had spent last Thanksgiving alone. 
"I appreciate the interaction with people now," she said. "This is way better, being with other human beings." 
Roberts has served Thanksgiving meals at Cherished Ones and managed The Altar Church food bank for the last four years. She says her passion for helping others comes from God, and the kitchen allows her to show her faith through her works.
"I love serving people," Roberts said. "Love God, love people. Serve God, serve people."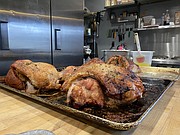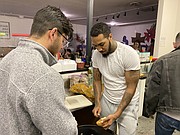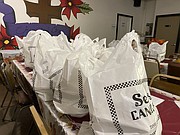 Recent Headlines
---