Garland "Ike" Bews, 105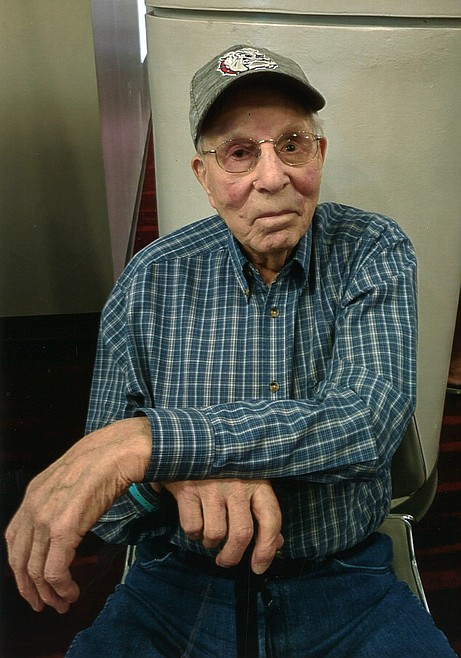 |
November 24, 2021 1:00 AM
Garland "Ike" Bews, 105, of Post Falls, Idaho, passed away on Nov. 15, 2021, at the Schneidmiller House in Coeur d'Alene, Idaho. Ike to all his relatives and friends was born Oct. 28, 1916, in Cornucopia, Ore., to William and Sarah Bews.
In 1920 at the age of four, Ike's family relocated to Star Idaho, where he attended elementary school in a one room schoolhouse. He excelled in basketball and baseball in high school. During this time, Ike and his five brothers and two sisters lived in a small wood frame home. "A view of the outdoors could be seen between the boards." A "privy" sat precariously at an appropriate distance. An old faithful "Franklyn" stove provided warmth in the cold winter nights.
After graduation at the age of 18, Ike followed his brother Bill to Mountain City, Nev., to work in a copper mine. As Ike told the story, "You had to be 21 to work there. I told them I was 22. They didn't believe me but gave me a job. They took a chance on me." Ike then made his way back to Star, Idaho, and married his childhood sweetheart, Nettie Brown, on Nov. 1, 1940. Ike and Nettie traveled to Elko, Nev., and Grass Valley, Calif., where he worked for the Banner Mine Company. Six days a week, 400 feet below ground, he mined gold and silver earning $4.40 a day.
Ike saved his money and in a couple of years convinced his brother Chet to go into the logging business. They purchased a 135-pound chain saw and worked with several logging companies in Oregon and Washington state. In 1943 Ike was drafted into the Army but was given a reprieve. His employer convinced his draft board that he was irreplaceable, best of the best logger, contributing to the war effort in the lumber industry. A valuable commodity.
In December of 1948, much to their delight, daughter Deeana was born in Morton, Wash. Ike and Nettie eventually moved to Quincy, Wash., where Ike tried his hand in farming, while employed with the Boise Cascade lumber Company. Long hours and hard work were his way of life. It gave him great pleasure to have helped his nephew Ron Bews (Janice) seek employment there and to work with him side by side. As Ron would say, "He was always there for me." In 1969 Atlas Lumber Mill offered "a good job" in Post Falls, Idaho, where Ike finally retired in 1981. Ike credits his hard work in logging and mining for his long and storied life. Of course, Nettie's home cooking had a lot to do with it. "Nobody baked a cake or canned fruits and jam like Nettie could.
Ike enjoyed many hobbies, excelling in fishing, hunting, golf and bowling. A legend horseshoe thrower, still pitching at age 95. A wall full of trophies and accolades. Always a quiet and gentle manner. A one-of-a-kind husband and father.

Ike is preceded in death by his loving wife of 76 years, who passed at age 98 in January 2017. Ike is survived by his devoted daughter Deeana Harris (Tony). Granddaughter Lori Brodie (Kirk) and great-grandson Maxsim. He is also survived by many nieces and nephews. Ike was a man whose morality ran deep and would give you the shirt off his back if you needed it. Whose integrity would rub off on you if you got close enough. Ike and Nettie walking that "bridge across forever," together again.
English Funeral Chapel is entrusted with all arrangements. Please visit Ike's online memorial at englishfuneralchapel.com.
---