Ron Edinger, 85
|
November 23, 2021 1:00 AM
Loren "Ron" Edinger passed away at home in Coeur d' Alene on Nov. 17, 2021, surrounded by his family.
Ron was born May 22, 1936, to Lawrence and Reva Edinger in Aberdeen, S.D. Ron and his family would eventually move to California where he and his brothers, Dick Edinger and Jim Edinger, would attend school in Bell Gardens. Ron graduated from high school in California before moving with his parents and brothers to Coeur d'Alene.
Ron came to Coeur d'Alene in 1955 with an untapped passion, a love for people and an honest nature. He was determined to do something with his life. And so, it began.
He met Nancy Jessick (Miss Lakeside Days) at the old Wilma theater, and he was smitten. From there their story began. Their love, the way they cared for one another, never diminished in the 66 years that would follow.
Ron would marry Nancy Jessick on June 1, 1957. They would spend the next 66 years together and 64 years married while creating a life that would produce four daughters. Debbie Magnuson, Paula Austin and Robin Szmania. With tremendous sadness their middle daughter would not survive past birth; however, the three remaining adored him and of course he adored them.
For most of Ron's daughters' adult lives he would call their families nightly to check in, ask how everyone was, how school was, how is work, etc. This was nightly. Make no mistake, no answer, he called back. Ron was very sentimental, his heart softer than plush, larger than the ocean. He loved his family; he looked forward for the visits from family members, daughters, grandchildren, great-grandchildren and friends. Ron would call every year, on his family's birthdays to wish them and sing "Happy Birthday." What a treat, and every year even as those who got much older, they still waited for that call. He ingrained in his family that family is the bond that keeps you strong and at times provides you the strength to survive.
Ron was jack of all of trades, a man of many hats! He was a husband, father, grandfather, great-grand-father, friend and advocate for the community he loved. He began his working career as a Forest Service Nursery Laborer pulling trees, (he would tell Nancy with his bare hands). He would move on to work at Major Motors, then to Coeur d'Alene Creamery and pitched hay at Sam Roduis Ranch before he started his career for the Idaho News Agency for 26 years distributing magazines to North Idaho, then working for School District 271 for 12 years as a maintenance and bus driver. He retired in 1999. After retiring he would work at The CDA Resort driving limousines for several years. He served as mayor in 1974 for four years and served on the city council for 50 years while also serving on many public service committees.
Ron would be instrumental in achievements through his public service; he was proud to be a part of great groups of people and great projects spanning many years. These achievements include: the purchase of Tubbs Hill, Ron Edinger Park (Persons Field 15th Street), the development of Independence Point, he was a JCI Senator, the purchase of Idaho Water Co, he was a Human Rights Hall of Fame Award recipient, Idaho Amateur Softball Associations Hall of Fame Award recipient, Outstanding Young Idahoan in 1972 presented by the Jaycees of Idaho, Canfield Park, American Legion Baseball, Shriners, Masonic Lodge, Scottish Rite and he made sure that public safety was a top priority across the community. What he loved most was the people of Coeur d'Alene, the community in which he served and liked to help.
If asked, Ron would tell you though his greatest accomplishments were his children, grandchildren, great-grandchildren and his 64-year marriage to Nancy.
He was a mentor while working for the school district as a custodian, school bus driver, baseball and basketball official. He was a listener on many occasions, whether it be on a diamond, the basketball court, the lunchroom floor, the school bus to and from school, and yes, on his front porch with the occasional constituent. Whether you agreed or disagreed with a decision that Ron made on a city matter, or on the baseball diamond, the basketball court, you knew he was a man of integrity. He did and said what he thought, he had strong beliefs and he held them close. Ron worked hard through his many years providing for his family and those days not dedicated to his family he spent improving the city of Coeur d'Alene.
Ron and Nancy's home was a revolving door of children, grandchildren and great-grandchildren. He enjoyed so much to have them sit with them on their front porch to visit, those times were often spent with stories of the old days. Ron enjoyed about as much as anything to watch his grandchildren and great-grandchildren play the sports and activities through the season. Ron would wake every Saturday to check his schedules and arrange his daily trips to the different locations, because with as many grandkids, he had many ball fields or courts to get to.
In Ron's free time, he loved his golf. While weekly trips didn't send him onto the PGA, he certainly was able to teach himself patience. He enjoyed the many seasons North Idaho has, especially Christmas and the Fourth of July. Nancy would decorate their house and Ron was responsible for placing their lighted candle paper bags along the walkaway for Christmas Eve when welcoming the family, his responsibility, and he excelled. The Fourth of July would come seven months later and what show the Edingers would have.
After years of fighting, his body dealing with multiple illnesses, he had fought the long hard fight, his mind and his heart there till the end, he left this place we call home on Nov. 17, 2021. Ron never gave up and with Nancy's devoted care he was able to live longer than ever anticipated. While the illness took his life, his heart will forever survive within in his family.
Ron is survived by his wife Nancy; daughter Debbie Magnuson, granddaughter Jamee Rowley (Will) and children Colt and Caden; granddaughter Makayla Meyer (Jared) and children Avery and Braxton; daughter Paula Austin (Tim) grandson Christopher Willoughby (Danielle) and children Dash, Kingston, Mckinley, and Ali; granddaughter Dionne Austin and son Blake ; grandson Dustin Willoughby(Lauren); daughter Robin Szmania (Phillip) grandson Brock Poole (Ashley) and children Willow, Rowan and Aspen, grandson Cameron Poole (Erin) and children Mackenzie and Maddie, granddaughter Emily Szmania. Ron is also survived in death by his twin brother Dick Edinger (Jeannie) and extended Edinger family and sister-in-law Sharon Bacon (Bill) and the Bacon family.
Preceding Ron in death was his baby daughter at birth, his father and mother, Lawrence and Reva Edinger, his brother, Jim Edinger, Douglas Magnuson (son-in-law) and his beloved grandsons, Devon Austin and Robert Watson III.
"Be kind, love your little ones."
"Treat your parents with respect."
"Take care of the little guy."
The family would thank:
Dr. Philip Kladar; Home Instead; EMT Responders; Yates Funeral Home
And a special thank you to our special circle of friends!
In Lieu of flowers donate to these charities held close to the Edinger family's heart:
Shriners Hospital for Children- Spokane
911 5th Ave
Spokane, WA 99204
Multiple Sclerosis-Inland Chapter
818 E Sharp Ave
Spokane WA, 99202
Community Cancer Fund
510 W Riverbend Ave
Suite 500
Spokane, WA 99201
The funeral service will be 11:00 a.m., Thursday, Dec. 2, 2021, at Trinity Lutheran Church, 812 N. 5th St. in Coeur d'Alene. A reception will follow at the church and burial will be in Riverview Cemetery. Yates Funeral Home is in care of the arrangements and you may visit Ron's online memorial and leave condolences at yatesfuneralhomes.com.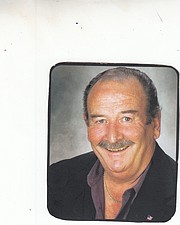 ---