Lots of love for pets
by
BILL BULEY
Staff Writer
|
November 22, 2021 1:09 AM
COEUR d'ALENE — Lights of Love will brighten the Silver Lake Mall this holiday season — and the lives of pets at the Kootenai Humane Society.
"Lights of Love is a lot of fun and a joyous time for all of us during the holiday season," said Vicky Nelson, KHS development director. "It warms your heart to see so many people remembering and honoring their beloved animals. And you are helping a homeless animal too while they wait to find a forever home."
Last year, Lights of Love brought in about $45,000. Now in its ninth year, KHS officials believe it will do even better.
The program is a way to honor or remember a loved pet this holiday season.
"It was an amazing fundraiser," Nelson said. "And each year gets bigger and better."
The Lights of Love trees were set up Friday at the mall and will remain there through Dec. 30.
Trees will be adorned with white lights memorializing pets that have died and red lights honoring the pets still with us. All lights are tagged with your pet's name and your last name.
Tags are $10.
Orders are already coming in and strands will go up starting today. The more tags sold, the more the trees will be filled.
Two tags last year had the names "Molly Ray" and "Bubba Ray," both with a handwritten message, "We miss you!! Mom and Dad."
"Your gift will help give our shelter animals a second chance at happy healthy lives filled with love," a KHS flyer says.
Nelson previously told The Press that the idea for Lights of Love came from a Nevada animal shelter that sold Christmas lights and decorated trees using those donations.
"We took it and said, 'You know, if you're going to buy a light, let's make it to where it's more personal,'" she said. "Every year we see a lot of the same ones come back. And people come and they try to find their tags."
The Silver Lake Mall has also created another fundraiser, "Miracles at the Mall," for KHS. They have three themed trees — outdoors, pets and home — on display filled with goodies, and tickets are $10 at Black Sheep. The drawing will be held at 2 p.m. on Dec. 11.
KHS broke ground last week on its new home in Hayden just off Atlas Road. It's expected to be completed next year. The organization raised $5.3 million for a new shelter, which will be more than 20,000 square feet.
Tickets: kootenaihumane.org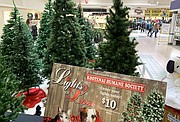 Recent Headlines
---