Ross Edward Besich, 80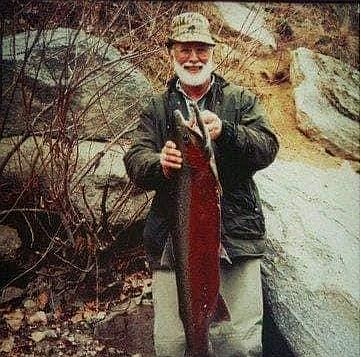 |
November 21, 2021 1:00 AM
Ross Edward Besich, 80, of Bayview, Idaho, passed away on Nov. 6, 2021, from a cardiac arrest. He was born to Edna Arnold on Dec. 13, 1940, in Oklahoma.
Ross worked as an electrician in Arizona until he moved his family to the Pacific Northwest where he worked in a sawmill, as a miner and as an ironworker. He started REB Excavating in 1977. This business was honored with the Business of the Year award presented by Post Falls City Council for an exemplary business. He began working for Bechtel Engineering as a Construction Superintendent in Norway in 2006, and traveled all over Europe enjoying life. When he returned to the states, he was then sent to work for Bechtel Engineering in Canada. After having a heart attack in Canada, he decided to retire in 2009.
His first love was his family. He was a fierce protector of his family and loved them dearly. He also enjoyed fishing, hunting, team roping in the rodeo, or anything outdoors.
Ross married Sandra Jeffrey Feb. 11, 1963, in Coeur d'Alene, Idaho. They had three children together and lived in the Pacific Northwest.
He married Judy Reed on May 10, 2008, in Boise, Idaho. Together they ranched in Kamiah, Idaho, before moving to Ponderay, Idaho, and then lastly to Bayview, Idaho.
Ross is survived by: Judy — wife, Tana Vesser — daughter (Rick); Rene Palaniuk — daughter (Tony); Jennifer Wabs — stepdaughter (Troy); Brian Stefani — stepson (Melissa); Russell Stefani — stepson.
Grandchildren; Preston Brandt, Anthony Brandt, Joshua Vesser, Nickolas Vesser great-grandchildren; Brodie (Nickolas), Bradyn and Addison (Anthony) Step grandchildren; Troy Blankenship Jr, Alexis Blankenship, Hunter Wabs, Shayna Wabs, Briana Stefani, Teanessia Stefani; great-step grandchild: Amethyst(Teanessia).
He was preceded in death his mother, Edna Arnold; his son, Ross Edward Besich, Jr; his stepdaughter, Stephanie Blankenship.
Ross was a man's man. He took great pride in his family and his work ethic. His integrity was matched by none. He was extremely proud of his strong handshake and many a man was surprised with his "handshake" where they were left trying to get the blood supply back in their hand after the handshake.
In lieu of flowers, the family requests that donations be made to the Children's Village at 1350 W. Hanley Ave., Coeur d'Alene, Idaho, 83815. He was a fierce protector of children and his son, Ross, has a memorial brick at their site.
Services will be private for immediate family, and a memorial reception will be held in summer of 2022. We will reach out to family and friends when we have specific information.
Bell Tower Funeral Home is entrusted with arrangements. Please visit Ross's online obituary at belltowerfuneralhome.com.
---