Top chefs compete, and the winner is ...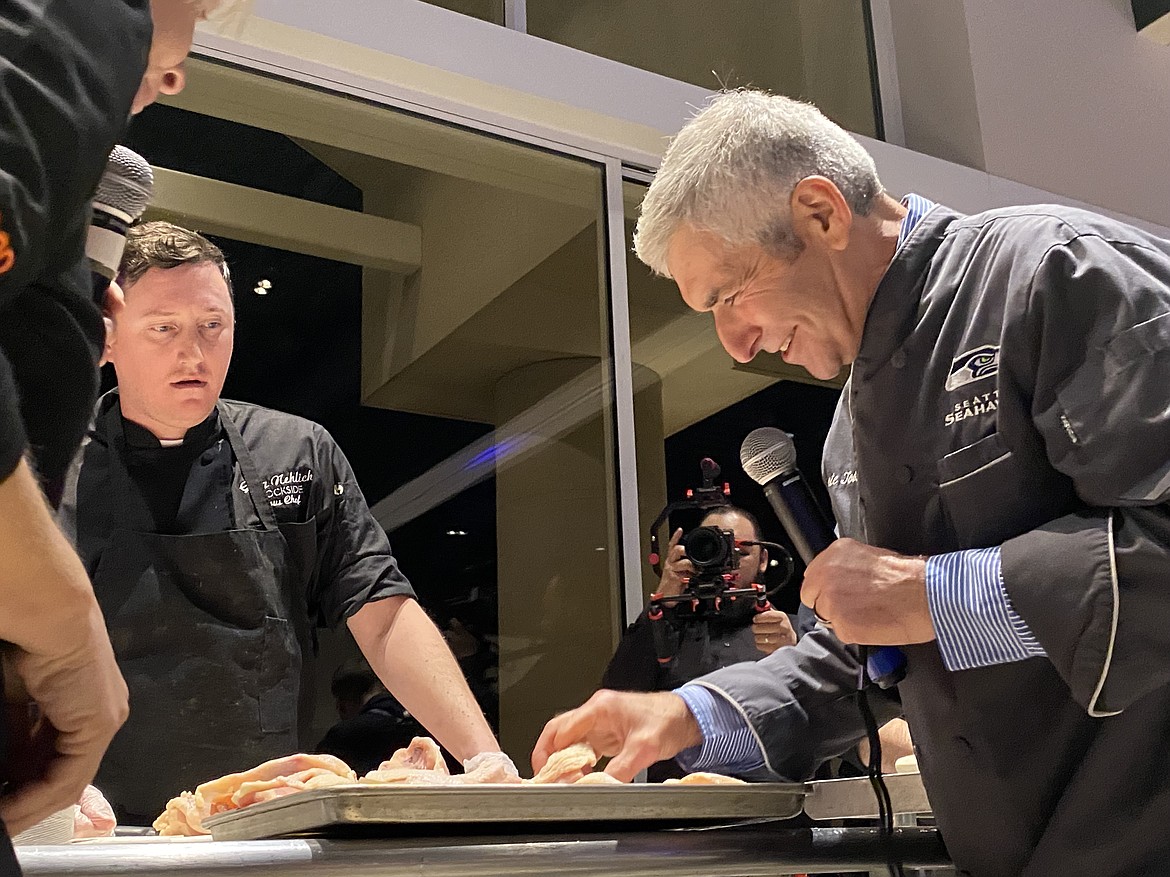 Beverly's executive sous chef Greg Nehlich, center, gets his culinary skills checked by judges at the CDAIDE Chefs Challenge event Thursday night. (MADISON HARDY/Press)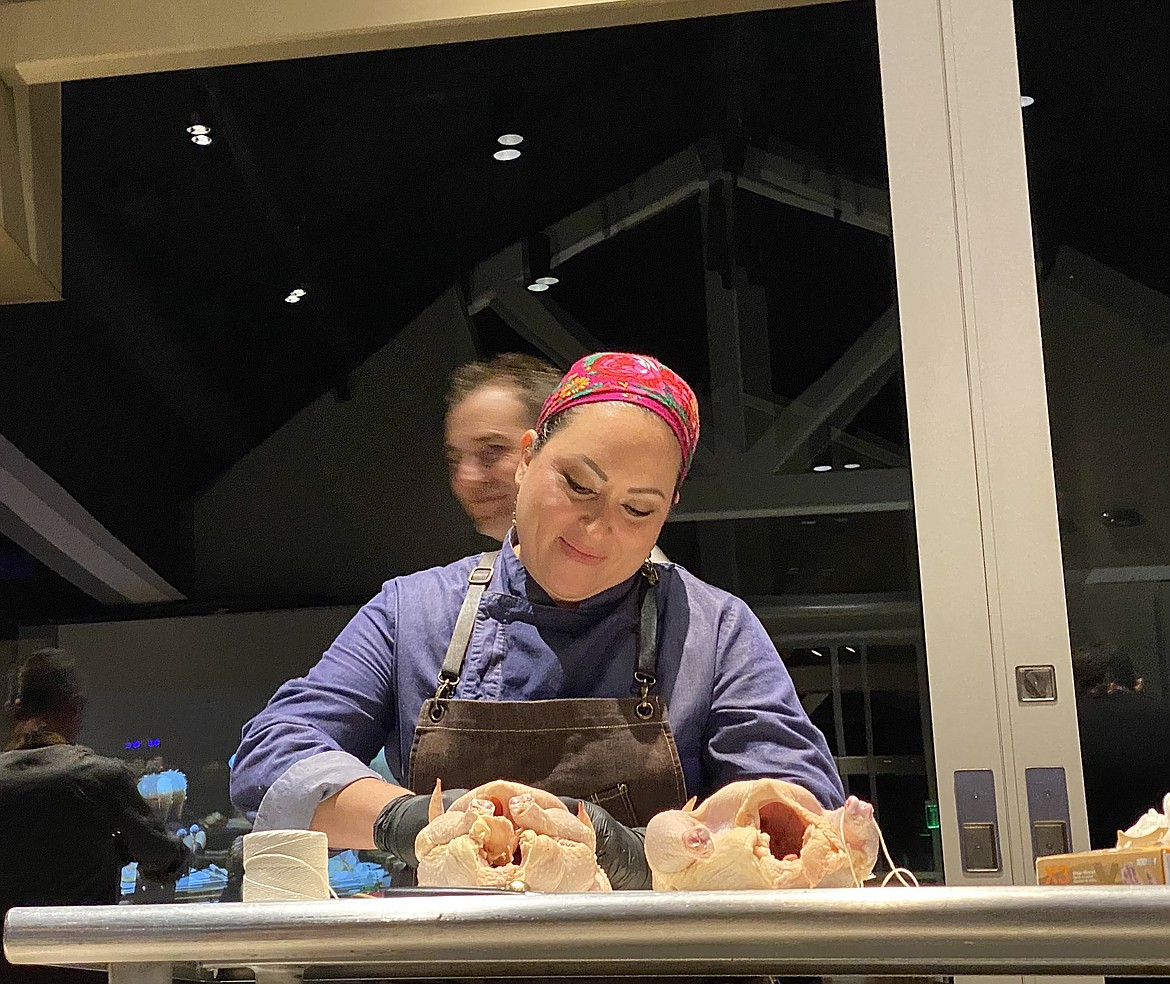 Colomba Aguilar, the executive chef for Café Carambola and representative for The Culinary Stone, beat out her competition at the CDAIDE Chefs Challenge Thursday night and won the championship title. (MADISON HARDY/Press)
Previous
Next
by
MADISON HARDY
Staff Writer
|
November 20, 2021 1:09 AM
COEUR d'ALENE — Onions were diced, chickens were sliced and money was raised for hospitality workers in need at the inaugural CDAIDE Chefs Challenge on Thursday night. 
More than 200 people packed into the Hagadone Event Center to watch six local chefs square off in challenges that tested their culinary skills. 
In the end, Colomba Aguilar, the executive chef for Café Carambola and representative for The Culinary Stone, won the championship title. 
"My nerves were rattled. I had never done or had a desire to go into one of those competitions," Aguilar told the Press on Friday.
But CDAIDE changed her mind.
"In the end what propelled me to do it was the cause I was supporting by doing so," she said. "Helping others allows you to let go of your own pride and ultimately rewards you with great happiness. I'm grateful for this opportunity to have supported CDAIDE and my fellow hospitality workers."
Culinary Stone store manager TJ Tombari said the business became a sponsor for the event because of its connection to the hospitality industry. She said the owners of the Culinary Stone, Pat and Sandy Volkar, are "supporters of all things in the community." 
"I was so impressed and inspired by all the chefs," Tombari told the Press on Friday. "While there was a sense of 'competition,' there was more camaraderie between the chefs."
Private chef Gabe Cruz earned the "People's Choice Award" for his appetizer. 
Though only one competitor walked away with a WWE-style gold belt and top chef title, the real winner was the Coeur d'Alene community. 
CDAIDE is a nonprofit founded in faith to help low-income hospitality workers. Money raised by the Chefs Challenge will support the CDAIDE care program, which covers rent payments, vehicle repair, medical and dental expenses, utilities and child care services.
Addressing the crowd, CDAIDE Executive Director Rebecca Smith said its work is crucial as requests for assistance have grown by 800% during the pandemic. 
"If you look at the people that we've helped over the past year, their average income is $24,000 a year ... and over half are supporting dependents," Smith said. "Imagine trying to raise kids with $24,000 a year while your housing costs are rising. You can see why CDAIDE is so important and why we're here."
Annie Parker, a recipient of CDAIDE assistance, also spoke during the event. Since moving to Kootenai County in 2015, she's worked at several local restaurants. When she wasn't assisting customers, Parker served the community by volunteering at the St. Vincent De Paul warming center.
In the summer of 2016, she began studying toward a degree in social work at North Idaho College and Lewis & Clark State College. 
"Every day, I went to work at five o'clock in the morning, then wrote papers all night long, and then I started my shift the next morning," Parker said. "Life for us was pretty great."
Then, COVID-19 hit.
"We were pretty devastated," Parker said. "In an instant, I went from working every day and bringing in money for bills and food to nothing."
CDAIDE helped her make ends meet. 
"Because of the generosity of the other community members and donations, we were able to pay our rent," she said.
Today, Parker is working toward her master's degree in Boise State University's Advanced Understanding of Social Work program.
"As a social worker, the opportunity to give back to the community that helped me in my time of need has been way more rewarding," she said. "Now, when I click on CDAIDE links, I am assisting a fellow hospitality worker get some funds for their financial crisis."
Dean Opsal and event sponsor Pinkerton Retirement Specialists also received awards for their contributions to CDAIDE programs. 
Based on the overwhelming amount of community support, Smith told residents to "absolutely look for the event to happen again."
"At one point when I was standing there holding the microphone, looking around, and I thought 'This is what community feels like," Tombari said. "It feels like love and support." 
A total raised by the event won't be known for several days, Smith said.
A recording of the event is available on the CDAIDE Facebook page. In-person filming was also volunteered by Dylan Williams and Zak Adams. 
Event sponsors included Black Rock Marina, The Culinary Stone, Swire Coca-Cola, Willamette Valley Bank, Terraza Waterfront Café, Hayden Lake Country Club and Idaho Central Credit Union.
U.S. Foods provided the ingredients and was also an event sponsor.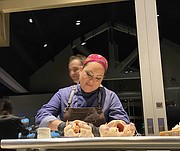 Recent Headlines
---