Foodies unite for a good cause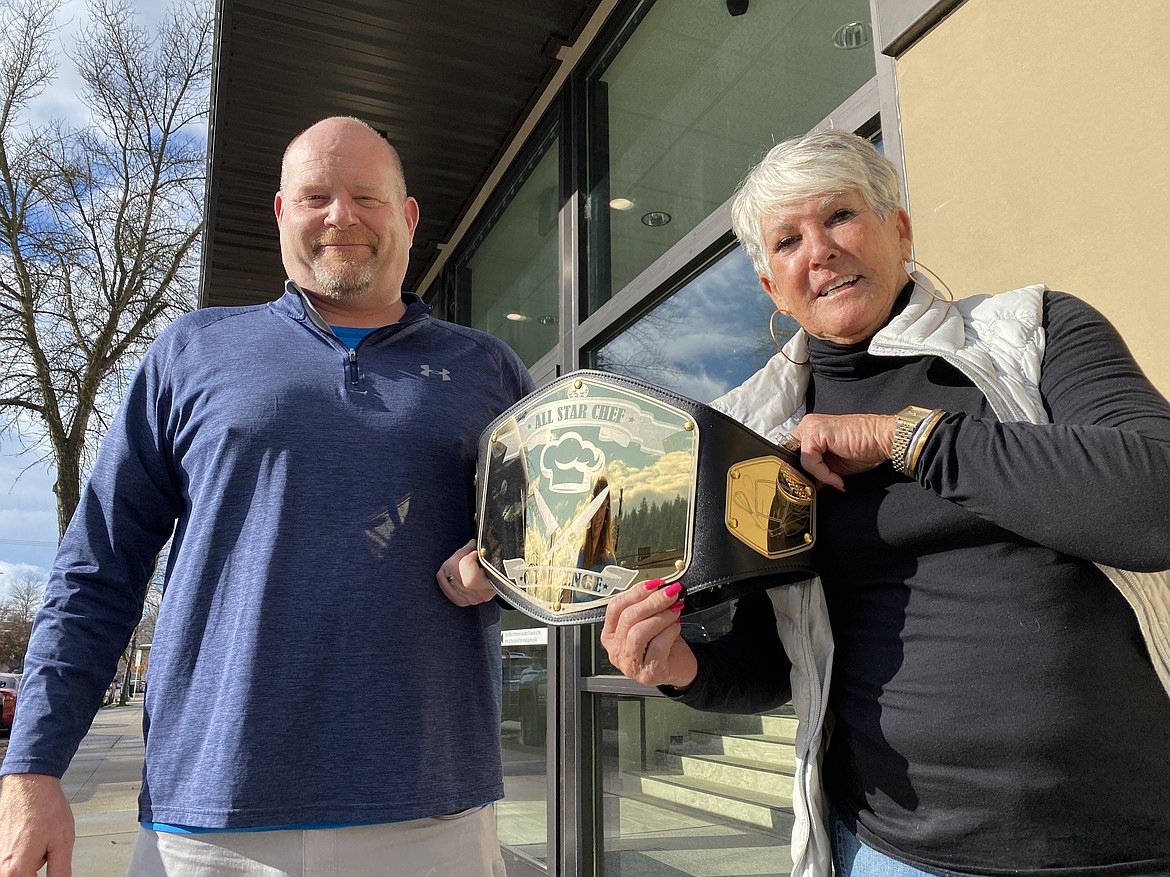 Black Rock Marina General Manager Jeff Messinger and Kootenai Health Trustee Katie Brodie hold up the golden belt that will be awarded to the winner of CDAIDE's Chef Challenge on Nov. 18. (MADISON HARDY/Press)
by
MADISON HARDY
Staff Writer
|
November 8, 2021 1:08 AM
Coeur d'Alene's ultimate foodie event is coming to town.
Eight local chefs will square off in head-to-head challenges testing their culinary skills on Nov. 18. 
The best part — it's all for a good cause. 
CDAIDE, a local nonprofit assisting local hospitality workers, will host the inaugural Chef Challenge. Presented by Pinkerton Retirement Specialists, the event aims to raise money for emergency financial needs of local restaurant and hospitality workers. 
"We are seeing tons of homelessness among hospitality workers, people who are working full time in our community who have nowhere to live," CDAIDE Executive Director Rebecca Smith said. "They're living in their cars, in tents, at a friend's place or paying week-to-week at a motel with children ... The increases in housing costs and rent prices have eaten away at their disposable income." 
Kootenai Health Trustee Katie Brodie and Black Rock Marina General Manager Jeff Messinger designed the CDAIDE Chef Challenge to be a "great community activity," different from your typical charity event.
"This is not an auction-style, paddle raise style of event," Messinger said. "This is more of just an evening of entertainment." 
At 5:30 p.m. Nov. 18 in the Hagadone Event Center, guests will watch chefs from local eateries, including Café Carambola, Terraza, The Coeur d'Alene Resort, and Shooters Bar & Grill compete in a cooking competition.
Through three different events, chefs will demonstrate their culinary knowledge, knife skills and creativity. The final four chefs will be assigned what Messinger called "a doozy of an ingredient" to incorporate into their dish. A panel of judges featuring pillars in the local food scene will decide the winner. 
"It's a cross between Guy's Grocery Games, Top Chef, and Chopped," Messinger said. "With the rise of food television in the last 20 years, people's knowledge of how food works, what good food looks like and techniques are more advanced than ever." 
Chefs will also provide creative appetizers and desserts for the audience.
The winning chef will receive a WWE-style gold belt, a $300 gift certificate to The Culinary Stone and judge the event next year. The "People's Choice Award" winner for best appetizer will also get a $300 gift certificate to The Culinary Stone. 
Tickets are $100 each, and tables of eight are $1,000. Each ticket includes a drink coupon, appetizers and dessert. 
There will also be a raffle drawing as well.
Funds raised from the event will support CDAIDE's program to help low-income hospitality workers in the area with rent payments, vehicle repair, medical and dental expenses, utilities, and child services. 
"For a lot of people who are working, they're making income, and if they fall behind something, it starts to spiral to where they can't catch up," Smith said. "It can make all the difference to someone to have an organization come in and just cover their rent for one month while they get back on track." 
Last year, CDAIDE assisted over 200 families who work in the hospitality industry. According to the Idaho Department of Labor, almost 10,000 of the 83,000 workers in Kootenai County are in leisure and hospitality positions. 
The average household income for workers CDAIDE served this past year was about $24,675, Smith said. By comparison, IDOL reported in September that the average household income in Kootenai County was $57,242. 
"I worked as a waitress at one time in my life, and it was tough. For a long time, other than being a big tipper, I didn't know a way to help these individuals," Brodie said. "I've enjoyed the association with CDAIDE. They're great people with energy level Mach 9." 
Event sponsors include Black Rock Marina, The Culinary Stone, Swire Coca-Cola, Willamette Valley Bank, Terraza Waterfront Café, Hayden Lake Country Club, and Idaho Central Credit Union. U.S. Foods is providing the ingredients and is also an event sponsor. 
Info: www.cdaide.org
Recent Headlines
---