Community Thanks
|
November 7, 2021 1:00 AM
THANKS: Auction, dinner a success
The leaves are falling, tucking in the garden with a warm, crunchy blanket — a kaleidoscope of colors. At Shared Harvest, Coeur d'Alene's first community garden, this is when we celebrate the growing and giving season and reflect with gratitude on the gift of our community. We have so many thanks to share, but this year in particular our hearts are overflowing due to the overwhelming support we have received from our neighbors and community members. Thank you all for believing in Shared Harvest. Because of your generosity, we are able to continue to grow good things in our community!
On Sept. 11, Shared Harvest hosted our 13th Annual Dinner Under the Stars Fundraiser and Auction. It was a huge success! The event was well attended, and we were able to raise enough funds to provide us another year of growing!
We would like to take a moment to thank our sponsors. Our sponsors have given us incredibly generous financial support, they have given their time and services, and have worked so hard behind the scenes to help Shared Harvest continue to grow and feed our community. We have a very generous community of individuals, businesses and organizations. Thank you for believing in our community and our mission!
Financial Sponsors:
• Title Sponsor: TDS Fiber
• Executive Sponsors: Herb and Paulette Minatre
• Community Sponsors: Idaho Central Credit Union; Personal Safety Training, Inc.; CDA Fraternal Order of the Eagles Club
• Garden Sponsor: Pilgrim's Market; Beau Monde Exchange
In Kind Sponsors:
• Ticketing Sponsor: The Art Spirit Gallery of Fine Art; Lake Coeur d'Alene Neighbors Magazine
• Pre-Event Food Sponsor: Nancy Mills
• Wine, Beer & Cocktail Sponsors: Idaho Wine Merchants; CDA20 Property Management; Collective Kitchen; CDA Fraternal Order of the Eagles Club
• Dinner Sponsor: Collective Kitchen
• Dessert Sponsors: Gelato by the Lake; Herb and Paulette Minatre
• Lighting Sponsor: The Coeur d'Alene Golf and Spa Resort; Jodi Foutch and Nancy Reagan
• Flower and Table Centerpiece Sponsor: Andre and Carol Planchon
• Plant Sponsors: New Leaf Nursery; VanHoff's Garden Center
• Music Provided By: Courtney and Company
• Artwork Provided By: Students from Sorensen Magnet School of the Arts and Humanities; The Children of Shared Harvest Community Garden
Thank you to all of you who have supported our event with your time, talents, financial support, live and silent auction items, goods and services.
We are grateful for our volunteers and board members who have worked so hard to make our garden beautiful and helped make this event a success.
We could not have done this without you!
You ALL have helped us Grow a Legacy…
Of Giving and Sharing.
Of Green Growing Spaces in our City.
For the Birds and the Bees
For the Children and Students Who Explore.
And the Adults Who are Remembering Again What it Means to be a Child.
We are Growing A Legacy Of Generations.
Of Learning and Creativity.
Of Food Security.
Of Playfulness and Laughter.
Of Kindness.
Of Family and Friends.
Of Community and Working Together.
Of Peace.
Of Hope.
And of Love.
…Finally, thank you to Marshall and Dolly Mend for allowing us to grow good things in our community these 13 years. Without your kindness we would not have been able to grow and donate over 60,000 pounds of produce to our food banks and local families in need or to offer hope to neighbors going through hard times.
Thank you for growing a legacy with us one seed at a time!
Information: www.sharedharvestgarden.org
SHERILYN LONG
President
Shared Harvest Community Garden
Coeur d'Alene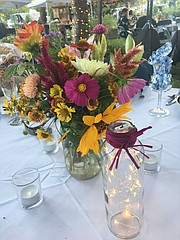 Recent Headlines
---