Record high temp could be tested Wednesday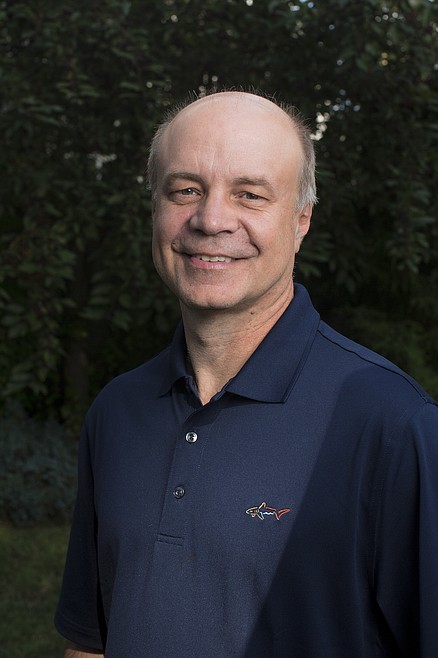 Randy Mann.
JAKE PARRISH/Press
The drier-than-normal weather pattern continues across North Idaho and the rest of the Inland Empire.
Only 0.95 inches of rain fell this month in Coeur d'Alene, compared to the normal of 2.37 inches. This is the third month in a row with precipitation below average levels.
It's even drier at Spokane International Airport, where a mere .20 inches fell in May. The normal is about 1.50 inches for the month.
Thanks to a wetter-than-normal January, current moisture totals are not too far below average in Coeur d'Alene. Since Jan. 1, 10.75 inches of rain and melted snow have fallen at Cliff's station in northwestern Coeur d'Alene. This is about an inch below normal to date.
Last year at this time, we had over 14 inches. In Spokane, only 4.33 inches of precipitation have fallen since the beginning of the year. The normal is around 8 inches.
It certainly was a very dry May across the rest of the Inland Empire. Worley measured a meager .39 inches of rain for the month. About .85 inches was reported at Spirit Lake. Athol had around .82 inches, Hayden and Rathdrum had 1.19 inches, Post Falls measured 1.03 inches, and approximately 1.25 inches was reported at Kellogg in May.
At other stations across the region, Lewiston had .16 inches of rain for May, well below its normal of around 1.70 inches. Wenatchee picked up only .08 inches, compared to the monthly average of about .75 inches. Moses Lake was exceptionally dry with 0.06 inches of moisture. Their normal rainfall for May is around .70 inches.
We did get our brief wet period at the end of the month, but the rest of this week will be dry and warmer across the Inland Northwest. It's very possible that we could break a high temperature record in some areas on Wednesday as readings are expected to climb into the 90s.
In Coeur d'Alene, our record high on that date is 96 degrees set back in 1986, so there's a chance we could challenge that reading.
By late in the week, temperatures are expected to cool down. The rest of the early to mid-June timeframe will have a chance of scattered showers and a few thunderstorms.
The summer of 2021 still looks drier than normal, especially during the first half of the season. However, Cliff and I don't believe that this summer will be as dry as the one in 2020.
Last year, June was wetter than normal with 2.64 inches. However, in July of 2020, only .32 inches fell and most of that was from a thunderstorm on July 7.
From July 8 through Sept. 23, Cliff measured just .20 inches of rain, which was the driest stretch in history.
Conditions are still looking drier than normal later in June and into July, which would likely make for another tough fire season.
In August, we believe that the weather will turn wetter, a complete contrast to what we had in 2020 when only .12 inches was reported. I have to mention, though, if we do get one of those scattered afternoon or evening pop-up thunderstorms, that could change our monthly June or July totals to the wetter than normal side, which would certainly help the current drought situation.
With the official start of the summer season right around the corner, residents in the Far West will be facing the threat of very large wildfires once again. This was the second consecutive year with severe to extreme drought conditions across much of the West, especially in California, which has now led to dry forests and tinder-dry brush.
Fire dangers are not confined to this part of the country. It's been drier than normal in Florida, where there are currently three major wildfires.
As I mentioned, we're going to get a brief taste of summer over the next few days. In other parts of the world, it's been the case of wild extremes. For example, western Europe has been experiencing a cooler and wetter-than-normal spring season. On the flip side, high temperatures near the Arctic Circle soared to record levels.
On May 19, the Arctic Circle village of Nizhnyaya Pesha hit a whopping 86.5 degrees Fahrenheit, a mind-boggling temperature in that area for May and warmer than much of Europe on that date.
Temperatures across the Arctic region on May 19 were as much as 40 degrees above normal. Record highs were also reported for several days before finally cooling down.
According to the Moscow Times, St. Petersburg, Russia, had its hottest May 12 in 58 years with snow reported days earlier.
• • •
Contact Randy Mann at randy@longrangeweather.com
Recent Headlines
---