A new era in the air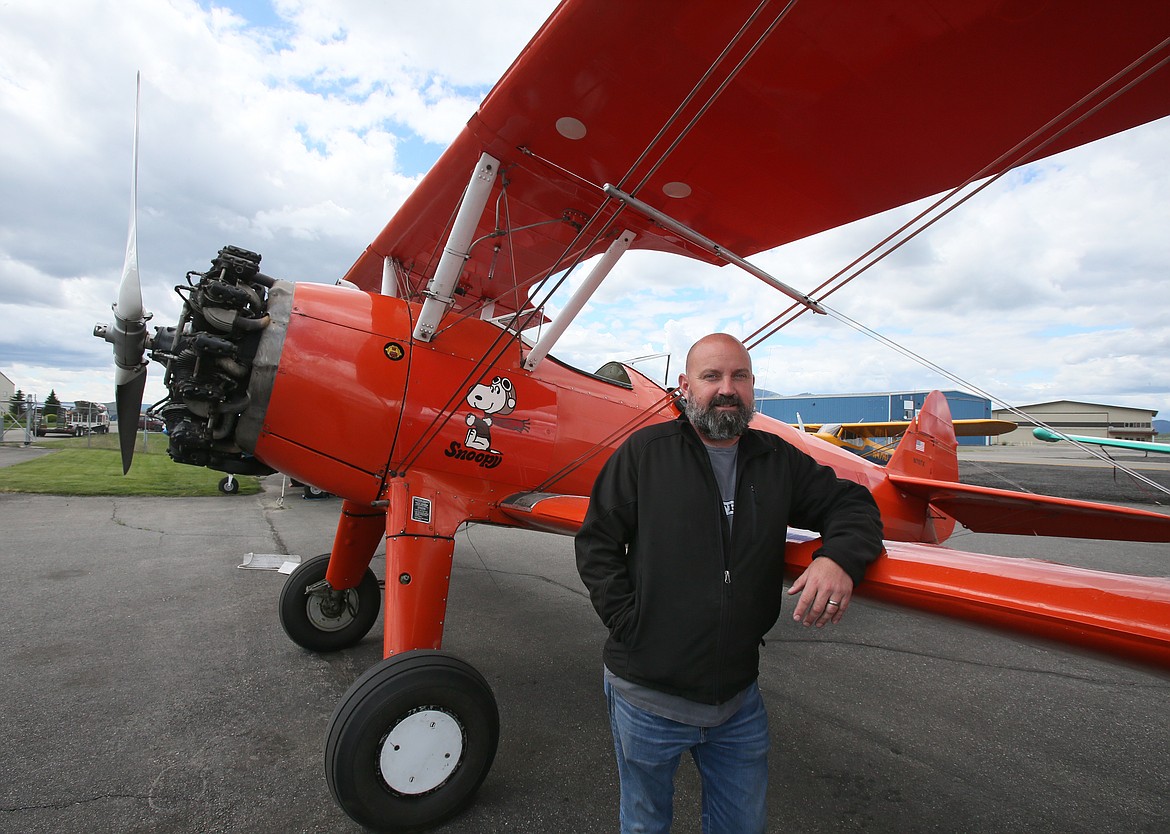 No Limits Aviation owner Shane Rogers is seen here Friday next to his mostly original 1941 Boeing Steerman. Rogers is going to be the new owner of Brooks Seaplane. He plans to grow the aviation community in North Idaho.
DEVIN WEEKS/Press
by
DEVIN WEEKS
Staff Writer
|
May 30, 2021 1:08 AM
Not a summer goes by that the people of Coeur d'Alene don't admire a Brooks Seaplane as it soars over the lake and splash lands at the Independence Point dock.
Brooks Seaplanes' new owner, Shane Rogers, plans to carry on that Lake City legacy, and to grow the local aviation community while he's at it.
"I've always loved aviation," Rogers said Friday, sitting in a break room in the hangar for his business, No Limits Aviation, at the Coeur d'Alene Airport. "We're an aviation family. My wife loves aviation; my kids have grown up around airplanes."
Rogers, 45, grew up in Alaska, where his grandfather was a pilot.
"Everybody flew in Alaska," he said. "You could do ground school in high school and I did that. It was normal in Alaska."
Rogers took a hiatus from aviation but got back into it about 17 years ago. He also spent about 20 years in the San Diego area, where he owned a successful construction outfit before he and his wife — whose name is, fittingly, Brooke — and their three children moved to North Idaho four years ago.
"I bought a couple airplanes and it grew from there," Rogers said. "This is really my second career."
Rogers had a vision of coming to North Idaho and providing plane rides and sunset tours in a Beechcraft Model 18, which is a large twin-engine airplane.
"We've been trying to figure out how to make that work," he said. "Everything else has been created along the way."
Rogers is in the final phase of acquiring the historic Brooks Seaplane company, which has been a household name in Coeur d'Alene since 1946. It was one of the first things to catch his eye when he and his family initially visited the area. He recalled telling his wife that he would someday like to be the proud owner of that local storied business.
"For me, it's absolutely huge," Rogers said. "It's been a staple of the community forever. If you've never rode on it, you've seen it or you've had friends, and most people around do not remember a time there wasn't an airplane flying off that dock in the summers."
He said the deal has been in the works for about seven months and is expected to close by late June. He's purchasing Brooks from Anne Lunt, the widow of late owner Neil Lunt, who bought the company in 2018. Neil Lunt and seven others were killed in a midair collision over the lake July 5, 2020.
"What happened was a horrible situation," Rogers said. "I knew both pilots. Not well, but I knew both pilots. Both were phenomenal pilots."
Airplanes are hard to see on the same altitude, he said.
"It's an accident that any one of us could have had," Rogers said. "We're going to implement some things that will hopefully help other pilots from out of town. We're going to publish a route."
Education and safety are at the forefront of this operation, as is pilot recruitment. A pilot shortage had been gnawing at the country prior to COVID, then the situation was exacerbated by furloughs and some pilots going into early retirement.
In 2019, former Boeing CEO Dennis Muilenburg said on "First on CNBC" that the pilot shortage is "one of the biggest challenges going forward" in the airline industry.
"There is a huge pilot shortage," Rogers said.
Rogers is hoping to grow the aviation community by attracting the interest of young people in the area who may someday become pilots or aviation mechanics. In San Diego, he organized a club, Pizza and Planes, which served as an intro for kids and their families.
"I threw the kids in with headsets and I high-speed taxied down the runway with the canopy open. To a 7- or 8-year-old, that's like flying," he said. "I would give rides throughout the year, really trying to give back to the aviation community."
No Limits Aviation has developed an aero program for high-schoolers. Rogers has had some success recruiting Lakeland School District students, but he hopes to more closely work with other area school districts to engage more students.
The kids come in on Saturdays and go through ground school to work toward their pilot's license. They get hands-on experience working on planes if they're interested in the mechanic route. Or they can do a bit of both.
"I've got people reaching out to me from all over the country trying to mimic my club," he said. "It's a phenomenal program."
For every 10 hours they spend in the class or working on the floor, they receive one flight hour with an instructor and a plane. That would normally cost about $200, but it's free for the students.
"For me, it's huge to give back and grow the aviation community," he said. "It's what we have to do to get people interested in it again."
No Limits Aviation offers other aviation lessons and services for all ages. According to U.S. Labor Statistics, the median annual pay for airline and commercial pilots in 2020 was $130,440.
"It's a great career path," Rogers said.
Recent Headlines
---