More west Post Falls — updates on Woodbridge South
by
TYLER WILSON/Special to The Press
|
May 30, 2021 1:00 AM
For the past couple weeks, Neighborhood of the Week focused on a few pockets in west Post Falls with a few available homes and new construction. Might as well finish off the month with a little more action in those parts.
If you're heading toward the stateline on Interstate 90, you're likely to notice the construction just east of the Stateline Walmart exit. Much of it remains open space for now, but it's also the general location of the rapidly expanding Woodbridge South development.
Many likely recognize the original Woodbridge neighborhood from its distinctive arch bridge-infused entrance along Seltice Way, which leads directly into a large park area with playground equipment and ample green space. Woodbridge South is, naturally, south of that original development.
When we last did a main feature on Woodbridge South, back in 2019, and when we did a brief update last year, we focused on homes developed by Painted Rock Homes by the Architerra Group. High-level amenities in the home included standards like 9-foot-high ceilings, painted composite siding, fenced rear yards, open concepts and more, with homes ranging in size from about 1,500 to 2,300 square feet.
Homes in this collection now start in the low-to-mid $400,000s, up from our previous reporting, but, of course, all prices are up considerably in and around the Inland Northwest. On the Architerra website, just one home under construction is considered active, though another can be found in the MLS. Get more information and the features involved with Painted Rock Homes at Woodbridge South by visiting MyArchiterra.com/Woodbridge-south.
There is some for sale signage in the development that don't correspond with any current active listings. Nevertheless, it may be worth reaching out to the Realtors here if you love the location — Wendy Davis with Sotheby's International Realty (509-438-9175), and Adriana Mojzis with eXP Realty (208-618-1221).
There is an OG Woodbridge Home currently listed as well — a 2002-built home with three bedrooms and 1,100-plus square feet listed for $399,000. It's a short walk from the neighborhood's signature park.
It should be noted that some of the most south homes in Woodbridge South (and facing some of that more recently cleared area near the freeway), tout three car garages, including a few extra-tall third garages for protected RV parking (or maybe a sailboat or parade float or semi truck… I guess we shouldn't assume). Anyway, they're cool.
Just for your consideration while discussing the west side of Post Falls near the stateline — there isn't much available and prices don't get cheaper if you cross the border into Washington. A four-bedroom home in Otis Orchards that was built in 1978 is listed at $430,000. A manufactured-on-land home built in 1996 that sits close to the Spokane River near the state line is listed at $469,000 (it does come with almost three acres and a 36-by-48 shop).
• • •
Let us know about more standout neighborhoods and developments that we may feature in an upcoming Neighborhood of the Week. Contact Tyler Wilson at twilson@cdapress.com.
Real Estate Agents, take advantage of Neighborhood of the Week by sending in your suggestions for featured areas, including sites outside the normal confines of Coeur d'Alene, Post Falls and Hayden.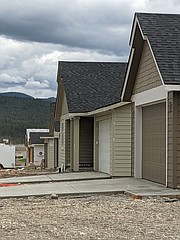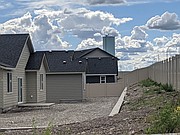 Recent Headlines
---