Cd'A Fire Chief Gabriel honored with lifetime achievement award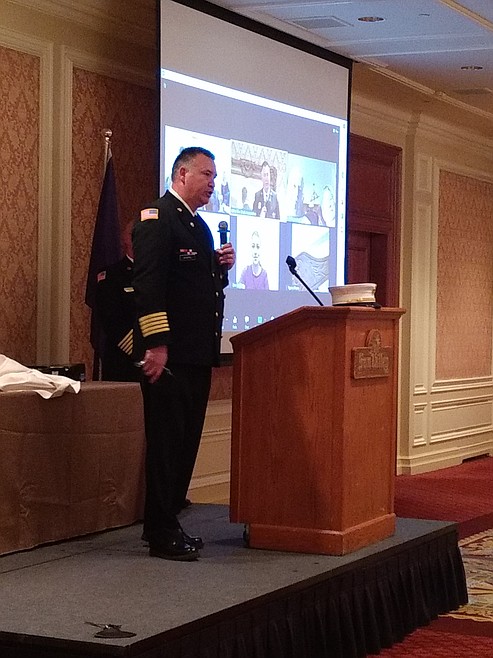 With a surprise appearance by his family via Zoom, Coeur d'Alene Fire Chief Ken Gabriel accepts his award by the Idaho Fire Chiefs Association. (Courtesy of Wendy Gabriel)
Wendy Gabriel's innocent search for photographs led to a massive celebratory moment for her family.
"I got involved in this when I got a call to look for pictures," the wife of Coeur d'Alene Fire Chief Ken Gabriel said Thursday. "The IFCA did all the work. They were originally looking to put something together for a slideshow."
That slideshow was for a May 15 presentation honoring Gabriel during the annual IFCA — Idaho Fire Chiefs Association — with its Lifetime Achievement Award.
The award represents only the second time in the group's 52-year history that it recognized someone for a lifetime of achievement.
Gabriel was honored for a lifetime spent protecting citizens, a career that started when he began volunteering in 1984. He took his first paid position as a professional firefighter in 1991, and he was appointed Coeur d'Alene Fire Chief in 2000.
During his career, Gabriel has instructed on national and international platforms, educating on firefighter safety and survival. The two-time Idaho Firefighter of the Year serves on the North Idaho Type 2 Incident Management Team, as well as on numerous state and local boards and commissions.
Wendy's slideshow project detailing her husband's life's work quickly evolved into a live interaction during the presentation in Sun Valley. She arranged for their entire family to make a surprise Zoom appearance during Gabriel's acceptance speech.
"There was our daughter in Oklahoma," Wendy said. "There was his son and his wife on vacation in Arizona, my son in Portland. And then I had a houseful in Boise for my daughter's 30th birthday: her, me, Kenny's mom, my dad, my stepmom, my daughter's future mother-in-law."
During the chief's acceptance speech, the gaggle of Gabriels suddenly appeared on screen via Zoom, voicing their pride and giving their well-wishes.
"I kept yelling, 'Turn around,'" Wendy said. "Afterward, he called me and said, 'Wow. I was not expecting that.'"
Gabriel didn't respond to Press requests for comment, something Wendy called unsurprising and reminiscent of his acceptance speech.
"He's such humble man," she said. "During the [speech], he got up there and just started talking about everybody else, of course. He started talking about how everybody else has helped him over the years.
Mayor Steve Widmyer told The Press that the recognition is a well-deserved honor for a man who has always reflected Coeur d'Alene in the best light.
"Kenny is a great leader who has always looked out for what's in the best interests of the citizens of Coeur d'Alene," Widmyer said. "He sets a high standard of performance for his department and hires great members of his team that meet those performance levels. He and his team members believe in the motto that Coeur d'Alene is the City of Excellence."
Recent Headlines
---