IRON WOOD THROWS CLASSIC: A successful start in the throws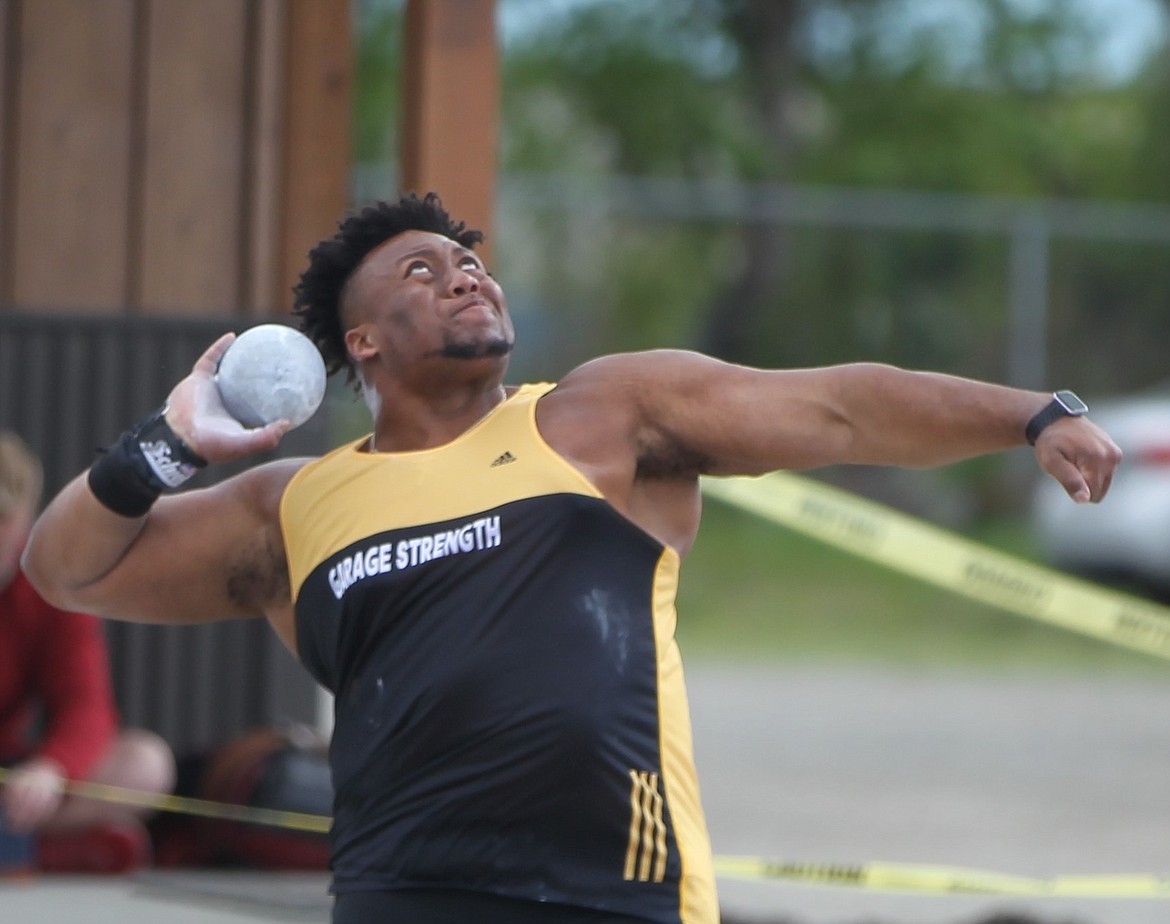 JASON ELLIOTT/Press T'Mond Johnson, a six-time Sun Belt Conference champion in the shot put from Texas State, makes an attempt during the Iron Wood Throws Classic on Friday in Rathdrum.
By JASON ELLIOTT
Sports writer
RATHDRUM — It was beginning that could set the tone for a good weekend in the eyes of T'Mond Johnson in the men's shot put.
Today, is where the six-time Sun Belt Conference champion wants to finish things.
Johnson won the shot put with a throw of 65 feet, 5 inches during the first day of the seventh annual Iron Wood Throws Classic at the Iron Wood Throws Center.
"I think I competed well and stayed in it," said Johnson, who competed at Texas State, finishing in 2019. "I'm happy that there's another competition tomorrow, so we'll see what happens. If was a good little start."
It was the first appearance at the event for Johnson.
"I like it here," Johnson said. "I love the facility so far. It's really nice. You're at a place where everybody here loves the throws. They want you here, competing and throwing far. If there's a ring and a toeboard, we just love to compete."
Johnson, who qualified for the NCAA Championships in 2018 and 2019, holds the school record in the shot at 19.19 meters (62 feet, 11 inches). Another round of the shot put will be held today starting at 2:30 p.m.
"I kind of knew coming out of college after throwing 19.19 that I was close and I knew I wanted to keep going," Johnson said. "I just made the decision to make this a full-time gig."
Whitney Simmons, who won a Division II national championship in the hammer throw in 2017 while at Texas-Tyler, nearly reached the qualifying standard for the U.S. Olympic Trials of 68 meters (223 feet, 1 inch), finishing at 217-5.
"I think it was my best series," Simmons said. "I had three throws over 66 (meters), so it was good for me because I usually pop one out there and then the rest of them are average."
Simmons received a little help from fellow competitor Christina Macdonald before the event.
"I'm not really training at 100 percent right now because I'm battling some underlying injuries," Simmons said. "One of the other competitors lent me one of their belts and I put it on and it helped me throw a lot better, so I need to thank Christina Macdonald for that. It was just a great competition and we've been here all week training. (Iron Wood throws guru) Bart (Templeman) has been really gracious to us. It's fun to get two meets."
Simmons' next attempt at qualifying for the Olympic Trials will come today at 12:30 p.m., when the second day of competition begins with the hammer throw.
"There's good camaraderie with the throws," Simmons said. "It's nice because it's all about the throws and it isn't the side event between the running events. Here, it's the mecca of throwing. Here, we're front and center."
Coming within 6 feet of an Olympic Trials bid in the discus, Kord Ferguson — a two-time All-American and SEC champion at Alabama — was pleased with his first day in Rathdrum.
"The weather was beautiful and the wind was coming in the right direction," Ferguson said. "I didn't quite get the one I want, but we've got another day tomorrow. It was a good competition and I think everyone was excited."
The discus will conclude the second day of the event today at 5:30 p.m.
Admission is free for the competition at the Ironwood Throws Center, located at Highway 53 and Ramsey Road.
"It's very motivating, and at the same time there's a lot of pressure," Ferguson said. "As the meets go on, we're trying to get that elusive throw that makes it an important throw. Threw 63.80, so I need another six feet. Hopefully tomorrow's a good day and I can get a few more feet."
MEN'S HAMMER — 1, Morgan Shigo, 244-3. 2, Brock Eager, 240-6. 3, Marty Munyon, 176-8.
WOMEN'S HAMMER — 1, Whitney Simmons, 217-5. 2, Michaela Dendinger, 216-9. 3, Christina Macdonald, 194-0. 4, Cara McClain, 192-5.
MEN'S JAVELIN — 1, Andrew Bloom, 206-7. 2, Chase Wright, 190-5. 3, Connor Jones, 175-11.
WOMEN'S SHOT PUT — 1, Rachel Fatherly, 58-4. 2, Haley Teel, 58-0. 3, Monique Riddick, 53-8.
MEN'S SHOT PUT — 1, T'Mond Johnson, 65-5. 2, Lucas Warning, 63-7 3/10. 3, Bradley Fillis, 48-11.
WOMEN'S DISCUS — 1, Sarah Thornton, 169-1. 2, Chrisshnay Brown, 142-10. 3, Emily Bronson, 133-9.
MEN'S DISCUS — 1, Kord Ferguson, 209-2. 2, Legend Hayes, 207-7. 3, Duke Kicinski, 200-5. 4, Darian Brown, 197-9. 5, Ben Hammer, 197-2. 6, Noah Kennedy-White, 187-5. 7, Alax Grimes, 132-1.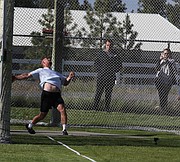 Recent Headlines
---