THE FRONT ROW WITH JASON ELLIOTT: Taking it, and running toward the gold
You'd think just by looking at the results that the Lake City High girls relay team of Hailey Parks, Keturah Vogel-Greenwood, Georgia Whitehead and Angelyca Chapman had to be coached constantly, with every single move looked at and discussed by their coaches.
Nope, not even close.
THE FOURSOME notched wins in the 4x100- and 4x200-meter relays, with the 4x200 win being a repeat win for the Timberwolves from the 2019 meet after the 2020 event was canceled due to the coronavirus pandemic.
In 2019, the team was made up of Bridget Rieken, McKenzie Fletcher, Lilly Tweedy and Chapman. Rieken is in her sophomore year on the soccer team at Washington State, and Fletcher is currently in her freshman campaign on the track and field team at the Community Colleges of Spokane. Tweedy, a senior, did not compete in track this spring.
"Angelyca has been one of the fastest girls we've had here," longtime Lake City coach Kelly Reed said. "The two older girls (Rieken and Fletcher) kind of led that group. This year, Angelyca ran the show and she had fun with it. The other girls just willingly followed her lead, and it worked out for them."
As far as coaching the group …
"This was probably the most independent relay group I've coached," Reed said. "Most of them were inexperienced, but they took care of things on their own. Angelyca kept them organized and made sure things were done the right way."
"They were the only team to run in the 48s this year," Reed said. "They were just so good (last Saturday)."
Chapman will graduate as a school record holder in the 200 and 400, and the 4x100, 4x200 and 4x400 relays. She's also second in program history in the 100.
Not bad, wouldn't you say?
SURE, THERE was the typical first-timer things that happen at a state meet for the first time.
Then again, Parks — a junior — and Whitehead — a sophomore — were a part of the Lake City girls soccer team that qualified for the state tournament in October. Vogel-Greenwood, a sophomore, played on the Lake City JV girls basketball team.
"I could tell they were nervous," Reed said. "I told them if they can get around the track, we're going to be OK. And the girls did a good job of getting the baton around the track and Angelyca took care of the rest. When she gets it, we feel good about the result. I just told our girls to relax, have some fun and you're here for a reason."
Chapman also won in the 200 and 400, notching four state titles within a span of two hours. Her time of 55.94 seconds is only the second time that a girl in the 5A classification has ran in the 55s, joining Maddison Lung of Boise (55.86 in 2015).
"I was able to get on the awards stand, talk to my family for a second, and then immediately have to launch into a warmup for my next event," Chapman said of her busy afternoon. "It's pretty similar to most meets. I feel like I was really prepared and was constantly in game mode, which was nice to have."
"It was the coolest thing I've been a part of," Parks said. "We wanted to get as close to her as we could at the finish line. To watch her run the 4x100, 4x200 and still be able to win a 200, it was amazing to be a part of."
WHO KNOWS what might have happened had the 2020 state track and field meet been held last May.
Maybe Chapman has a few more gold medals to show off, or the relay group gets their moment a little sooner.
As Reed said, "Sometimes in track, you can put in the work, and it doesn't pay off in the end."
Well, it did for them.
And it's still all pretty amazing, even a week later.
Jason Elliott is a sports writer for The Press. He can be reached by telephone at (208) 664-8176, Ext. 2020 or via email at jelliott@cdapress.com. Follow him on Twitter @JECdAPress.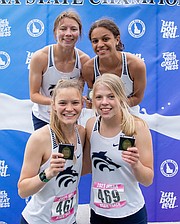 Recent Headlines
---