THE CHEAP SEATS with STEVE CAMERON: The week lovable Phil channeled his inner Tiger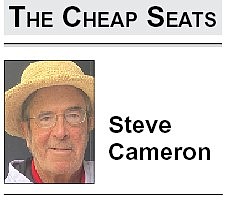 Phil Mickelson has always had as much talent as Tiger Woods.
There, I've said it, and now perhaps I should offer a blanket apology to everyone I've offended.
Yep, and also to all of you who consider that to be a truly stupid statement.
Numbers don't even begin to back up what I've just said.
Really, nothing does, except…
Maybe the eye test.
I play golf, though not at a level much higher than used-to-be-average.
However, I do understand the game as a journalist, as a reporter who sees and grasps the nuances of what's going on out there with the best players in the world.
If we're talking about accomplishments — golf being a sport about results, after all — Tiger is streets ahead of everyone in his generation.
More than streets.
He's continents ahead of the field.
Any field.
Mickelson has never been No. 1 in the world, despite his 45 Tour victories and six majors.
He's been No. 2 for more than 700 weeks, in fact, because of Tiger Woods.
YOU SAY that should settle the argument, right?
Tiger has won a staggering 22.8 percent of the PGA Tour events that he's entered.
Phil?
We're down with humans there, at just 7 percent victories in a whopping 644 tournaments.
Fair enough.
What we watched last weekend as the 50-year-old Mickelson won the PGA Championship at that terror-tough Ocean Course on Kiawah Island, however, proves MY theory about Phil having the same kind of talent.
For once, Mickelson quit doing commercials, setting up TV deals, talking about his 36 hours of fasting every week and all the rest of that nonsense.
He quit horsing around with the gallery and played golf with laser focus, shot by shot.
In other words, he did what Tiger has done every time he's teed it up — probably in his whole life.
Tiger Woods was never out there to make friends, or shill for some coffee company.
He played the game one way, which was to beat everybody's ass.
And then, to do it again.
It was never Eldrick's plan to make friends and influence people.
He was all about making birdie (or sometimes par) whenever he stuck a tee in the ground.
He wanted the trophy, the jacket, the rankings, the records — all of it.
Tiger didn't take stupid risks, which is partly why his record when entering the final round of major with at least a tie for the lead is 14-1.
MEANWHILE, Mickelson would always, always go with that flair for the dramatic.
Phil threw away the U.S. Open in 2006 by trying a near-impossible shot from a grove of trees on No. 18.
Chipping out, lobbing the ball on the green and two-putting (or better) would have given him, at the least, a playoff with Geoff Ogilvy.
But…
No.
You think Tiger would have tried that same crazy shot that Phil attempted?
Hah!
Here's the funny thing, and really, what separates these two men who have been the best two golfers of their generation.
After Mickelson blew that Open on the final hole, he said: "I can't believe I did that. I'm such an idiot."
Yeah, you got it, Phil.
Until last Sunday, in fact, he's always been an idiot — a lovable, childlike, go-for-it, entertain the crowd kind of idiot.
WE MUST not confuse Phil's goofy mentality on the course with his ability to hit shots, however.
Any shots.
Put the golf ball anywhere on any course, put up a million bucks for the best result of the next shot, just one shot, and…
Phil might very well take the money and leave Tiger (a healthy Tiger, for this affair) steaming over the result.
For our imaginary shot competition, Phil would not be clowning around or pitching some product, or discussing a diet — he'd be the Phil you saw on Sunday, an absolutely stunning shot maker.
He can execute anything when he's mentally right, and when he cares.
It's got to MEAN something, though, as it has to Tiger since he was about 2 1/2.
PHIL HAS spent so many of 644 starts on Tour daydreaming, or noticing a rare bird up in that tree, or chatting with a fan who once worked at the electronic plant with his uncle — or whatever.
Tiger?
He's had poor rounds, naturally, and he's been beaten, but it's NEVER been because he didn't care, or because he lost focus.
He won a U.S. Open on a broken leg.
Is that enough focus for you?
The only true golf skill where Tiger truly has left Phil in the shade, believe it or not, belongs in the cold, analytical realm of putting.
Plus…
Week-to-week, month-to-month consistency, of course.
Those two areas are a function of fierce, predatory, almost frightening concentration.
They ARE Tiger Woods.
Mickelson, meanwhile, has missed more 4-footers than any great player in history — which is not a compliment.
You always got the feeling that, just before a second read on some big putt, he was about to look at the gallery, spot his wife, and say: "Amy, could you grab me an energy drink?"
Except he'd name a specific drink, sold online by the same company that sponsors his underwear.
LAST WEEK, though, Phil somehow found that sweet spot — marrying total concentration with ease and comfort in his hands and arms.
You could actually see it.
So, why hasn't Phil used that routine to relax and stroke all those makeable putts, the ones that cost him major tournaments (like his six second-place spots at the U.S. Open)?
Ummmm…
Because he's the Phil everybody loves.
His rival, on the other hand, became the Tiger everybody feared.
When it comes to striking the golf ball and making it sing and dance for you, though?
Phil Mickelson is just as good.
Always has been.
Except…
Standing on the tee box at No. 16, he's thinking…
"Should I switch to Tulsi green tea before a round?"
Now, if you handed Tiger a mug of tea at No. 16…
He'd throw it at you.
Email: scameron@cdapress.com
Steve Cameron's "Cheap Seats" columns appear in The Press on Mondays, Wednesdays and Fridays. "Moments, Memories and Madness," his reminiscences from several decades as a sports journalist, runs each Sunday.
Steve also writes Zags Tracker, a commentary on Gonzaga basketball which is published monthly during the offseason.
Recent Headlines
---