'We salute it every time'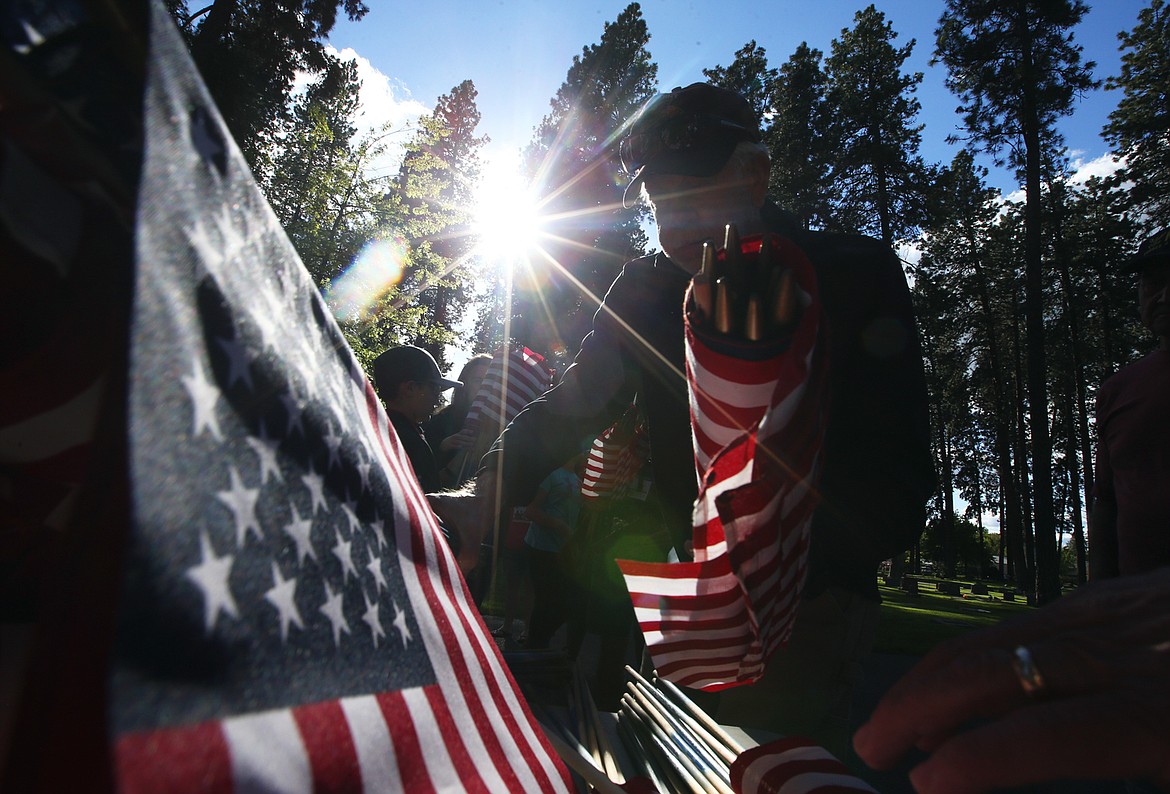 Volunteer Joe Archambault, distributes flags Wednesday evening at Forest Cemetery
BILL BULEY/Press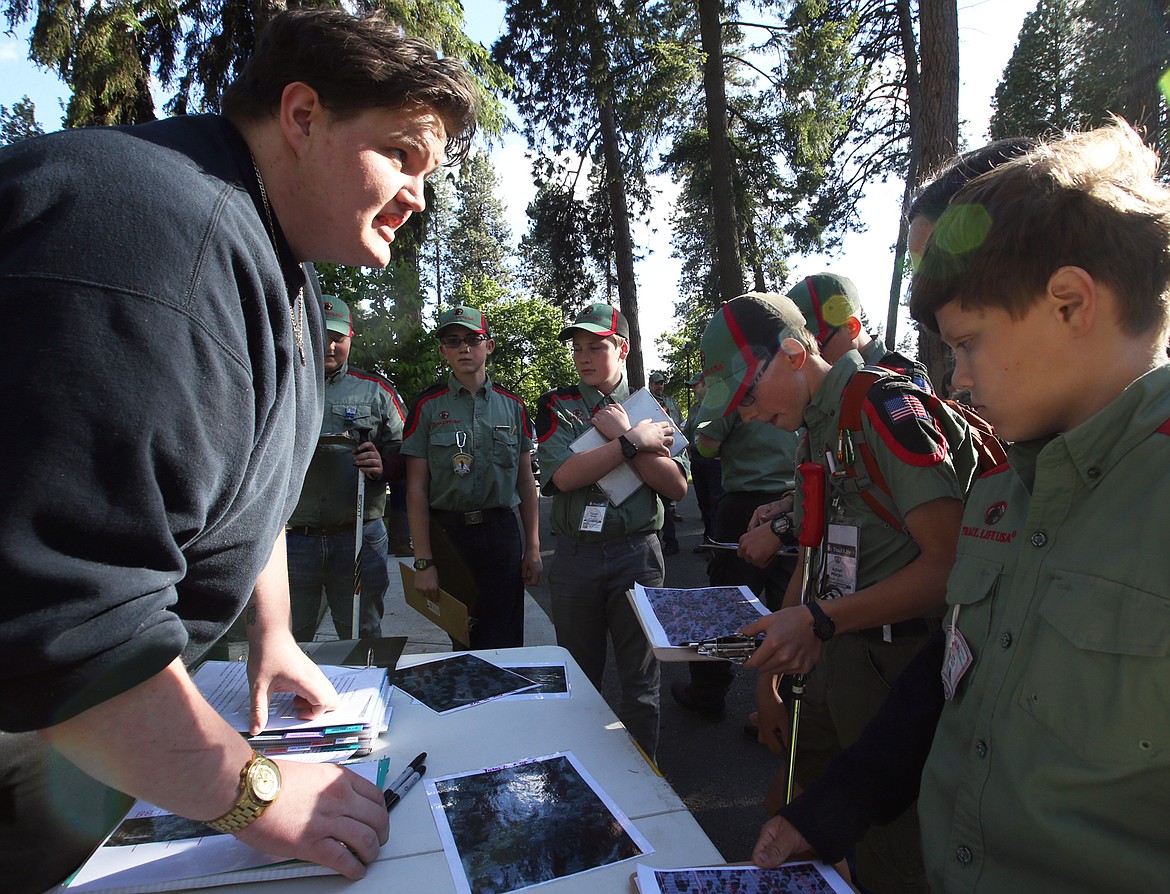 Eagle Scout Ben Givens speaks to Trail Life youth who came out to plant at veteran gravesites flags at Forest Cemetery Wednesday.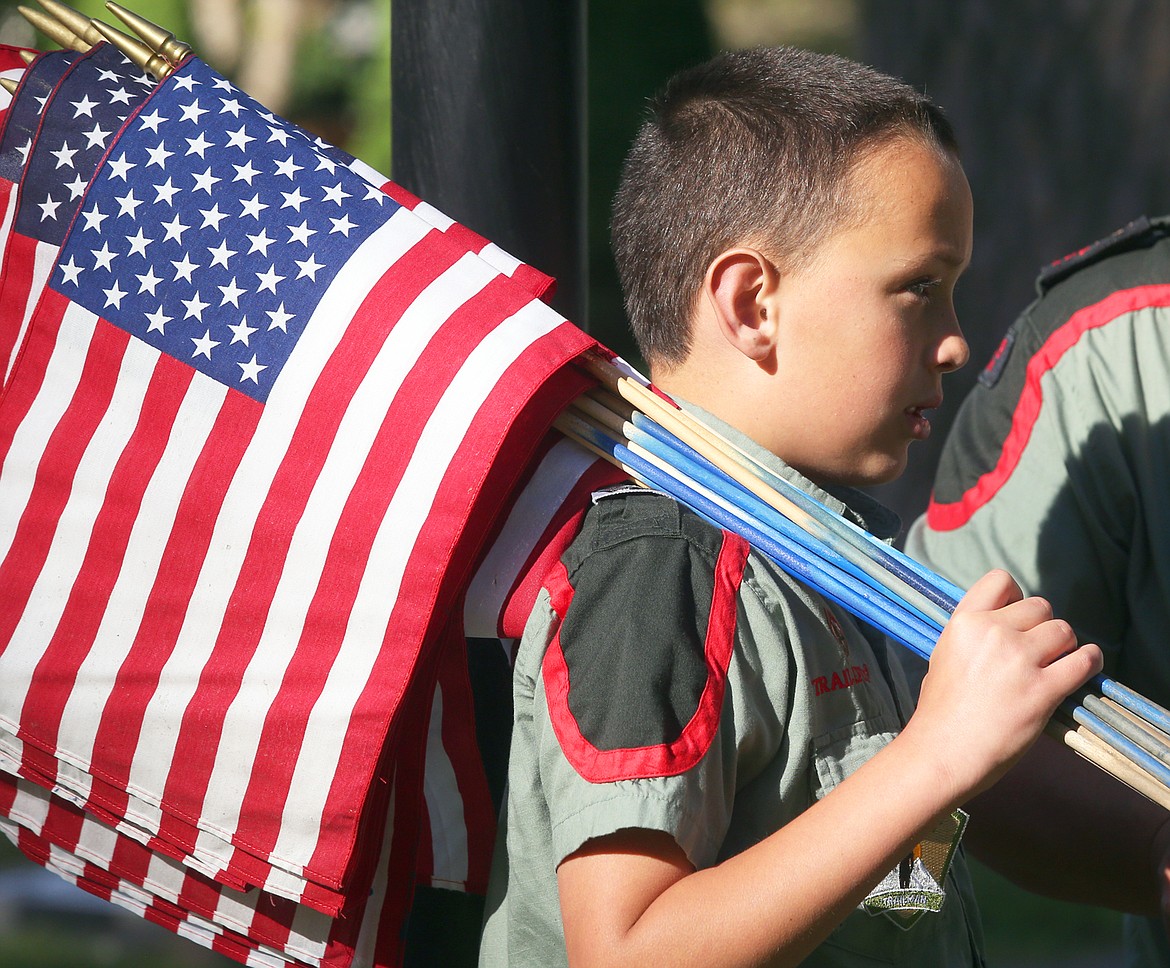 William Gant holds flags at Forest Cemetery Wednesday.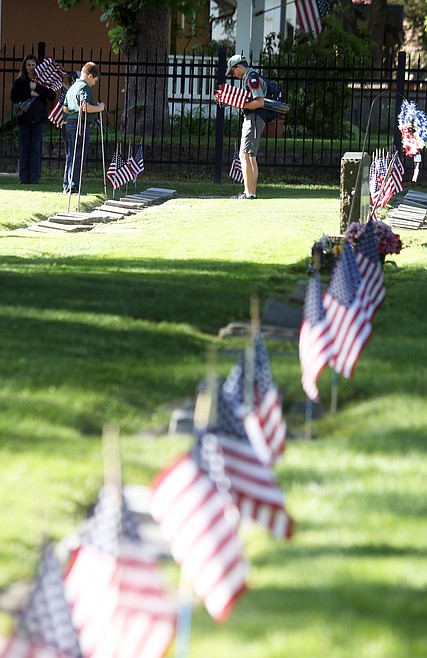 Trail Life USA youth plant flags at Forest Cemetery Wednesday.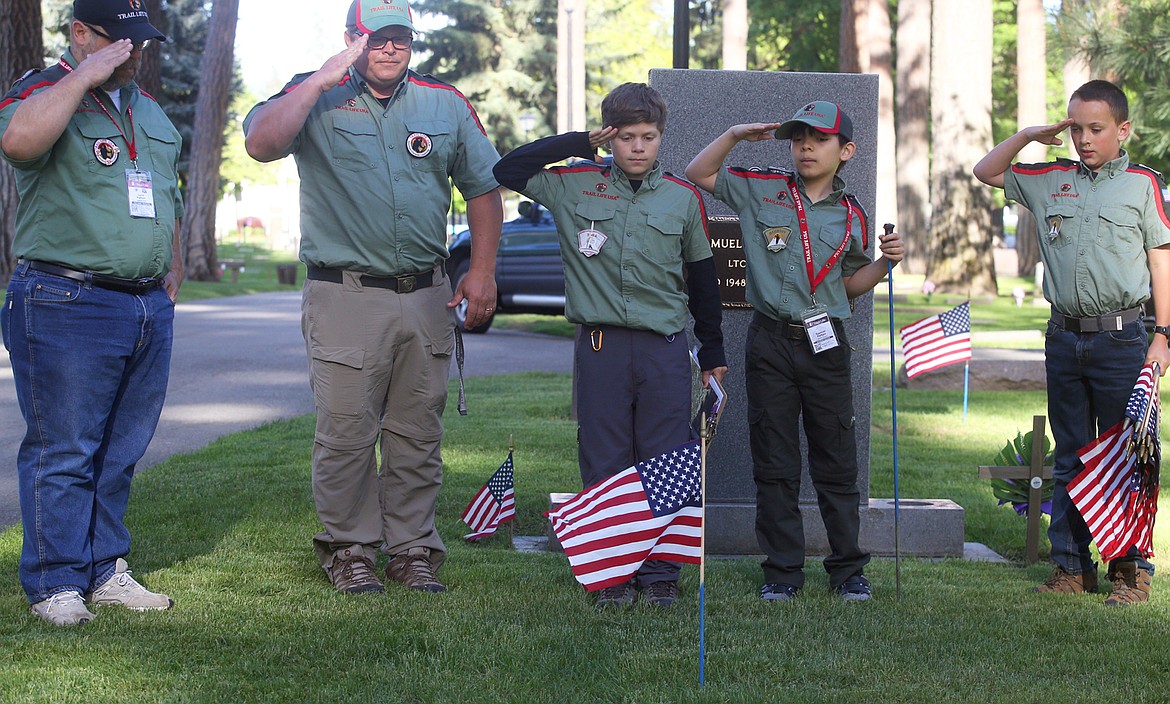 Trail Life USA adult leaders and scouts salute a flag planted at the gravesite of a veteran Wednesday at Forest Cemetery. From left, Lorin Partain, Eddie Bateman, Sawyer Bateman, Spencer Partain and William Gant.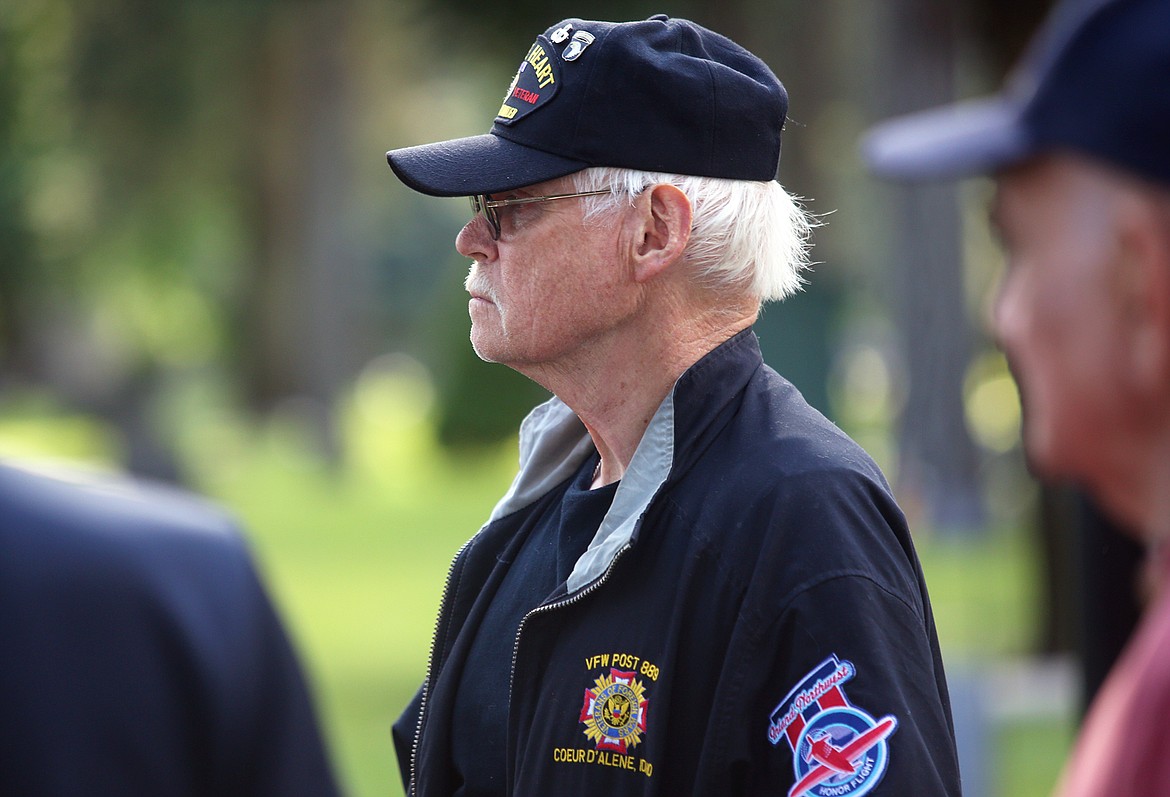 Veteran Bob Martin of Coeur d'Alene watches as flags are distributed at Forest Cemetery Wednesday evening.
Previous
Next
by
BILL BULEY
Staff Writer
|
May 27, 2021 1:08 AM
COEUR d'ALENE — Plant flag, step back, salute.
Plant flag, step back, salute.
Trail Life scouts did this hundreds of times Wednesday evening.
It was a matter of respect, honor and remembering the sacrifices of others.
"Every time you're posting a flag, we salute it every time," said David Marsh, troop master with Trail Life Troop 2819 based at Real Life Ministries in Post Falls. "And yes, we don't treat anyone with less respect than another."
About 25 Trail Life scouts from RLM and Candlelight Christian Fellowship churches placed the Stars and Stripes throughout Forest and Riverview cemeteries in advance of Memorial Day ceremonies.
After receiving directions from Eagle Scout Ben Givens on how to find the gravesites of veterans, eight groups fanned out as the setting sun cast a warm glow.
Veteran Bob Martin, who served 20 years with the U.S. Army, including four tours of duty in the Vietnam War, was pleased.
"I think it's great to see young people out there doing this thing," the Coeur d'Alene man said. "They have good parents who don't let them forget what this weekend really means. It's not a time or a cause for celebration. It's a time for remembrance."
Martin was 18 years old in 1965 when he was first sent to Vietnam. He was with the airborne infantry and lost many friends in the war.
"It was pretty rough. A day doesn't go by that I don't think of them," he said. "This just enhances them."
Volunteer Joe Archambault, with the Veterans of Foreign Wars Auxiliary, said he wanted to be there for the veterans. His son, Matthew Archambault, is a colonel in the Army stationed at Fort Leavenworth in Leavenworth County, Kan.
Archambault was among those handing out the flags provided by the VFW.
"I like helping these guys for what they did," he said. "All that they served for our country. Now you sit back and you see it destroyed. What can you do. It's sad."
Eddie Bateman, troop ministry liaison with Trail Life at RLM, said part of the organization's oath was carried out Wednesday.
"This really hits that target of honoring God, honoring our country by honoring the men and women who gave their lives for our country," he said.
Givens earned his Eagle Scout status two years ago when the VFW approached his Troop 911 and asked if anyone want to research where veterans were buried at Forest and Riverview cemeteries.
He was happy to take it on.
"I love the opportunity to give back, especially to a good cause like this one," he said. "I can't think of a better one."
Givens used a database provided by the city to get started and spent three weekends walking the cemeteries to find veteran gravesites. He invested some 200 hours on mapping software and creating the maps distributed Wednesday.
"We ended up finding over 1,000 veterans the city didn't know about," he said.
Today, there are 1,607 veterans buried at Forest Cemetery and 637 at Riverview.
Givens was delighted with the response of youth to place flags around at the veteran gravesite.
"It is truly amazing to see the amount of support we're getting," he said.
Sawyer Bateman, 12, was happy to do his part and said it was a good experience to be there.
"It's to honor people who fought for our country and that have died for us," he said.
Recent Headlines
---