AT COLLEGE: May 27, 2021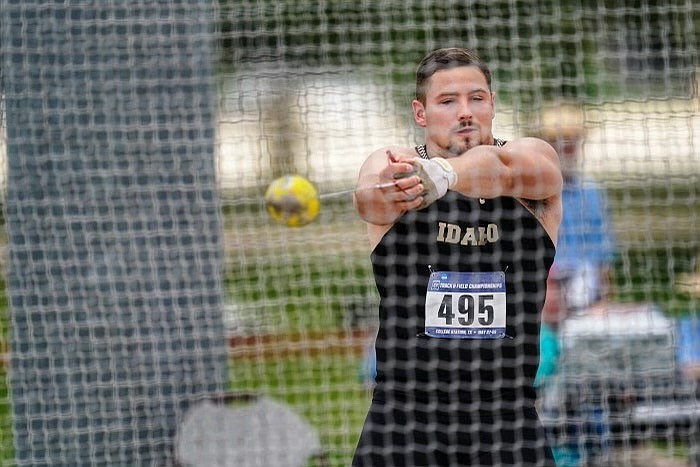 SAM CRAFT/University of Idaho Grady Leonard, a senior from Coeur d'Alene High, prepares for a hammer throw during the preliminary round of the NCAA West Regionals in College Station, Texas on Wednesday. Leonard finished 25th with a throw of 201 feet and was the top Big Sky Conference finisher in the event.
Max McCullough
Eastern Oregon men's basketball
McCullough, a 5-11 senior guard from Post Falls High, was tabbed a First Team Academic All-American and it is his second career CoSIDA Academic All-America award as he was named to the Second Team in 2019-20. McCullough is also the only graduate student to have made the list for either the first team or second team. McCullough graduated with his Bachelor's degree in Business Administration with an emphasis in Marketing & Management. He finished his undergraduate career with a cumulative GPA of 3.81 and while working toward his Master's degree in Business Administration, he sports a 3.94 GPA. On the court, McCullough has been one of the top players, not only for the Mountaineers, but in the Cascade Collegiate Conference and NAIA. He currently is the program leader in career points scored with 2,061 and is the only player in EOU history to eclipse 2,000 career points. In 112 career games played, he has averaged 18.4 points per game on 45.2% shooting. He started 111 games and averaged 32.0 minutes per game. He has averaged 3.8 rebounds per game and dished out 3.7 assists per game in his career at EOU.
Grady Leonard
Idaho track and field
Leonard, a senior from Coeur d'Alene High, finished 25th in the men's hammer throw in the preliminary round of the NCAA West Regional meet on Wednesday in College Station, Texas, with a throw of 201 feet (61.28 meters). Leonard entered the meet ranked 33rd in the West.
Haley Loffer
College of Idaho softball
Loffer, a junior shortstop from Lake City High, went 6 for 12 with three home runs, two doubles, eight runs batted in and three stolen bases for the Yotes (42-17) in the opening round of the NAIA World Series last weekend in Columbia, Mo. For the season, Loffer has set a program record with 67 runs scored, while her 11 home runs is tied for third. With 73 career stolen bases, Loffer is five away from tying Heather Kirtley for the most in program history. College of Idaho opens the World Series today in Columbus, Ga., against Ottawa (Kan.).
Kylie Smith
College of Idaho softball
Smith, a senior second baseman from Coeur d'Alene High, has contributed 18 sacrifice hits this year, including 16 sacrifice bunts, setting a program high. Her 36 career sacrifices is tied for second in program history.
Alex Walde
Gonzaga track and field
Walde, a redshirt sophomore from Coeur d'Alene, will compete in the 3,000-meter steeplechase today at 4:10 p.m. in the NCAA West Regional in College Station, Texas. Walde is ranked 48th in the race, with a time of 8 minutes, 58.17 seconds, set during the Oregon State High Performance Meet on April 30 in Corvallis.
Breana Burke
Lipscomb softball
Burke, a graduate senior from Coeur d'Alene High, was named to the Atlantic Sun Conference All-Academic Team, the league announced.
Burke, a native of Coeur d'Alene, Idaho, garnered a 4.0 GPA while earning her Masters in Business Administration as a graduate transfer in her first and only season at Lipscomb. Burke ranked in the top-10 in nearly all pitching categories in the league including: Appearances (26 - 7th), Games Started (21 - 2nd), Wins (13 - 5th), Complete Games (19 - 1st), Innings Pitched (145.1 - 3rd), Strikeouts (96 - 6th) and ERA (2.46 - 10th).
Recent Headlines
---