Alessandro Chiappe, 85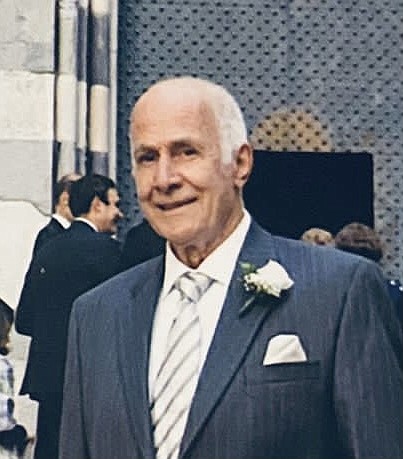 Alessandro Chiappe, 85, died May 23, 2021, with his family by his side in Hayden Lake, Idaho. He was born Sept. 2, 1935, in Lavagna, Italy, to Narciso and Carmen Chiappe. He was the youngest of three brothers.
As a young teen, he began work in a local bakery and this was the beginning of a long career as a skilled pastry chef. He sailed and worked on cruise lines for 20 years and traveled the world. He had many lifelong friendships made aboard the ships and had many stories of his years abroad.
In the early 1970s, he became a U.S. citizen and lived in Carmel, Calif., where his brother had immigrated. However, it wasn't long before he shipped off on the American President Lines for one last adventure at sea.
A few years later while visiting his brother in California, he met Georgette Roscelli and fell in love. He returned to Italy to say his good-byes and then back to Carmel, Calif., where they married at the Carmel Mission Basilica in 1973.
He loved being a sheriff's posse member and starting a family with Georgette. They owned the last Holly Farm in California where he enjoyed the life of a cowboy. He had a successful wedding cake business where he was sought after by many for his talent at making beautiful and delicious cakes.
In 1992 he relocated his family to Hayden, Idaho. There he retired and enjoyed life with his family and friends. His table was never empty and he enjoyed people from all walks of life.
The past 20 years he found a renewed interest in his homeland and was able to enjoy many trips back to Italy, where he would spend time with his cousins and friends. He spent extended periods of time in Assisi where he felt close to the works of St. Francis.
His zest and adventure for life continued even into his later years. He never said no to a camping trip, hiking, vacations or adventure and because of this was featured in numerous news articles over the years. He made everyone's birthday cakes, wedding cakes and celebratory treats.
At age 66 he rode his bicycle from Idaho to California. His sense of humour persisted even in the later, harder years of life. He always found joy in babies and children, starting with his own children and continuing through the years with nieces, nephews, friends and finally his own grandchildren.
His life was always led by his faith. He was a proud eucharistic minister, member of the secular Franciscan order and attended daily Mass at St. Joan of Arc and St. Thomas Church, was a faithful volunteer for No One Should Die Alone, Stephens Ministry and North Idaho Food Bank.
Alessandro will be lovingly remembered by his wife of 48 years, Georgette and his children, David (Alex), Holly (Scott), Sara (Scott) and Bernadette (Jason), nine grandchildren, his brother Elio (Geraldine), his large extended family and many friends.
A memorial Mass will be held at St. Thomas the Apostle Church in Coeur d'Alene at 11 a.m. Tuesday, June 1, 2021.
Recent Headlines
---