THE CHEAP SEATS with STEVE CAMERON: A toast to Godoy — however he fits into M's, baseball history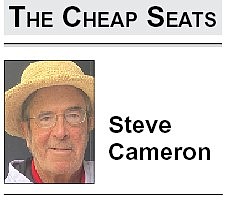 Let's talk about strange things.
In sports, that naturally will lead us to baseball — where odd and puzzling have always been normal.
I mean, these new analytics-crazed ball fans use the phrase BABIP in everyday conversation.
So, yeah, baseball is our eventual target in the wonderland of strange.
Before we get there, though, I'm thinking that sports are simply following the world around us.
Hey, Finland was just voted the happiest country in the world for the third straight year.
You won't be able to pronounce this, but the Finns are attached to a lifestyle that they describe as kalsarikännit.
What does it mean?
How might it suggest you get the most from life?
Well, kalsarikännit refers to the practice of binge drinking while home alone in your underpants.
Yeah, really.
What was my first thought after reading about those wild and wacky Finns?
I was thinking that binge drinking in your underpants might numb the pain for Mariners fans.
NO, THAT isn't fair.
The M's have had a rough go for a couple of weeks, but they've been hit by an injury plague that might be unmatched in MLB.
I'm going to go easier on the Mariners, while we wait to see if this well-planned overhaul of the farm system actually might produce a pennant contender down the road.
You don't need to disrobe and get hammered to watch the Mariners grow into a serious major-league team.
Besides, continuing our theme from the beginning of this piece, there will always be enough strange goings-on to keep us all entertained.
 For instance…
Among the platoon of minor leaguers and actually retired players (Eric Campbell) that Seattle has summoned from all points to fill in for its injured troops, we find a catcher named Jose Godoy.
Jose is a worthy professional (which is meant as a compliment), and could be a decent AAA player, but it's fair to say he is not on the list of hot prospects that the Mariners hope will lift them to exciting new heights.
No, but Godoy is good enough to temporarily handle the basics — hey, he caught Yusei Kikuchi's excellent outing in a 4-2 win at Oakland Monday night.
I'm guessing, though, that there will never be a statue of Jose Godoy standing outside T-Mobile Park.
THAT IS not to say, however, that Godoy doesn't have a place in baseball history.
In the midst of that 16-1 walloping that the Mariners absorbed at the hands of San Diego last Friday night, Godoy came on as a replacement for starting catcher Tom Murphy.
It was his first appearance in the big leagues.
And…
According to Baseball-Reference.com, Godoy became the 20,000th player to enter a major league game.
Ever.
Now that's something to tell your grandkids.
Of course, this being baseball, it could never be that straightforward.
John Thorn, MLB's official historian, claimed that there is an issue about whether the game's statistics date back to 1876 or 1871.
And somehow…
That confusion would lead to Godoy being merely the 19,998th player to make his big-league debut.
See what I mean about baseball embracing notions like strange, weird, and a bit off the wall?
You know, sort of like those Finns swilling booze in their knickers.
For the record, I'm sticking with Godoy as No. 20,000.
Let's all strip down and have a cocktail to celebrate.
History is all yours, Jose.
Email: scameron@cdapress.com
Steve Cameron's "Cheap Seats" columns appear in The Press on Mondays, Wednesdays and Fridays. "Moments, Memories and Madness," his reminiscences from several decades as a sports journalist, runs each Sunday.
Steve also writes Zags Tracker, a commentary on Gonzaga basketball which is published monthly during the off season.
Recent Headlines
---