Memorial Day ceremonies this holiday weekend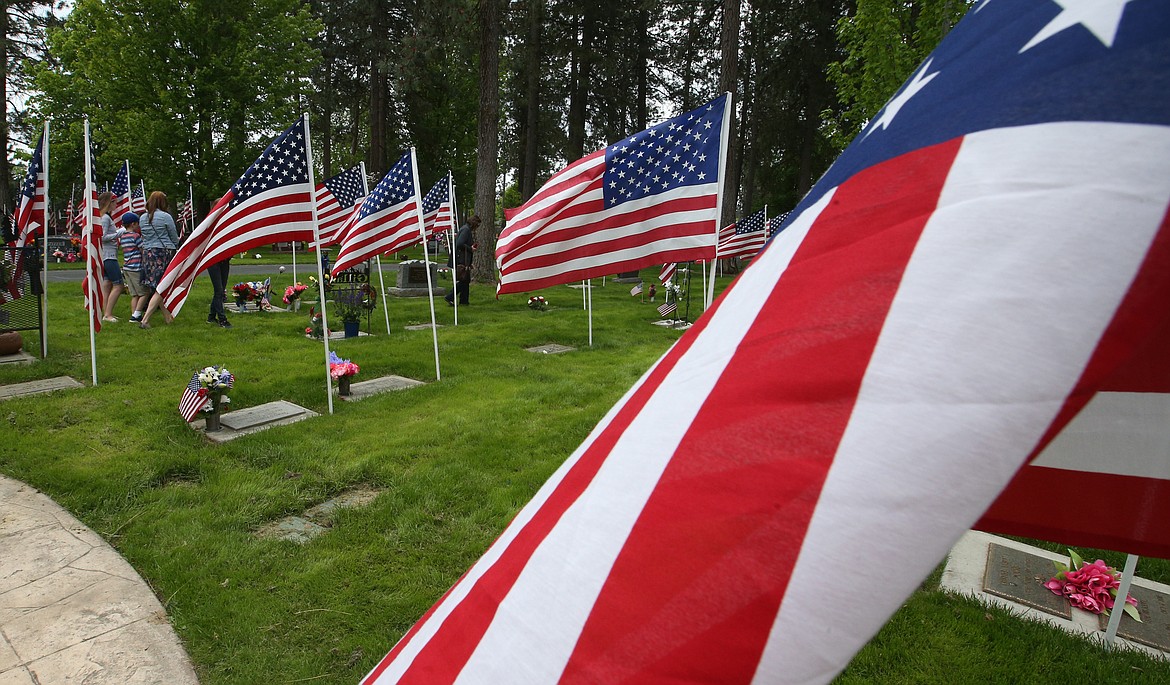 Flags flutter in the wind at Evergreen Cemetery in Post Falls on Memorial Day 2020.
BILL BULEY/Press
A ceremony at St. Thomas Cemetery in Coeur d'Alene on Sunday will lead off Memorial Day events this holiday weekend.
It will follow the 10 a.m. service at St. Thomas Catholic Church and begin about 11:15. It will include a bagpiper, bugler playing taps, Color Guard, national anthem, and a patriotic sing-along. There will also be a rededication of St. Thomas Cemetery, 23rd and Sherman.
Monday morning, the city of Hayden will hold two Memorial Day ceremonies. The first will begin at 9:30 at Honeysuckle Beach with the laying of a memorial wreath and Tolling of the Boats honoring service men and women lost at sea. The main ceremony will then begin at 11 at the McIntire Family Park stage at Hayden City Hall.
Most Memorial Day ceremonies were canceled last year due to the coronavirus.
Other Memorial Day ceremonies in Kootenai County:
9 a.m. — Memorial Day Ceremony; McEuen Park, 420 E. Front St., CDA; Veterans of Foreign Wars Post 889
10 a.m. — CDA Memorial Gardens - 7315 N. Government Way, CDA; Marine Corps League Detachment 966
10 a.m. — Evergreen Cemetery - 2834 N. Spokane St., Post Falls; American Legion Post 143
11 a.m. — Forest Cemetery - 1001 N. Government Way, CDA; Veterans of Foreign Wars Post 889
11 a.m. — Pleasant View Cemetery - 1298 S. Goldfinch Road, Post Falls; Veterans of Foreign Wars Post 3603
11 a.m. - Pine Grove Cemetery - 26590 ID-41, Blanchard; Veterans of Foreign Wars Post 1473
Noon — Evergreen Cemetery - 2834 N. Spokane St., Post Falls; American Legion Post 143
Noon — Pinegrove Cemetery - 6693 W. Highway 53, Rathdrum; American Legion Post 154 and the city of Rathdrum
Noon — Memorial Day Ceremony; Greenwood Cemetery, 400 10th Ave., Spirit Lake; Veterans of Foreign Wars Post 1473
Recent Headlines
---