William 'Bill' J. Willoughby, 92
William "Bill" J. Willoughby 92
Bill passed away at home on May 19, 2021. He was born Jan. 18, 1929, to Virgil and Jean Wolf Willoughby in Sanders, Idaho. He attended school in a one-room school house and was the only student in eighth grade. The family then moved to Oakdale, WA where he attended high school.
In 1950 Bill enlisted in the United States Air Force. He graduated from air craft mechanics and then flight school. Bill was discharged early to attend to his dad.
Bill started his truck driving career working at Hanford, where he was exposed to radiation which caused cancer later in life. He started log trucking for Ray Bromfield in the late 1950s. During this time he married Bonnie Tibbits in Lewiston, Idaho. Bill became an independent logger, which he did until he was 75, when he retired.
Bill loved snowmobiling, riding his ATV and hunting with his son Chris. Bill was very good at mechanics, building things, overhauling engines, welding fabrication, wood crafts and clock making - including small or even grandfather clocks. He also made cedar chests. During spring break Bill always liked to bake cookies.
Bill is survived by his wife Bonnie at the home, his son Chris Sr. and his wife Brenda Willoughby, his grandsons, Chris Jr. and his wife Danielle Willoughby of Coeur d'Alene and Dustin Willoughby of Washington D.C.; twin great-grandsons, Dash and Kingston Willoughby of Coeur d'Alene as well as Taylor, Josh, Skylar, Mckinley, and Ali. He also leaves behind his brother Ken and Tootie Willoughby of Lewiston, Idaho, and his brother-in-law, Ike Tibbits of Spokane Valley. He was preceded in death by his sisters, Betty Borders and Wilene Watson.
The family would like to thank Hospice of North Idaho.
There will be no services at Bill's request.
To see Bill's online Memorial and to leave a message for the family, please visit www.englishfuneralchapel.com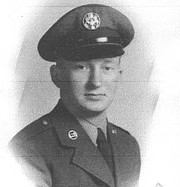 Recent Headlines
---