Milestone Announcements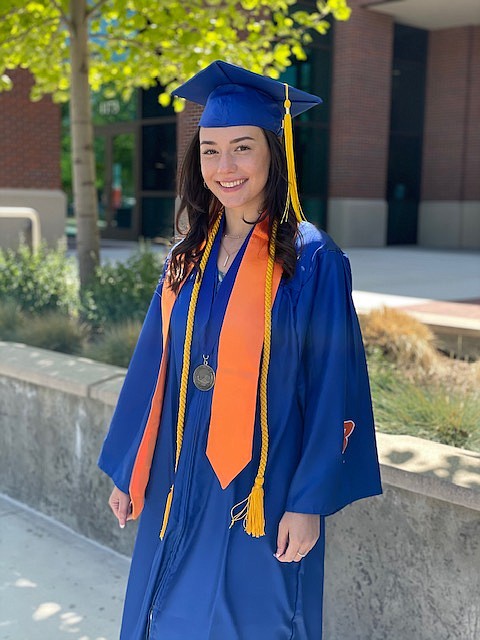 EDUCATION
Alyssa Jo Romero, of Coeur d'Alene, graduated from Boise State University on May 8, 2021. She graduated Cum Laude with a Bachelor of Science in health studies, minoring in communications.
Alyssa is also a member of the Boise State Honors College. During her junior year, Alyssa was a recipient of the Higher Education Research Council Fellowship. She assisted Dr. Cynthia Curl in the Curl Agricultural Health Laboratory. Alyssa presented her literature review "Methodology to Assess the Effects of Exposure to Environmental Toxins on Reproductive Health and Birth Outcomes" at the BSU 2020 Undergraduate Research Showcase.
During her last semester, she was the governmental affairs intern for Blue Cross of Idaho. Alyssa will continue on at Boise State University and will start her master's in public health this fall. This is an important field of study, which will train her to effectively protect and improve the health of populations worldwide.
We are very proud of Alyssa's accomplishments and her career path in public health. She is a graduate of the class of 2017 from Coeur d'Alene High School. Parents are John and Patty Romero; and grandparents are James and Carolyn Crowe.
• • •
Submit your milestones to hmain@cdapress.com or in person at the Coeur d'Alene Press, 215 Second St., Coeur d'Alene, ID 83814.
Listings include:
• Wedding anniversaries for couples married 25 years and every fifth year thereafter (2 photos accepted)
• Engagement announcements (1 photo accepted)
• Wedding announcements (1 photo accepted)
• Births (1 photo accepted)
• Milestone birthdays at age 70 and every fifth year thereafter or every year after age 90 (1 photo accepted)
• Generations (1 photo accepted)
• Academic honors and higher education accomplishments (1 photo accepted)
• Military announcements (1 photo accepted) Deadline is 3 p.m. Tuesdays.
Recent Headlines
---