THE FRONT ROW with MARK NELKE: Baseball suggestions, and a hope for an ex-Zag in Tucson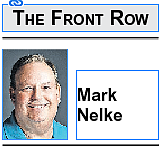 Unless you enjoy watching lots of strikeouts with a few lazy fly balls and that accidental base hit mixed in, you're probably frustrated watching a major league baseball game these days.
Press reader and longtime baseball fan Jay Carpenter certainly is.
Jay, who used to listen to the Mariners on his transistor radio back in the 1970s, and even attended a Seattle Pilots game at Sicks Stadium in 1969, weighed in recently.
"At any rate, the game is dying because of the obvious, 'hitting' or lack of it," Carpenter writes.
His solutions:
Lower the mound to 6 inches. (The mound was last lowered from 15 inches to 10 following the 1968 season, after seven starting pitchers had an ERA under 2.00, led by Bob Gibson at 1.12. Teams hit .237 as a league, and the AL batting leader hit .301)
Eliminate the defensive shift (where teams often put three of their four infielders on one side of second base).
Lower the strike zone. (The strike zone is currently from the top of the knees to the armpit, though "high" strikes were seldom called until in recent years)
"I emphatically believe it is that easy," Jay says.
SPEAKING OF baseball, have the Texas Rangers been the same since being one out away from winning their first World Series in 2011?
For that matter, have the Cleveland Indians been the same since blowing that 3-1 lead to the Cubs in the 2016 Series?
WONDERING IF War Memorial Field in Sandpoint, with its new artificial turf field and its baseball diamond backing up against the Pend Oreille River, would ever be considered as a host site for the state 4A baseball tournament?
State baseball isn't anchored to the Boise area, unlike boys basketball and girls basketball.
It has bounced around to Twin Falls and to eastern Idaho in recent years, so why not give the North a shot?
NOT THAT Tommy Lloyd needs any help constructing a roster in his new gig as head coach of the Arizona men's basketball team.
But we hope he at least considers the way the roster was constructed at his previous stop — when he was assistant coach and lead recruiter for the Zags.
Maybe this is more of a selfish plea, since I prefer the college game to the pro game. But you can't blame kids for leaving school after a year to start getting paid for what they do well. Still, you wonder how much better that team would be the next season if at least some of those one-and-dones came back.
Then you go through the whole cycle the next season.
I don't think it's a coincidence that the teams winning national titles in recent years have been the ones where guys have stuck around 2-3 years, sometimes all four.
The original one-and-done factory (Kentucky) didn't make the NCAA tournament this year; neither did another storied program that has also gone the one-and-done route in recent years (Duke).
Arizona has tried the one-and-done way in recent years, without much success — and could start the Lloyd era off with NCAA sanctions for said recruiting ways.
When the Wildcats were winning back in the Lute Olson days, most of the guys stayed four years.
We know those days are long gone.
The modern-day successful program is a mix of older players and younger players and grad transfers and other transfers — college free agency, if you will.
Look at how this year's Zags were built.
Their starting lineup consisted of a senior, a fourth-year junior, another junior in his first year in the program as a transfer, a sophomore two-year starter, and a one-and-done freshman.
That formula carried the Zags to their second national title game in five seasons in April.
Maybe that formula will work in Tucson as well.
Mark Nelke is sports editor of The Press. He can be reached at 664-8176, Ext. 2019, or via email at mnelke@cdapress.com. Follow him on Twitter @CdAPressSports.
Recent Headlines
---