Business courses offer opportunities to upskill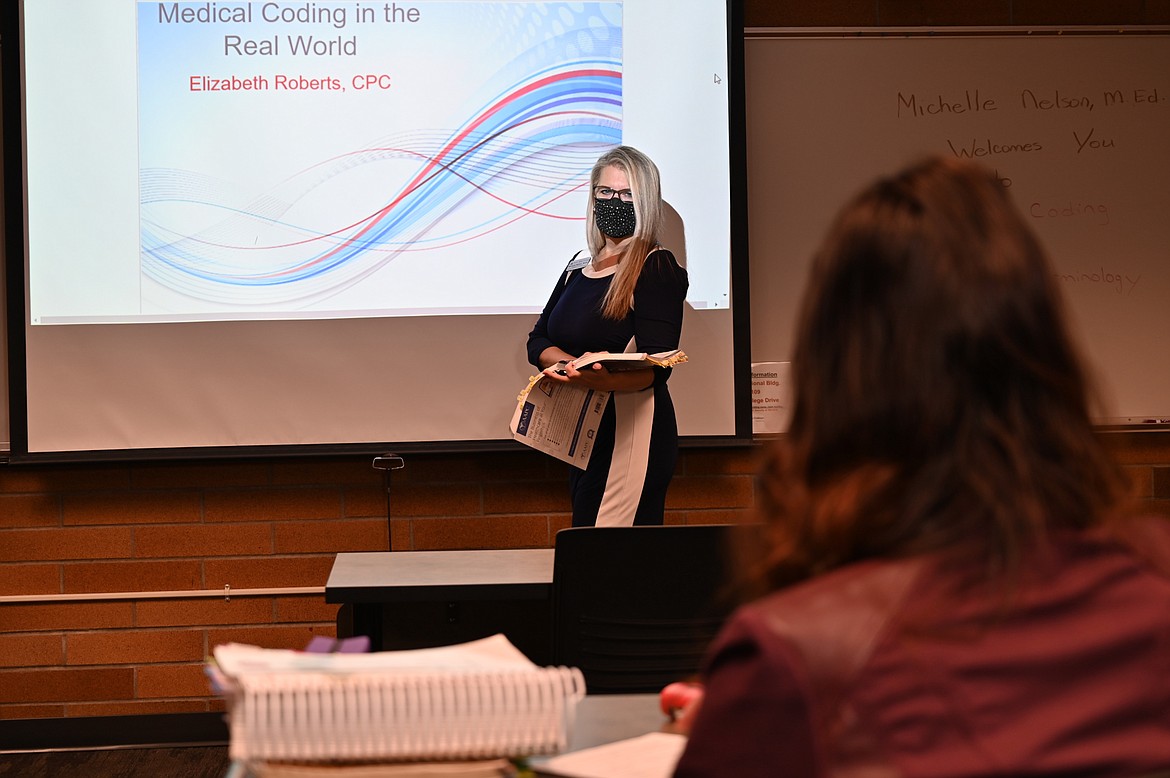 North Idaho College Assistant Professor Michelle Nelson teaches a class in one of NIC's medical administrative program courses, one of many that can be taken as a single course for business professionals who want to increase their skills and knowledge without enrolling in a degree program. This photo was taken in March. NIC no longer requires masks, although they are welcome and strongly encouraged for those who are not vaccinated.
Courtesy photo
by
MAUREEN DOLAN/North Idaho College
|
May 23, 2021 1:00 AM
For many students, going to college is an investment in the future, but there are opportunities for working professionals and their employers to reap immediate returns at North Idaho College.
Many of NIC's business courses — which include management, finance, entrepreneurship, business planning and more — are available to students who want to update their skills or learn something new without enrolling in a particular degree or certificate program at NIC.
"This means students can take just one of these courses, if it fits their needs," said NIC Business and Professional Programs Division chair, Sue Shibley.
For example, a course in how to use Excel, one of several Microsoft Office programs for which NIC offers training, could be the answer for an employee whose employer just told them they are taking on new job responsibilities, including tracking information and budgets on spreadsheets.
"There are people working for a company and then placed in a leadership role, supervising employees when they don't know anything about supervising employees. Our Principles of Management course could help ensure they are successful in their new position," Shibley said.
NIC business programs and courses cover a broad range of subjects. There are many medical office-related courses. An NIC course in human resource management teaches about basic employment laws, hiring and firing, and more.
These types of courses can also help someone entering or returning to the job market, who needs a particular skill, set of skills or to refresh their skills to be considered a viable job candidate.
The college also offers an Administrative Office Management Technology program that is 100 percent online and provides students the opportunity to earn certifications in a variety of office and business skills. Students who choose to complete all the credentials offered can earn an associate of applied science degree in administrative office management technology.
When employees take the initiative to learn how to use new software or raise their level of industry knowledge, many employers are happy to help pay for this type of education through tuition reimbursement programs.
"With the ever-changing business landscape, it's likely that competitive, thriving businesses have team members who need to build on their skillsets in order to keep those businesses robust and prospering," said Dean Miles, assistant professor of business management and entrepreneurship at NIC. "For those employers, your local community college has what you're looking for."
For more information, visit the NIC Business and Professional Programs webpage, nic.edu/bpp.
Recent Headlines
---