THE FRONT ROW WITH JASON ELLIOTT: Ending with an expected outcome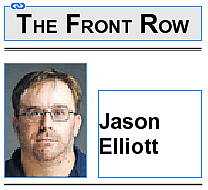 We made it.
At some point today, whether it's early in the morning or later this evening, the sun will set on the 2020-21 prep sports season.
Sure, it might not have gone as planned, but we made it.
FORTUNATELY FOR those involved earlier this week, teams from the north were able to finish what they started when state golf tournaments were canceled last spring due to the coronavirus pandemic.
With no spring tournaments here in 2020, the Idaho High School Activities Association just hit the reset button and gave the north back what they'd lost with tournaments at the same sites, just a year later.
Lake City's girls finished sixth out of seven teams at the state 5A golf tournament earlier this week at Avondale Golf Club in Hayden Lake, but there was no sour feeling about it.
"Our three seniors played well, and it's nice for them to end on that note," Lake City girls coach Corey Owen said. "Lindsay Angelo (a junior) scored her season low. Joey Heick (a sophomore), it was good for her to play in her first state tournament and get some experience moving forward."
Owen coached the Lake City wrestling team to a eighth-place finish at state in wrestling in February.
"The whole year, it's been weird with the restrictions and guidelines," Owen said. "But with golf, it's been good to be outside. We haven't had all the hoops that we had with wrestling."
Even heading into the state golf tournament, Owen feared the worst when it came to his roster.
"It was a little touch-and-go with kids in quarantine," Owen said. "I was nervous that I was going to lose a girl, but everyone stayed clear. It was definitely a strange year, but I had good kids that were willing to do what it took. It was a really fun season."
THERE ARE plenty of things that will stick with fans from how things turned out in prep sports this year.
Limited fans for state volleyball and basketball in the fall, starting state basketball a day earlier for the 1A Division I and 1A Division II tournaments and making state wrestling a single-day event for each classification come to mind.
Sure, it wasn't ideal how things went in some cases, but for the record, starting state basketball a day earlier wasn't all that bad.
Doing so gave some of the smaller schools an audience that they might not have had if they started on the same day as everyone else. Sure, tickets were limited to fans of those schools only.
But having their own moment on Friday afternoon at the Ford Idaho Center, instead of early on Saturday morning, seems like a better ending to the season.
Even on Friday, as tennis and softball started, it rained a little bit in the Boise area, causing a delay in the tennis tournament.
And for some, it might not have been a fitting end without it.
Jason Elliott is a sports writer for The Press. He can be reached by telephone at (208) 664-8176, Ext. 2020 or via email at jelliott@cdapress.com. Follow him on Twitter @JECdAPress.
Recent Headlines
---