Benevolent bucks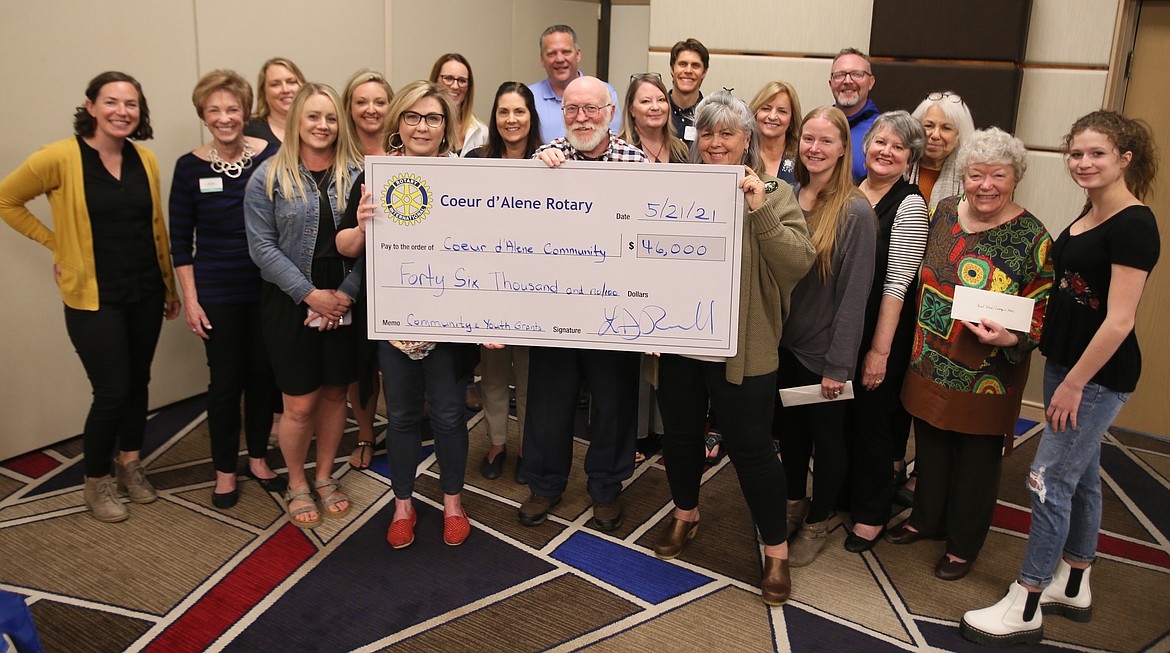 Coeur d'Alene Rotary distributed $46,000 to area nonprofits and causes on Friday. From left, front row: Marie Schmidt, Bev Moss, Nicole Hammons, Ami Boni, Paul Ethington, Sue Bartholomew, Tami Nederhoed, Louise Laing, Evalyn Adams and Lilian Smith. Second row, from left: Liz Montgomery, Vanessa Moos, Katie Simmons, Shelly Zollman, Barb Smalley and Barb Mueller. Back row, from left: Maigan Snider, Mark Kuhnhausen, Kip Sharbono and Greg Washington.
DEVIN WEEKS/Press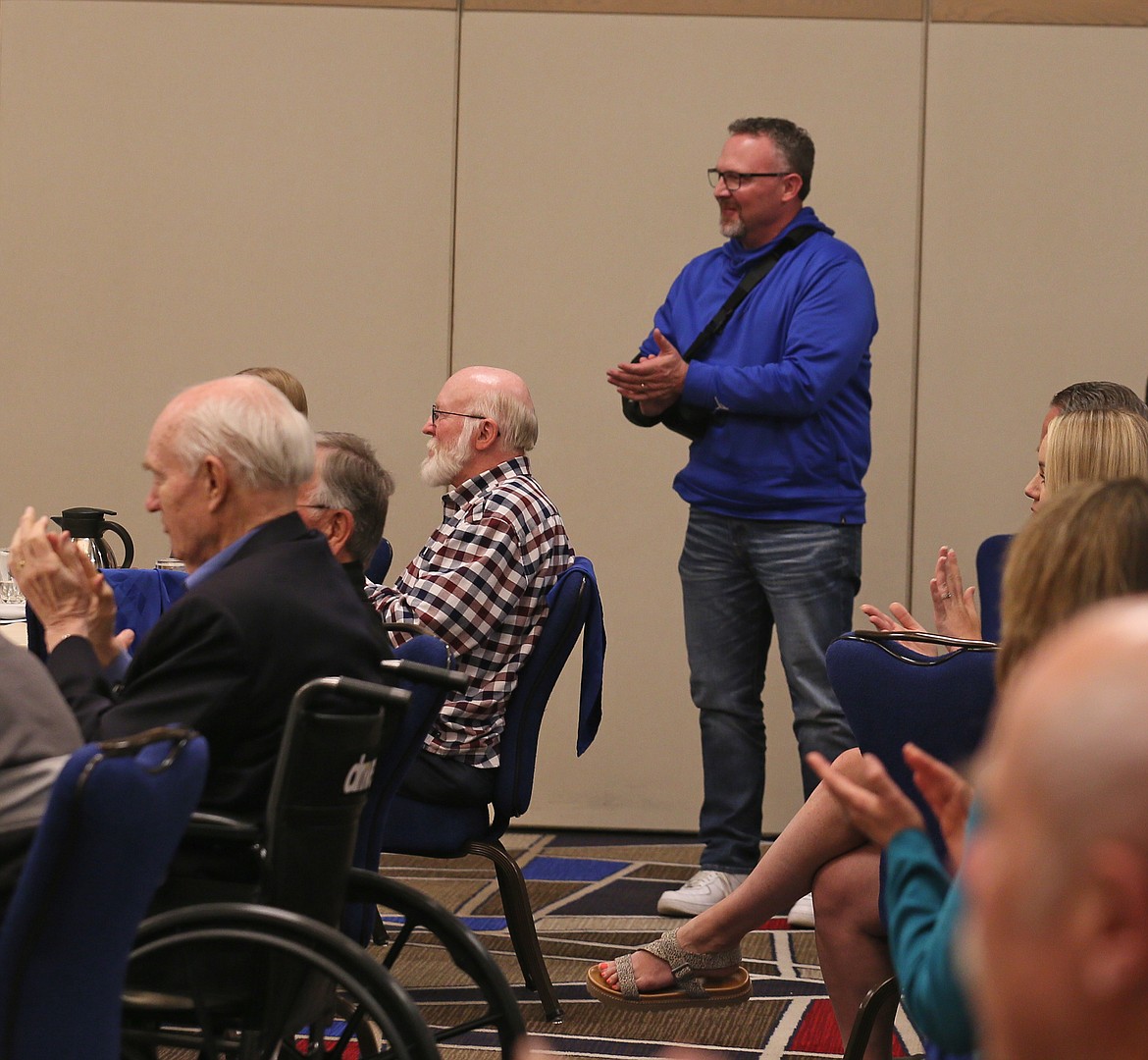 Greg Washington, a board member with the Coeur d'Alene High School Viking Booster Club and Educational Foundation applauds as his grant is announced during the Coeur d'Alene Rotary Club meeting Friday. Rotary distributed $46,000 to nearly 20 area nonprofits and causes.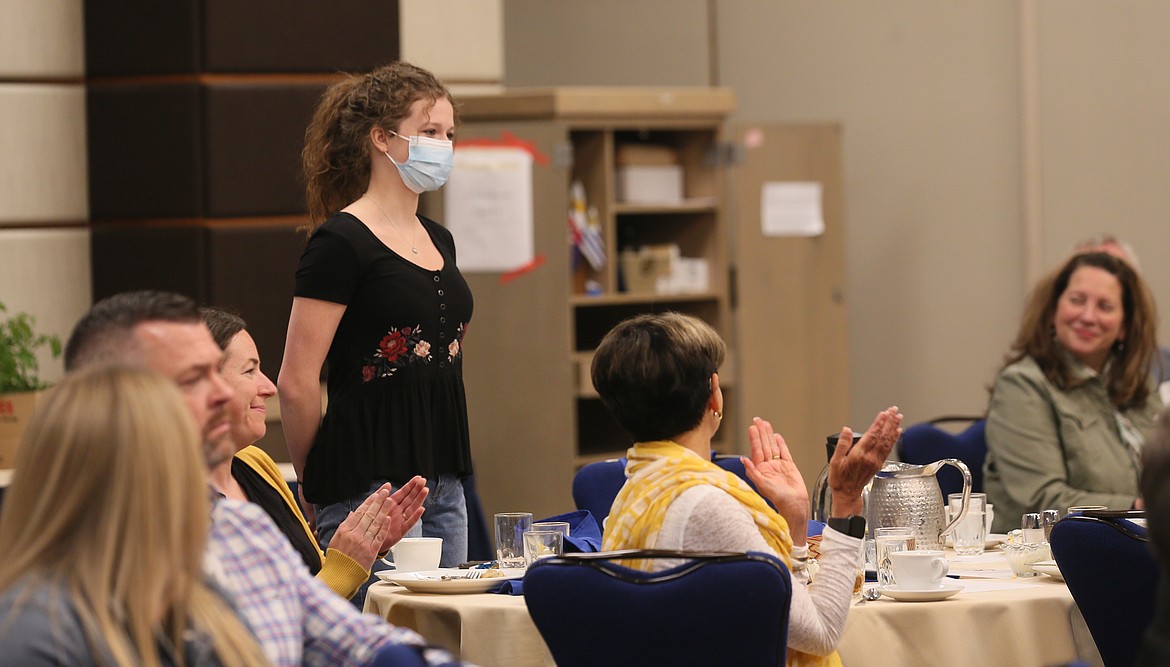 Coeur d'Alene High School valedictorian and Growing the STEM founder Lilian Smith stands as a grant is announced for her nonprofit during the Coeur d'Alene Rotary meeting Friday.
Previous
Next
by
DEVIN WEEKS
Staff Writer
|
May 22, 2021 1:06 AM
COEUR d'ALENE — The bleachers in the old Coeur d'Alene High School gym are older than this year's graduating seniors by about seven years.
Those bleachers are ready to be brought into the 21st century.
"I was actually watching my son wrestle in that gym, and watching my mom and my in-laws struggle to try to get into a position to be able to watch the wrestling match, because there's no stairs. They had to sit on the floor," CHS Viking Booster Club and Educational Foundation board member Greg Washington said.
He got the OK from the activities director to retrofit the bleachers to make them accessible to everyone, a project that has been in the works for more than a year.
"The school district has no money, so I said, 'Let me see what I can do,'" Washington said.
That's where the Coeur d'Alene Rotary Club and the Coeur d'Alene Rotary Foundation come in. Through Rotary and its foundation, Washington was awarded a $7,000 grant to update the bleachers.
"It's pretty exciting," Washington said. "This is the first grant, and it's taken a big chunk out of it. We're going to get there, and I believe we will have it accessible and done by next school year."
This is just one of the projects and causes that received a portion of $46,000 that Rotarians happily distributed during Rotary's Friday meeting at The Coeur d'Alene Resort.
Rotary is a service organization that raises money throughout the year to gift to applicants during an annual celebration. Its foundation provides assistance to charitable, scientific, educational and public purposes.
"We had phenomenal applicants," said Emily Moses, chair of the Local Community Service Grant Committee. "The deliberation process was rather quick and easy, and it's really exciting to be able to contribute to the community in this way."
Other Local Community Service Grant awardees:
• Orchard Ridge Senior Living
• CDAIDE
• Northwest Infant Survival and SIDS Alliance
• North Idaho Family Group
• Heart Reach/Turkeys and More
• University of Idaho Foundation/Community Water Resource Center
• St. Vincent de Paul North Idaho
• Neighbors N Need
• Kootenai Health Foundation Kootenai Cares
Youth Grant awardees:
• Boys and Girls Club of Kootenai County
• Gizmo CDA
• The Salvation Army Ray and Joan Kroc Community Center
• Children's Village
• Growing the STEM
• First Judicial District CASA
• ICARE St. Vincent de Paul North Idaho
• Quest Summer Day Camp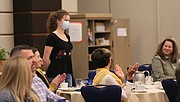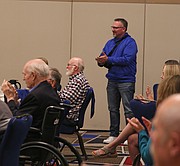 Recent Headlines
---