Little: Idaho can overcome vaccine hesitancy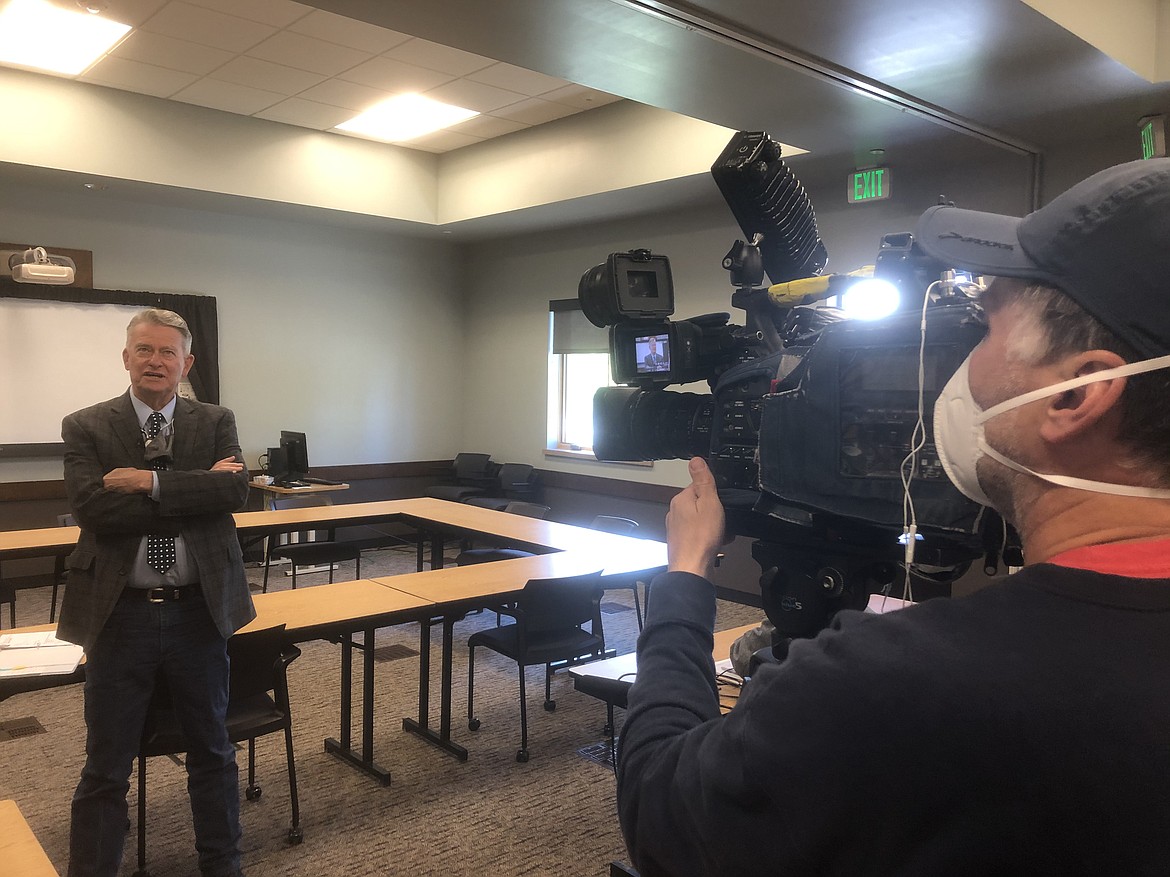 KREM-2 News photojournalist Dave Sommers prepares for Gov. Brad Little's press conference Friday at the Idaho Department of Labor building in Post Falls. MIKE PATRICK/Press
by
CRAIG NORTHRUP
Staff Writer
|
May 22, 2021 1:09 AM
POST FALLS — Gov. Brad Little said he's relying on word of mouth to be the strongest advocate to overcome the vaccine hesitancy that is keeping areas like North Idaho from achieving herd immunity against COVID-19.
"We know there's a definite nexus between vaccine hesitancy and basically conservative areas of the state," Little said Friday morning at a press conference in Post Falls. "I've got confidence that for every day that goes by, people know a neighbor, a friend, a colleague at work that got vaccinated, and there have been no negative consequences."
While Pfizer, Moderna and Johnson and Johnson production is on pace to supply the country with enough vaccine doses for every man, woman and child by July 4, the nation's more conservative areas — Kootenai County included — have slowed in their vaccination rates. Little said he hopes locals will come around and take advantage of the abundance of available doses that weren't available five months ago.
"Their confidence in participating in either the economy or regular life is going to go up," Little said. "It's just slow. We had those periods of time when we were basically rationing out vaccine. Those days are all over."
While the area's recent COVID-19 activity hasn't come anywhere close to the pandemic highs of early December — when North Idaho's daily case counts topped 400 — Panhandle Health District is tracking an overall rise in weekly new cases and hospitalizations. The district reported a total of 265 new cases between Monday and Thursday, a 17% increase from the same four-day stretch the previous week.
It's a trend that hasn't gone unnoticed by local health officials.
"The recent rise in cases, positivity rates, and hospitalizations is concerning," said Katherine Hoyer, public information officer for Panhandle Health. "With our low vaccine uptake and a variety of variants circulating in our community, cases will continue to occur."
As of Friday afternoon, roughly 32.4 percent of the five northernmost counties' 241,151 residents have been vaccinated against COVID-19, according to the Idaho Department of Health and Welfare. That number is in contrast to the 38.1 percent of the United States population that had been vaccinated as of Thursday afternoon.
Hoyer said the slowdown in vaccination rates can be overcome, but not without significant elbow grease.
"We continue to do outreach to our community," Hoyer said. "We are in communication with our schools, businesses, organizations, and groups. We want to address any questions or concerns they may have. We also want to reduce any barriers they might have to receiving the vaccine and make it as convenient as possible."
Hoyer added that one way to reduce vaccine hesitancy is already baked into the administration of the doses: They're free.
"The vaccine is free and readily available to everyone 12 and older," she said. "The vaccine is proving to be effective in protecting people from catching COVID-19 and also proving effective against someone spreading COVID-19 once fully vaccinated."
Little made his remarks at the Department of Labor office in Post Falls as part of a state tour in which he touted his administration's achievements over the legislative session. In particular, he highlighted the historic $445 million tax relief package that includes $163 million in recurring, permanent income tax cuts.
He also praised the state's ability to trim costs during the pandemic while making investments in infrastructure, broadband and workforce development.
"A lot of our Building Idaho's Future projects and investments were the result of a year ago," Little said. "With the vast uncertainty in the state and nationally, we just asked all our agencies to hold back 5 percent. As a result, we had a significant amount of money we invested in water, transportation, broadband, education … state buildings. We reduced the ongoing cost of state government and made investments, but the agencies really did a good job."
The press conference was also Little's first public remarks in North Idaho since his second-in-command, Lt. Gov. Janice McGeachin, announced her candidacy Wednesday to oust Little in the May 2022 primary.
McGeachin has been a long-standing opponent of Little's handling of the COVID-19 pandemic, in which he ordered non-essential businesses to temporarily close and gradually re-open.
Little said his office will continue to brief McGeachin, and that he's happy to avail himself to her to discuss any state issues, despite the fact the lieutenant governor announced Wednesday she is officially Little's political adversary.
"Right now, I'm focused on policy issues, and not the politics," Little said. "I firmly believe that good policy is better than good politics."
But Little's non-political statement came with a not-particularly-subtle political caveat.
"Don't be shocked if I run for governor again," he said with a smile. "That wasn't an announcement."
Recent Headlines
---