Mayor: Dalton Gardens will shut down Thursday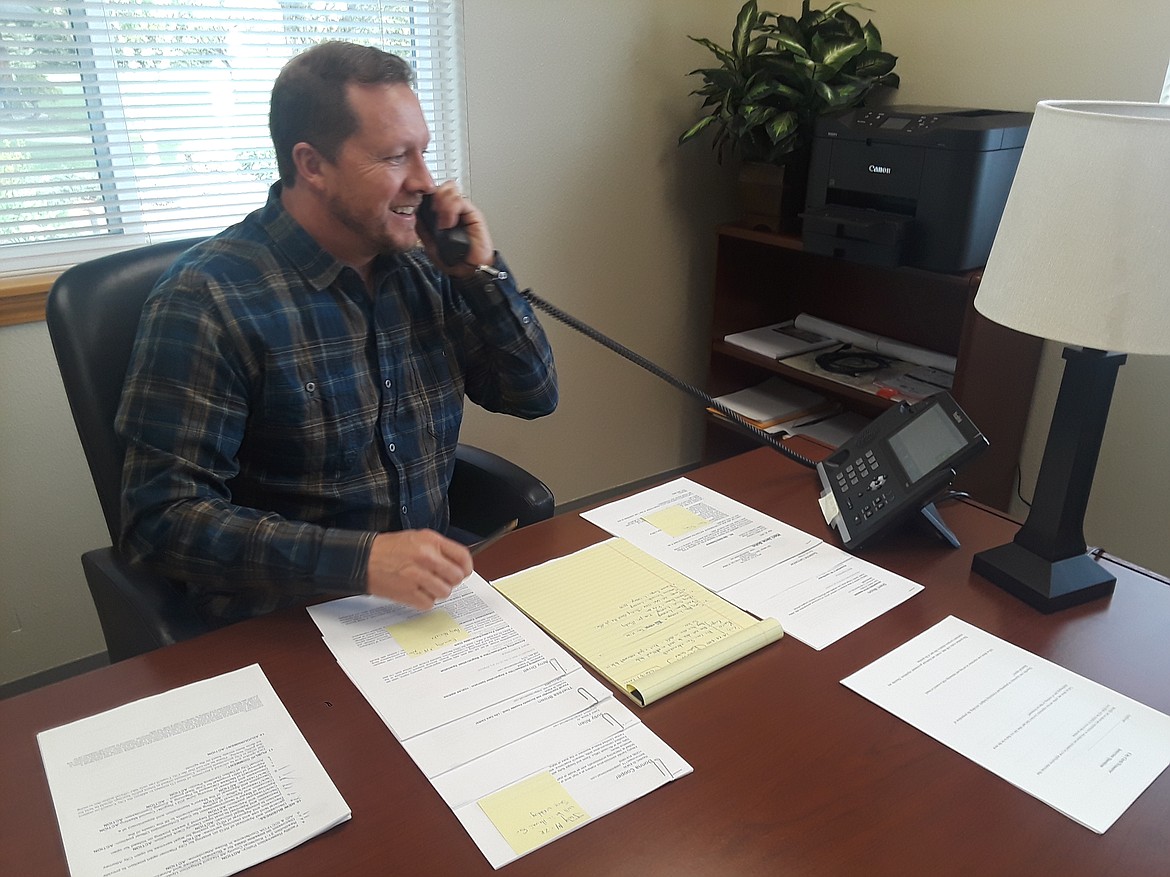 Dalton Gardens Mayor Dan Edwards in his City Hall office. Edwards told The Press a combination of interpersonal dysfunction and an unwillingness to pay employees will likely lead to a government shutdown on Thursday, as resignations have left the town without anyone to operate the day-to-day functions of the city. (CRAIG NORTHRUP/Press)
Dalton Gardens Mayor Dan Edwards told The Press that, if the City Council fails to change its ways, the city will not be able to function after Wednesday night.
"Dalton Gardens will close as a city," Edwards said. "Our staff has all resigned."
To be clear, not all have resigned. The city clerk officially retired back in February. But the city planner and city attorney have both tendered their resignations within the last 10 days. The planner and attorney are both contracted positions, as is the city engineer position. The city engineer, Edwards added, is also considering resignation.
"They're just frustrated because council will not listen to their professional advice," Edwards said. "They have professional information that they have to follow for the safety and well-being of the public. It's their duty to make sure they're doing their job correctly. And council is not listening."
The Press learned of the resignations after the city published the upcoming Monday council agenda, in which a number of line items about posting for the vacant and soon-to-be vacant positions were introduced. After being confronted with the agenda items, Edwards said the city is hemorrhaging staff due to, in no small part, the combative nature of the City Council.
Edwards cited a recent example that has been lingering on the Dalton Gardens agenda. The city's hazard mitigation plan is a guide cities routinely follow in the event of a natural disaster. The largely-perfunctory document is required in order for cities to receive federal assistance, should they need to.
"Our planner and engineer went through it and got it down to five items for the council to agree to," Edwards said. "It's something like a 300-page document; they got it down to 16 pages, and then down to five basic items. We've been signing it off for 20 years, and this council refused to sign it. They said, 'We don't know enough about it.' Well, you don't need to know enough about it. You've hired a planner and an attorney. They're telling you what needs to be done, and you keep putting it off and kicking it down the road."
Edwards said that the planner and attorney both resigned less than a week after a council member's relative made a snide comment about their performance.
"It's just the relationships," Edwards said. "It's just a constant battle with our council."
Edwards and others interviewed for this story singled out three of the four council members as cultivating an unhealthy atmosphere. The lone exception, Aaron O'Brien, was the only council member who responded to The Press's requests for comment. He said that he, too, is sick of the acrimony.
"I don't want to be lumped in with the other council members," O'Brien said. "My voting record and my behavior reflects that I'm working hard and want to be representative of everyone in Dalton Gardens. I support the whole of the city, its citizens and its employees."
Other council members' unwillingness to foster healthy relationships, Edwards stressed, has also been compounded of late by an unwillingness to pay a living wage to city employees, a problem that has swelled because of the area's unprecedented growth.
"There are restaurants in town trying to find dishwashers for $16 an hour, starting," Edwards said. "That's for somebody with no experience. That's starting. We have experienced staff — certified staff — handling building permits, knowing our code, taking care of Zoom meetings, looking over our books, and making less than that. If council doesn't take care of our staff financially, they walk."
One of those who walked was Eric Killen. The city's former code enforcement officer said that a number of variables went into his decision to resign, but that the true sign of disrespect the city has shown its employees can be found in the council's handling of the city's deputy clerk, Teresa Janzen, who declined comment for this story.
"Teresa, she's a trooper," Killen said. "And that gal is very, very, very smart. She's more than capable of becoming the actual clerk, instead of the assistant. Ever since the city clerk retired, Teresa's mostly been doing the clerk's job anyway. But for some reason, these three on the council have had some pushback because she gives them heartburn.
"So she put in her two weeks," Killen continued. "So did the city attorney and the city planner. And now there's nobody left."
Wednesday is Janzen's last day. Once the doors close, Edwards said, there's no telling when they'll reliably open again.
"On Thursday morning, there will be no staff here to unlock the doors," Edwards said. "There will be no staff here to answer telephones. There will be no staff here to pay bills. There will be no staff here to take care of our citizens. And it was easily preventable."
When asked if Edwards would man the fort until a replacement could be found, the mayor said he simply couldn't.
"I have a job," the general contractor and real estate agent said. "I have a company to run. I'll do my best to keep trying to hire people, but I can only offer wages that the council will allow. Our attorney recommended us to open the budget up to pay more money, but council is unwilling to do that."
Edwards said it's now up to the citizens to affect change, either by showing up at the council meeting Monday night — where some personnel decisions will be discussed in executive session — or by showing up every day until a new council can be installed.
"I recommend the citizens come and picket City Hall," Edwards said. "Demand that your council makes the right choices. Demand they listen to our attorney's advice, to listen to our experts' advice."
Edwards added that his concern goes well beyond who will volunteer to man the telephones until staff can be adequately replaced. He said that if a city demonstrates an inability to provide basic services, functions and day-to-day operations, it runs the risk of ceding its authority to the state or even getting annexed into neighboring cities.
"It's very scary to me," he said. "I don't want to lose our city, to watch it get annexed into Coeur d'Alene or Hayden Lake. I swore an oath to our citizens to make sure I do my job. I can only do my job to the best of my ability, but I literally feel like I'm in a straight-jacket with handcuffs behind my back, and I'm trying to figure out how to become Houdini."
The City Council meeting begins Monday at 6 p.m. in City Hall on Fourth Street in Dalton Gardens.
Recent Headlines
---