STATE BASEBALL PREVIEW: Vikings have the arms to contend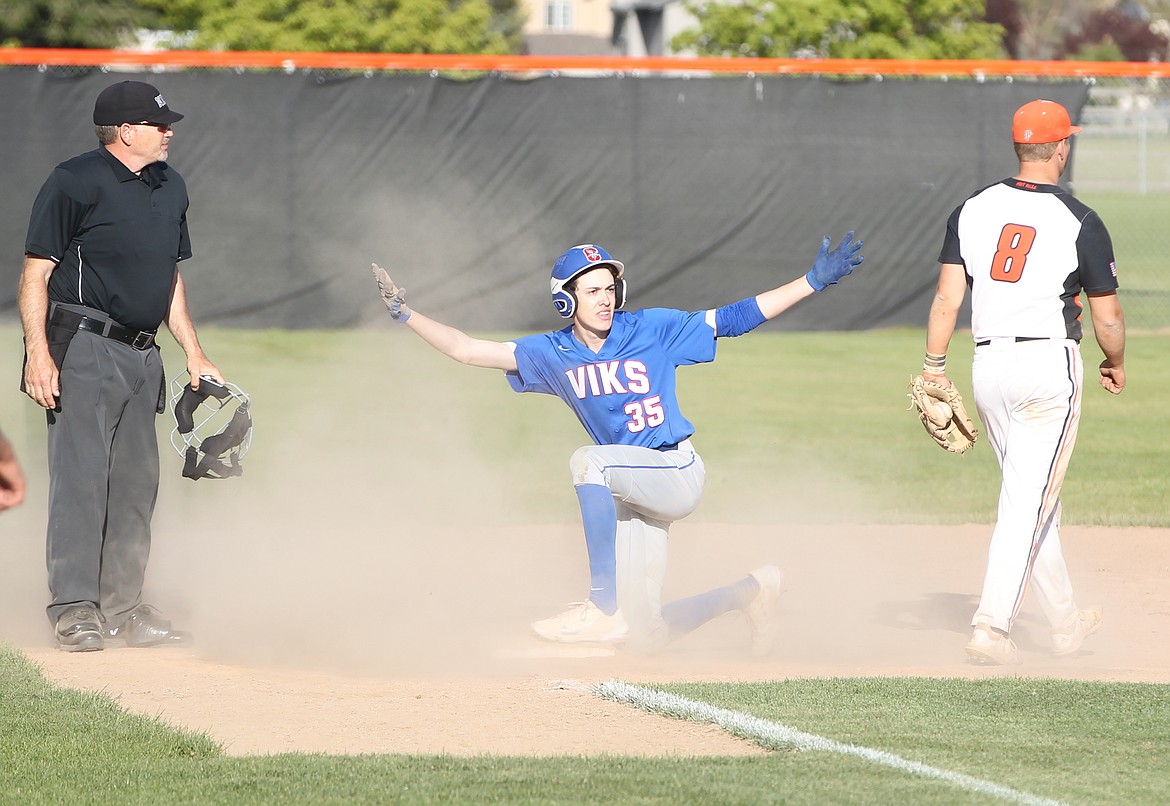 MARK NELKE/Press Coeur d'Alene junior Ryan Schneider celebrates after hitting a triple against Post Falls in last week's 5A Region 1 baseball title game at Post Falls.
By MARK NELKE
Sports editor
True, none of the current Coeur d'Alene Vikings have experience playing in the state 5A baseball tournament.
But the Vikings (14-7) do have something perhaps no other team has, heading into today's state tournament opener vs. Rocky Mountain (21-5) of Meridian at 3 p.m. PDT at the College of Idaho's Wolfe Field in Caldwell.
"We've got three horses on the mound," second-year Coeur d'Alene coach Erik Karns said, referring to Liam Paddack, Alex Karns and Troy Shepard, all seniors. "You give me another team in the state that's got the caliber of quality pitching that we do — and I've got two guys that are (No.) 4 and (No.) 5, that are going to go pitch in college."
Paddack, a left-hander, is 3-1 with a 0.73 ERA, with 55 strikeouts in 28 2/3 innings.
Karns is 2-1 with a 2.88 ERA.
Shepard, also a lefty, is 4-2 with 47 strikeouts in 31 2/3 innings.
"Paddack's been our No. 1 … really, I've got three No. 1s," Erik Karns said. "I've got three guys that are going to give you a great game every time they step on the mound."
The No. 4 and 5 pitchers are also seniors — John Gwaltney and Jayden Rowley.
"When Alex was hurt early in the season, and wasn't on the mound, Gwaltney and Rowley was huge for us, to get us some wins early in the season," Karns said. "They've pitched some big innings and done a great job. And we're going to need them down there for sure."
Alex Karns leads the Vikings in hitting with a .400 average. His brother, Andrew Karns, is hitting .382 with a team-high 21 RBIs. Trent Elstad, another senior, has 19 RBIs. Paddack has driven in 17 runs, and has the team's lone homer.
Coeur d'Alene, which starts two juniors (shortstop Cooper Larson and second baseman Evan Mallory) and a sophomore (Andrew Karns at third base) in the infield, is at state for the first time since 2017.
"We've got young kids that are starting to believe in each other," Erik Karns said. "We've figured out where we're strongest defensively, we have Wade (Mallory, a senior) behind the plate. I feel really good about what we can do down there."
Recent Headlines
---