THE FRONT ROW with MARK NELKE: Borowski keeps the Vikings moving on the basepaths
When the Coeur d'Alene Vikings baseball team comes up to bat, head coach Erik Karns remains in the dugout, guiding the team while standing at the railing in front of the dugout.
In high school baseball (and softball), the head coach nearly always coaches third base when their team is at bat
Why doesn't Karns?
"That's because I've got a former head coach from California that's a heckuva lot better at it than I am," Karns said with a laugh.
That would be Mike Borowski, a former head coach at Santa Margarita Catholic High in Rancho Santa Margarita, Calif., and a longtime baseball coach at many levels from high school on down, and currently an assistant at Coeur d'Alene.
"I think Erik puts me at third base so he can have closer contact with the team in the dugout — or get me out of the dugout," Borowski said with a laugh. "I enjoy coaching third base and I'm lucky Erik trusts me enough to put me out there."
Whatever the reason, with Borowski at third and Karns in the dugout, Coeur d'Alene (14-7) is headed back to state for the first time since 2017. The Vikings face Rocky Mountain (21-5) of Meridian in their opener today at 3 p.m. PDT at the College of Idaho's Wolfe Field in Caldwell.
KARNS THEN explains the move in Xs and Os.
"He just has a more aggressive personality than I do," Karns said. "And I knew that this season our athleticism was going to be a big part of our success. And the job that Mike has done at third base … we've played, what, 20 games now, and we probably have 100-some stolen bases (86, actually, but you get the drift). We've used our athleticism to our advantage, and I knew that Mike would be the guy that would be able to do that."
Borowski, 57, was an assistant at Santa Margarita for eight years under head coach Tip Lefebvre — twin brother of Jimmy Lefebvre, former manager of the Mariners. Borowski was named head coach in 2000 and was head coach until 2005 when the family moved up to Hayden Lake.
"We had to move back down to Orange County in 2010," Borowski said, "and that's when I got a teaching/coaching job at JSerra Catholic High School (in San Juan Capistrano, Calif.) and that's when my education began on how to run the bases. The head coach at JSerra is Brett Kay and he is a baserunning guru. Most of what I learned about baserunning came from my five years at JSerra and coach Kay."
In addition to averaging more than four stolen bases per game, Coeur d'Alene is averaging 8.3 runs per game.
"My baserunning philosophy is to put as much pressure on the defense as possible," Borowski said. "I look at baserunning as a forgotten part of the game — a very important part. I want to stay aggressive and we teach the team to make their own decisions while running the bases in certain situations, I like to say 'you are your own base coach.' I tell the kids that we will run into some outs, but for every out we run into we can score 10 runs being aggressive. We believe that you don't necessarily have to be fast to be a good baserunner. We talk a lot about free 90s — take the extra base. When things go wrong nobody takes it worse than me ... Brian Holgate (assistant coach, and former Viking head coach) keeps me grounded and says, 'sometimes other teams make good plays.'"
Karns and Borowski coached at the JV and 'C' team levels of the Coeur d'Alene program previously, "and I brought a lot of baserunning drills to the program," Borowski said. "He saw what I wanted to do and agreed that it would be a great asset to the program. So we started working baserunning almost every day in practice and ran a lot of situations.
"This season, we have just continued stressing the importance of aggressive baserunning and incorporate some type of baserunning into almost every practice."
Borowski and his family moved back to Hayden Lake in 2015, and Borowski is a teacher at Coeur d'Alene High, where he also coaches freshman football.
Oh, and how did Borowski and his family end up in North Idaho in the first place?
"I was looking in an atlas and I saw this place with a weird name (Coeur d'Alene), looked it up online and told my wife we had to check this place out," Borowski said. "We came up around 2002, immediately fell in love with Coeur d'Alene and bought a lot — not knowing if we would ever build on it. When the two older kids graduated from high school we decided to make a lifestyle change. So we moved up and built our house, and now we not only are grandparents, we also have a 14 year old who will attend CHS next year."
BOROWSKI, who also assisted previous Coeur d'Alene coach Nick Mahin (who coached third) is part of a talented and deep Viking coaching staff, according to Karns.
Borowski also coached third last year during Karns' first season as head coach, though that season only lasted two games due to COVID-19.
"I've got Brandon Williams (former Coeur d'Alene player) in there, Eric Smith, Brian Holgate .. to have the quality of coaching staff that we do in our program, there's not a detail that gets overlooked," Karns said. "And for me, this is my first full season, to have those guys, and their experience to draw on, has just been fantastic."
Mark Nelke is sports editor of The Press. He can be reached at 664-8176, Ext. 2019, or via email at mnelke@cdapress.com. Follow him on Twitter @CdAPressSports.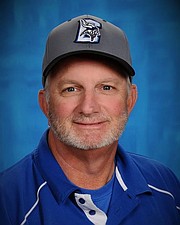 Recent Headlines
---